Robert
Oct 16, 2021
[]
[]
4 Comments
You have currently viewed 1 story this month.
IlliniBoard now offers two free stories per month, for more please subscribe.
Random thought before we get to the mailbag. Maybe I'll just call this me asking me a mailbag question.
Would Illinois be 6-0 with Michigan State's schedule?
One common opponent so far - Nebraska - and Illinois beat Nebraska 30-22 while Michigan State beat Nebraska 23-20 in overtime. Michigan State also beat FCS Youngstown State. They were a 1-6 FCS team last year so yeah, that's a game Illinois would win. MSU also beat 1-4 Western Kentucky, so I'm going to claim that if our schedule opened with Nebraska, Western Kentucky, and Youngstown State, we'd open 3-0.
That leaves three other games. Let's use this chart to look at those three teams (this is something I retweeted this week):
📊Opponent Adjusted EPA/play - Week 6

▫️OSU & UGA just on another level
▫️Lots of parity in the upper-middle class
▫️Saban's worst Bama Def?
▫️OU & Clemson are actually bad
▫️Iowa/Wake/OU overdue for Losses
▫️Quadrant of Despair evolving to usual suspects pic.twitter.com/7jvbEv1nJR

— Bud Davis (@JBudDavis) October 13, 2021
That's a chart based on EPA - Expected Points Added. To keep it simple, it more or less measures explosiveness. What you're expected to do on first and 10 compared to what you actually do on first and 10. And it's situational, so 3 yards on third and two is good but 3 yards on 1st and 15 is bad. When Illinois picks up one yard on 2nd and 7 and Ohio State picks up 31 yards on 2nd and 7, they go way over there to that end of the chart and we stay over here. It's more complicated than that, but you get the point. If you can out-perform what you "should" gain in certain situations (or if your defense can prevent what "should" happen), you move up the chart.
I will now circle the three other opponents Michigan State beat: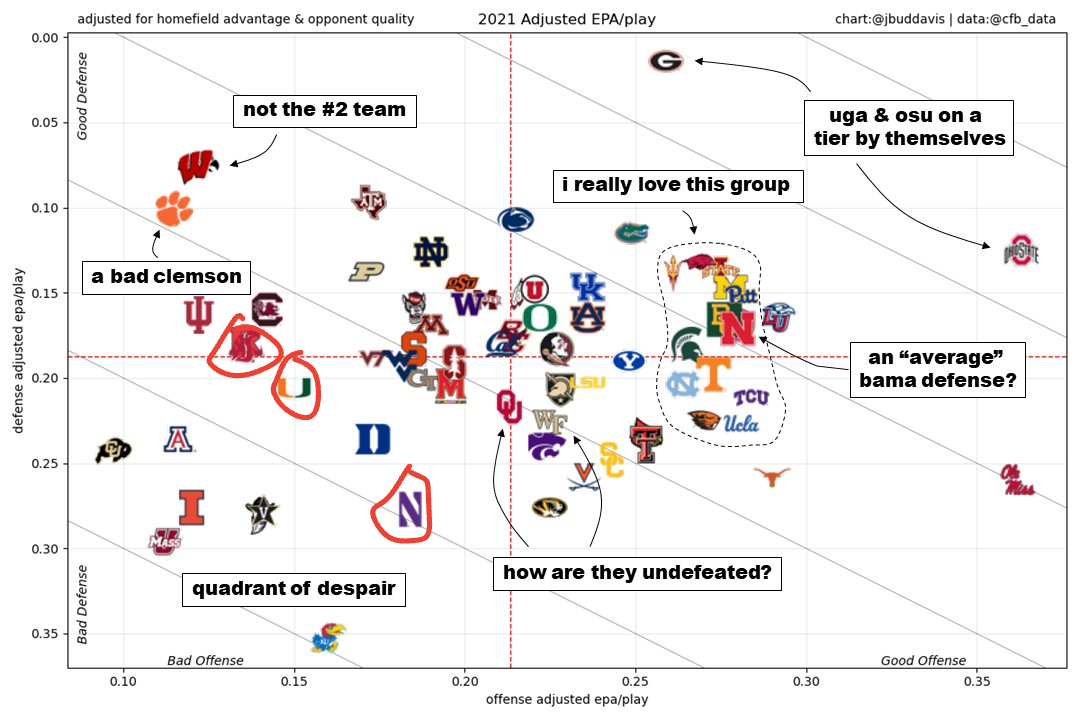 Fine, yes, we wouldn't be 6-0 against that schedule. We're still to the lower left of all those teams. The chart reads lower left (bad) to upper right (good). Still, Michigan State is ranked 10th? Ain't played nobody.
Good question, Robert. Now on to the actual questions.
Biggest mystery for me for football is the disappearance of Beason, Cooper, Armstrong, Hightower, and Brown. What happened? Any of them back next year?

~Duhwaker
First off, this is one of the things that zero media access takes away. There was no access to practice last year (Covid) and no access to practice this year (Bielema's rules). So if they're not playing on Saturdays, I can't say anything like "surprised Beason isn't in there - he looked healthy to me during camp." If we don't see them on the field on Saturday's we don't see them.
(This is a good place to make my point again. I've received about 20 @'s since the Nebraska game saying "Scott Frost's comments about not knowing what was coming proves that Bielema made the right choice" and it drives me nuts because my point was never "we should be able to tell Scott Frost what's coming" or anything of the sort. I attended camp for 10 years and wrote a 25,000-word preview every year and not once did I ever share anything an opposing coach could use. There's a way for a head coach and the media to come to an agreement as to what information can be shared. Happens all the time - in college and the NFL. Make sure the staff has access to every word you write and never share anything scheme-related. I'd have no problem at all agreeing to "you'll see Sitkowski as the starting QB at practice but don't publish that". No one wants that information hidden from opponents more than me.)
Anyway, I can't really give you specifics on those players because we haven't seen them. So the best I can do is give you my general feel on all five players:
Marquez Beason - Missed the 2019 season with a knee injury. Missed two games in 2020 with an injury. Missed most of the spring with an injury. Missed most of fall camp with an injury. I don't think it's hard to guess why he hasn't played yet.
Shammond Cooper - They moved him to OLB and somewhere between camp and October he was passed by true freshman DJ Johnson on the depth chart. Might even be back at inside linebacker now. But hasn't played and I'm guessing that means a postseason transfer.
Jafar Armstrong and Brian Hightower - Both were dealing with injuries at camp. But Tony Petersen answered a question a few weeks ago where he emphasized that everyone is healthy in the wide receiver room and that the guys they're using are the guys they think they can help them the most (or something like that). So it seems clear that both are just 7th or lower on the depth chart.
Verdis Brown - Not really sure what to say about this one. This staff liked him more as a defensive tackle than an offensive guard (where he started all last season). He was in the rotation against Wisconsin (Calvin Avery was in a walking boot on the sideline) but Verdis just hasn't moved any higher than the 6th or 7th interior defensive lineman this year. No idea why. The last staff was really high on him and this staff just doesn't appear to be.
I guess none of those are answers. Because the answer is simply "the staff wants to play other players and not these players". In their evaluation, other guys on the roster are better.
Which walk-on not named Clayton Fejedelem has been the most impactful in the last 25 years?

~Illini Fan Dan
If we're talking "impactful" my first thought is Mike Hopkins. Not only work his way up from walkon to starter and captain but then he's wearing Illini gear in space.
Wait, you said "the last 25 years." So that's 1996 until today. Hopkins was early 90's. Let me think here.
I guess it probably has to be one of the two walkon receivers from the Sugar Bowl team - Greg Lewis or Aaron Moorehead. Both arrived as walkons. Both, I believe, were eventually put on scholarship. Both played in the NFL, Moorehead for five years and Lewis for eight.
If I have to pick one, I'm going with Greg Lewis. Just for fun, here's his last-second touchdown catch from 2009 when he was with the Vikings:
Are we seeing progress made in in-state recruiting? During the Lovie era, many HS coaches were turned off. BB promised to get back to this.

~George
Well, with 8 of the 15 verbals in the class coming from the state of Illinois, I think you can say that Bielema has gotten "back to this". It's certainly a point of emphasis.
But it can't just be "land some players from Illinois". It has to be "land the right players from Illinois". So let's go to the current Composite rankings and see the college choices for in-state players in the 2022 class:
1. Luther Burden, WR, East St. Louis (undecided)
2. Kaleb Brown, WR, St. Rita (Ohio State)
3. Tyler Morris, WR, Nazareth Academy (Michigan)
4. Sebastian Cheeks, LB, Evanston (North Carolina)
5. Toriano Pride, CB, East St. Louis (Clemson)
6. Reggie Fleurima, WR, Naperville Central (Northwestern)
7. Austin Brown, S, Johnston City (Wisconsin)
8. Danny McGuire, OL, Marist (Northwestern)
9. Jacob Bostick, WR, Palatine (Iowa)
10. Ali Wells, ATH, East St. Louis (undecided)
11. Rashad Rochelle, ATH, Springfield (Rutgers)
12. Eian Pugh, WR, Fenwick (Illinois)
13. Maurice Edwards, RB, Warren Township (Vanderbilt)
14. Chris Petrucci, TE, Maine South (Northwestern)
15. Aidan Laughery, ATH, Gibson City (Illinois)
16. James Kyle, TE, Loyola Academy (undecided)
17. Kaden Cobb, QB, Fenwick (Ball State)
18. Ahmad Robinson, CB, East St. Louis (Arkansas State)
19. Jared Badie, OLB, Oswego East (Illinois)
20. Valen Erickson, OL, St. Rita (Missouri)
The other five in-state recruits are all outside the top-20. So the good news: yes, making inroads in-state. The bad news: only three of the eight are in the top 20, ranked 12th, 15th, and 19th.
Beyond the top-20, besides the players going to Illinois, there's only one player going to a Power Five school (#28, an offensive lineman going to Purdue). The rest are almost all committed to MAC schools.
It's early, though. As in, this is probably a five-year buildup to trying to land some top-10 recruits in the state. The first step is to get an Austin Brown to pick Illinois, not Wisconsin. And then get the program to the point where Kaleb Brown would put us on his list. And then, at some point, land some Kaleb Browns.
Best place on campus to take a nap?

~Neil
In the pressbox, obvi.
I graduated on May 12, 1996, meaning it's been more than 25 years for me. These answers will be ancient. But here's my top-3 from the early 90's:
3. Balcony of Foellinger - I just wanted to mention this one because I had two morning lectures in Foellinger (one was Silly Civ) and for both classes I would sometimes take a seat high up in the balcony and take a nap. 8:00 am was just too early. I'm not proud of this.
2. Couches in the Union - This is the standard answer, I think. If you had a class at 11:00 and you had a class at 1:00, and both were near the quad, find a couch or oversized chair in the Union and take a nap between classes.
1. Basement of Mumford Hall - I'm guessing this couch was moved at least 20 years ago. But it was the best nap spot on the planet. In the basement of Mumford (across the south quad from DKH), down around the corner from where the vending machines were located, was an old couch. Most of my sophomore year classes were in Mumford, and I'm a napper, so that couch, hidden away in the basement, was the perfect spot to get away and sleep.
Speaking of naps, I am feeling a bit tired...