Robert
Nov 20, 2021
[]
[]
8 Comments
You have currently viewed 1 story this month.
IlliniBoard now offers two free stories per month, for more please subscribe.
I'm full of both excitement and dread. And maybe a little anxiety? Excitement, dread, and anxiety. Exdreadety.
Excitement because I'm headed out on a long road trip first thing in the morning. Iowa City, then Kansas City for the basketball games Monday and Tuesday, then drive to St. Louis on Wednesday for Thanksgiving Thursday and then back to Champaign for basketball Friday and football Saturday. Truly a "this is my life?" moment for any fan-in-the-pressbox.
Dread because it's Iowa. I've never seen a win at Iowa, football or basketball. I don't think I'll see a win tomorrow (foreshadowing!). I already know that seeing that stadium overflowing with fans (followed by the typical post-Thanksgiving crowd for Illinois-Northwestern the following week) will put me in my place. Iowa - freaking IOWA - owns us and probably always will. And I'm choosing to sit right in the middle of it tomorrow.
And anxiety because I can feel the pressure building with all the articles I need to write. I know that the pressure is 80% in my head and 20% in yours, but I can feel it slowly starting to overwhelm. When I decided to take this bye-week vacation I knew what I'd be doing to myself, but I made the decision to do it anyway. It was good for the soul, and I think the words will be better these next few months because of it, but I still won't really relax until I write Iowa pregame and postgame, Cincinnati pregame and postgame, Arkansas or Kansas State pregame and postgame, two basketball LLUOI's, and two football LLUOI's.
The dumbest thing about all of that is that it's 100% self-induced. I'm the one who came up with this "a series for everything" publishing style. I'm the one who added basketball SOC's this year. I can't set the schedule, not meet the schedule, and then get mad at the schedule.
But that's what I'm feeling tonight as I try to avoid telling you that I think we get hammered by Iowa tomorrow. This is my "stream of consciousness" post, and all of that stuff is at the forefront of my consciousness. As of this very moment, I am not at all excited about tomorrow's game (100% dread) and pretty damn excited about my Iowa hotel room tomorrow night and my Kansas City hotel room Sunday, Monday, and Tuesday night. That KC hotel room, from this view, looks like a writing oasis in the desert. A chance to finally get caught up.
I have to get through tomorrow first, though. And I feel like it's just gonna be so awful. Happy Iowa fans, sad Robert up in the pressbox surrounded by even more happy Iowa fans. Having to walk out of yet another Illinois-Iowa game admitting that they own us. I don't know why Iowa City affects me like this, but it does. I'm not even staying in Iowa City tomorrow night because I just don't want to be anywhere around it.
Here's why I think we get hammered tomorrow. I saw this chart this morning:
Let's talk about possession efficiency. How often do offenses earn a quality possession? How well do they finish?

🟢⬆️➡️: Create a lot of opportunities, finish well
🔵⬇️➡️: Many Opps, poor finish
🟡⬆️⬅️: Few opps, finish well
🔴⬇️⬅️: Few opps, poor finish pic.twitter.com/tsSyhDmHSK

— parker (@statsowar) November 19, 2021
I should probably make that image bigger so you don't have to click through to Twitter to see it.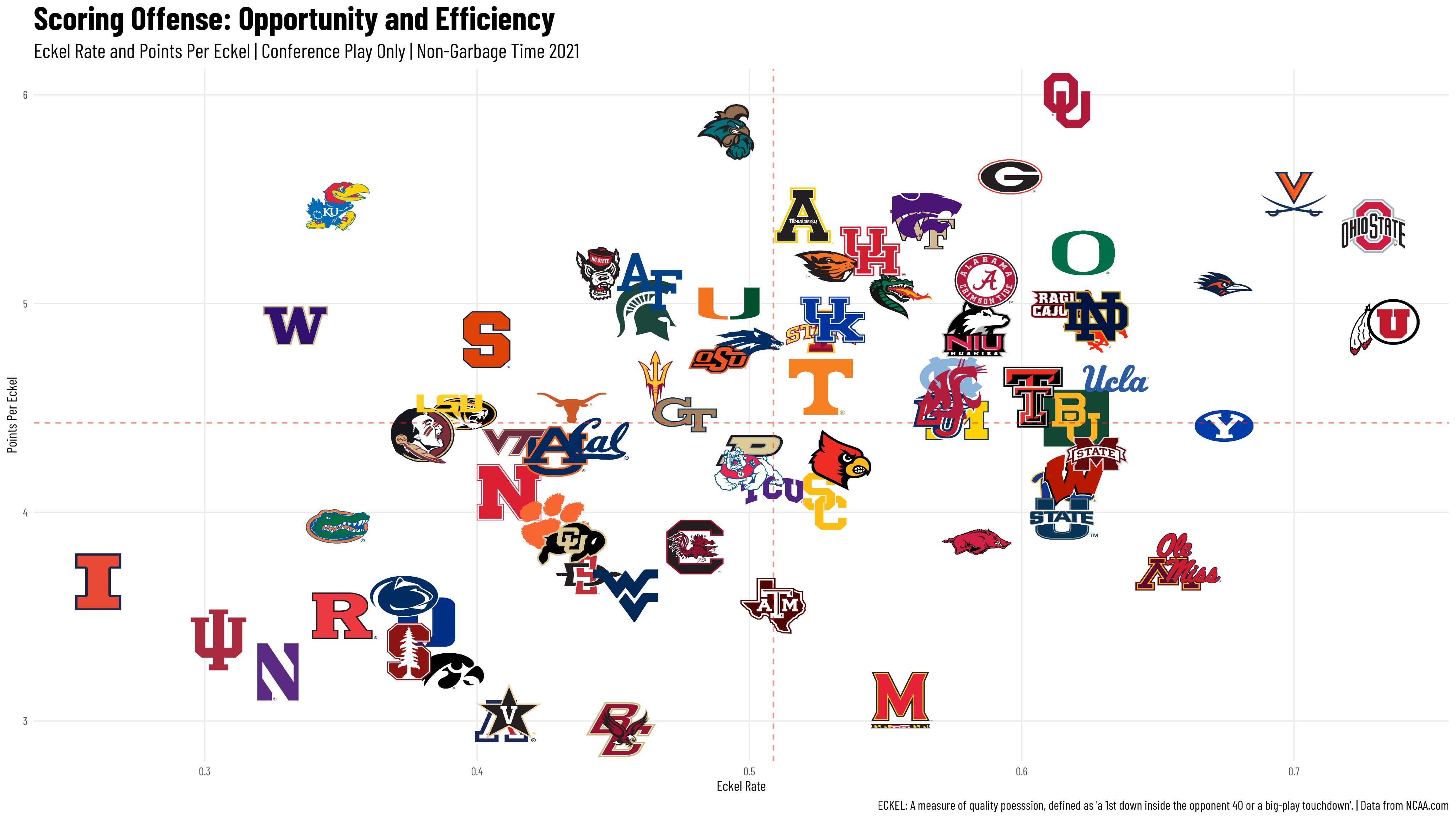 Compared to all Power Five teams (like, all of them), we're the worst at this. We don't create scoring opportunities very often, and when we do, we don't convert.
Now, part of this is as simple as "Big Ten West Football". We are joined in the "few opportunities, poor finish" quadrant by Indiana, Northwestern, Rutgers, Penn State, Iowa, Nebraska, and Purdue. If eight of the 14 teams from one conference are in the same quadrant, that probably speaks to the quality of the defenses in that conference.
But tomorrow we face the best defense we've faced since Wisconsin. Actually, let's just go through the defenses we faced the last four games:
Wisconsin (#2 defense in the SP+ behind Georgia) - 0 points
Penn State (#6 defense) - 10 points in regulation and then 10 in the overtimes.
Rutgers (#28 defense) - 14 points
Minnesota (#16 deense) - 14 points
So when facing the #4 defense tomorrow, what is the expectation? Somewhere between the 0 against Wisconsin and the 10 against Penn State, right? That's what I see tomorrow. Maybe we score 6? 7? 9?
Now, the flipside is Iowa's bad offense against our much-improved (now #48 on SP+) defense. This game should be a slugfest, right? Back to the days of the 7-6 game against East Carolina?
That's not what I see, unfortunately. I think Iowa figured something out with the QB change and they put up some decent points tomorrow. Wisconsin's 24 points = the most this defense has allowed since the Virginia game (a fairly incredible run), but I just have this feeling that Iowa exceeds that tomorrow. Maybe it's the dread talking, but that's how this one feels.
And that's OK! We have three Big Ten wins. We might get a fourth against Northwestern. This season is already a success. Things are looking up.
Just not tomorrow.
Iowa 31, Illinois 10