Robert
Nov 21, 2021
[]
[]
36 Comments
First I'll tell you why I was in the stands. And then I'll tell you why I was in the stands.
When I get to the stadium, I go to Gate I. The gates at Kinnick are letters, and when I walked up to the stadium I was at Gate G, so I followed the sidewalk around from G to H to I. The email said to pick up my credential at Gate I, but I couldn't find anywhere to pick up my credential.
I see some Illinois fans going in the "Visitors Pass Gate" (if a player left you tickets, you go in there), so I ask the girl in the security jacket where I can get my media pass. She said she didn't know but to check with That Girl Over There. I go ask That Girl Over There and she's not sure. She thinks the pressbox is behind the door she's guarding, but I need a credential around my neck to pass through. I go looking further and talk to a third security guard as well as her supervisor. Neither of them knows where it would be. I show them the email:
"This is Gate I, but I don't know where media will call would be" I'm told. I go back to the original security guard (at the visitors pass gate) and she suggests I try going in the room where all of the Illinois fans were picking up their player tickets. I ask the two guys in there if they have the visiting media passes. They say no.
I come back out and give the security guard the shrug emoji. She's apologetic and feels really bad for me but at that point nothing she can do. She sends me back to That Girl Over There. She, too, is very nice and quite apologetic and she goes off to find her supervisor. "I'll stand guard at the door while you're gone", I joke. She thanks me and seems quite relieved that there's someone watching her post. OK great I work for the University of Iowa now.
When she returns, she says that her supervisor doesn't know where credential pickup would be. I text the Illinois media people in the pressbox. "It's over here by the pressbox" is the answer. I've never pressboxed at Iowa, so, uh, I don't know where that is. That Girl Over There has a purple sheet with a map of the stadium. She shows it to me.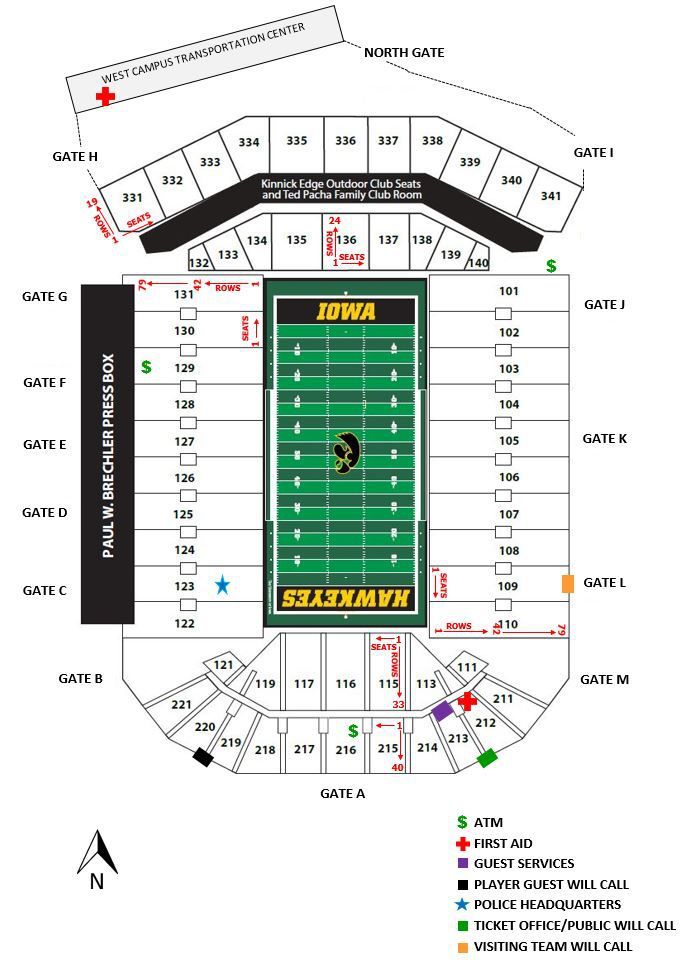 See that green dollar sign (signifying an ATM) up in the upper right corner directly under Gate I? That's where I'm standing talking to That Girl Over There. She shows me that the pressbox is on the other side of the stadium (the large black box there) and suggests that I walk through the concourse to the other side. I do, and I find a security guard inside the stadium near Gate E. She tells me that media should go to Gate F. I walk over to Gate F (again, from inside the stadium). There's no one there. There's some concession stands, and there's a couple doors leading to a few hallways under the stadium, but I have no idea where I am (or where I'm supposed to be going). I search around for a security guard and can't find one. I try looking through the fence to see if there's a table just outside Gate F where I'm supposed to get the thing to hang around my neck which will allow me to access the elevator which will allow me to access the pressbox. I don't see anything.
The game has started at this point, so now I need to regroup. I could walk around to Gate H and go back outside the stadium (to maybe look for a table or window that says "media will call"), but then I'm outside the stadium again. What if they won't let me back in? But am I even supposed to be here? The Rule Follower is thankful that That Girl Over There let me into the stadium with only an email that says "go to Gate I to pick up your credential", but should I really be inside the stadium without presenting anyone a ticket or credential?
I wish I was joking, but this was my next move: I headed for the nearest bathroom and locked myself in a stall. I'm being completely serious. My team is playing inside this stadium, the game has started, I'm supposed to be up in the pressbox covering said game, and I have no idea where to go. I wasn't ready to make the "go outside the stadium to see if I can find Media Will Call on this side" decision yet so I acted like a 4th-grader and hid in the bathroom.
It was around this time that I had a thought: what if this was intentional? Maybe it's like the pink locker room thing. "We'll send an email telling the Illinois media to go to Gate I when the pressbox is all the way on the other side of the stadium and then we'll have some funny security footage for our lunch meeting on Monday". Maybe they'll speed it up to three times regular speed and put Yakkity Sax behind it.
So I decide to pivot. The email got me in. All I really need is to be "in", right? Instead of Fan In The Pressbox, why not be, you know, Fan In The Stands? I walk down to around Gate B on the map there (inside the concourse) and suddenly I'm outside and can see a lot of the stadium. I see some orange in the far upper corner on the other side. And row after row of open seats. There's my spot.
As I walk around underneath the south stands I see that Illinois is up 7-0. And I heard some fans saying something like "this is getting ridiculous" so when I emerge out the other end of that concourse I see that Illinois has the ball again. I walk over to the railing and took this photo of Peters trying to hit Deuce Spann:
After that, I headed for the area where I saw the empty seats next to Illinois fans. Which, I might note, brought me back around to Gate I. A full trip around the stadium. Things are going great.
I climb the stairs until I see orange-clad fans and sit in an empty row. A guy in the top row yells something like "hey Robert is this the visiting media section?" and I say something like "it is when they won't give you your credential". I sit down, look down towards the field, and figure out the why I couldn't get to the pressbox:
It's like I was supposed to sit in this seat. pic.twitter.com/8CH6mdqkiL

— Robert Rosenthal (@ALionEye) November 20, 2021
I had met Gary Rosenthal after a game earlier in the season. Saw his "Rosenthal" jersey and had to introduce myself. No, we're not related, but when you look down at the field and see your last name 10 rows in front of you, you move down to sit by the guy wearing the jersey with your name.
Which is what I did for the remainder of the game. Gary and I watched the entire game together (first play we watched together: the kickoff return) and then even stood around to greet Max together after the game.
We're done with why I wasn't in the pressbox, by the way. Now I want to tell their story. If you've read this far hoping to get some analysis on the game, you can stop now. There won't be any of that tonight. Maybe if Iowa was better at the alphabet I'd have been able to watch the game from the pressbox, attend the postgame press conference, and write about the game, but none of that happened. Instead, I got a great reminder of why I love this program.
Gary and I talked about nearly everything during the game - jobs, our time on campus (he was at Illinois in the 70's, me in the 90's), the history of our last name - but everything always came back to one subject: fatherhood. He noted early on that this was Max's final road game, and that had him reflecting every trip he had made to every practice and game which led to me reminiscing about my drives to track meets and wrestling tournaments. He attended all of Max's games at Michigan State except one: his best game (in the Pinstripe Bowl). I attended every single one of my middle son's cross country meets except one: the one where he won the race at Quincy.
He told me about Max's knee injury from 2019 at Michigan State. I may get some of these details wrong (I wasn't recording, so this is from memory), but I believe it was that 2019 Pinstripe Bowl where Max injured his knee (after he had caught a touchdown pass earlier in the game). He was rehabbing that injury in the spring of 2020 when Covid hit and Michigan State shut everything down. Which meant that his rehab was shut down. Gary talked about scrambling once Max was back in Chicago trying to find an open gym or a physical therapist who could walk him through his rehab.
That's one part of Covid that I never really thought about. Football is a fairly brutal sport, and there are going to be injuries, which means there are going to be long rehab stints, but I guess I never thought about rehab stints that just immediately stopped in mid-March 2020. Students went home, facilities closed down, and the kids were on their own trying to rehab injuries.
I asked Gary if they dealt with these things as Max was growing up, and he said that Max was a baseball player first, likely headed to college as a left-handed hitting catcher. But then he caught the football bug, and once he started getting interest from college programs, football was the goal. He considered taking a scholarship at Air Force, decided to walk on at Michigan State, eventually moved to a scholarship, and then, this past offseason, transferred to his dream school - his dad's school - Illinois.
So just think about all of that. Gary drove him to t-ball practices, baseball tournaments, college football recruiting visits, and then home and away games for both Michigan State and Illinois. Nearly two decades with one central theme to life: taking Max to practice and attending his games. It has to be so surreal to know that he's nearing the end of that road. For so many years, wherever Max is competing, Gary is there.
Now take that thought and expand it. Seated to our right? Tip Reiman's entire family (like, ENTIRE family). 16 of them in all, I believe. I talked to his dad briefly after the game and said that this game was the "closest" to their home in South Dakota so they brought a group of 16. They waited 59 minutes and 15 seconds to hear his name called, and when Tip caught that 24-yard pass with less than a minute to go, they exploded. "Yeah, Tip!" screamed his... sister? cousin? friend? All 16 cheered at the top of their lungs for one catch, down 17, with a minute left.
I could go on and on. Over there, Khalan Tolson's dad in a #45 jersey (how far is that drive?). Over here, Christian Bobak's family. So many custom Illini jerseys with their son's names on the back. If you want to find the true heartbeat of the program, sit in the parents section.
And Gary Rosenthal has been sitting in this section, so to speak, for the last 17 years. And now it's drawing to a close. He was reflecting on their journey together so he told me a story.
Nebraska game this past August. Max's first in an Illini uniform. Grew up an Illini fan in an Illini family and now here he is, in Champaign, on scholarship, playing football for the University of Illinois. Gary said that Max told him there were tears welling up in his eyes as he boarded the bus to head to the Grange Grove for the Illini Walk. He'd dreamed of this day and now it's finally here.
Max gets off the bus. Fans are lining the walkway and cheering. More tears. And then he spots his dad near the railing. He runs over to Gary, hugs him, and sobs. "You did it", Gary told him. "No, dad, we did it" Max replied. Then they both cry.
I know that "famILLy" is the new branding for the football program. To be honest, I went back and forth on whether I should even use that spelling in the title of this article. But I just spent the day sitting with someone named Gary ROSENTHAL. And then we walked down to the player/family area and stood their waiting for Max ROSENTHAL. And then, just like tee-ball practice, Gary gave him a hug and told him he was proud of him and I took their picture outside of the one Big Ten stadium Max had never been to. Father and son, chatting after the game, with another hug and another "proud of you" - this time with the son playing for the dad's alma mater. I can't think of any better word to describe that than "famILLy".
I wanted them to have a moment alone without a third-wheel Rosenthal so I said goodbye and headed or the back parking lot to record From The Stands. And then I stopped by another Illini tailgate for a bit. After that, I walked back to my car in the parking garage. It was there that I finally posted From The Stands. I usually have it up 20 minutes after the game, but today it was something like two hours.
As I'm sitting there with my laptop braced against the steering wheel publishing From The Stands, my phone rings. It's Gary Rosenthal.
"Max and I talked, and I wanted to let you know what 'we did it' really meant. The summer when Max was rehabbing his knee, I had a 'widowmaker' heart attack. Which meant that we were rehabbing together during Covid in 2020 - me from my heart attack and him from his knee injury. So when he said 'no dad, we did it" before the Nebraska game, that's what he meant. That's the kind of kid he is."
I thought about telling Gary my story, but I didn't. I guess if he's reading this he'll learn it now: when I was Max's age, my dad died of a heart attack. So I sat there in the car after I got off the phone with my brain absolutely spinning (in a good way). Let me see if I can piece all of this together.
My dad dies of a heart attack at age 48 (28 years ago next Friday). I was just about to turn 21. My dad was the source of my Illini fandom, and I've referenced him many times in this space. The most common reference: I just couldn't bring myself to attend Braggin' Rights games without him.
Last year, I leave my job to cover the Illini full time. I'm now 48, wandering around Iowa City trying to find a way in the stadium. After, well, everything I referenced above, I end up sitting with a guy in a Rosenthal jersey. That guy tells me about his journey with his son, the heart attack he survived, and the hug in the Grange Grove, Rosenthal to Rosenthal, where his son said "no dad, we did it".
If you've ever lost a parent, especially at a young age, you know the feeling of hoping everyone else feels fortunate to still have their parents. You'd do anything for one more conversation, so you hope that everyone treats every conversation with their dad as the greatest gift they've ever received.
So for me, Robert A. Rosenthal, thinking about my father, Robert L. Rosenthal, and getting to hear a story about Gary Rosenthal hugging Max Rosenthal in the Grange Grove and sobbing because they did it - together - well, I'm not sure that there's anything that warms my heart more than that. For whatever reason, it was my dad's time, but in the summer of 2020, it wasn't Gary's time. And because it wasn't Gary's time, they got to share that hug.
I guess now it's my turn to cry.