Looks Like University Of Illinois - James Kreutz
Robert
Dec 20, 2021
[]
[]
9 Comments
You have currently viewed 1 story this month.
IlliniBoard now offers two free stories per month, for more please subscribe.
I don't know why I make declarations. That's gonna be my new years resolution. No more declarations. I declare that I'm going to get caught up on LLUOI posts in a very specific order and then James Kreutz verbals and I toss everything over to the side and make 20 James Kreutz gifs.
And then, on the podcast Thursday, I declare that I'm going to have that one written by Friday (when I have to leave for a wedding in Nebraska). And I don't get finished before I leave for the wedding. So now I've declared that the Dain Dainja LLUOI will be written next (WRONG) and that I'll have the James Kreutz LLUOI finished before I depart for Nebraska (WRONG). No. More. Declarations.
Actually, it's not New Years Day yet, so allow me to make a declaration:
In eight years of writing LLUOI posts for football recruits, I've never been more confused by a player's rating. This LLUOI will be one long "I don't get it". Because I seriously don't get it.
Let's begin with the "recruiting confidential" article in The Athletic ($$) a few weeks ago. Matt Fortuna asked several Illinois high school coaches for anonymous quotes about the coaches who recruit their schools and the players they've seen on the field this fall. Here's some answers to "who is the best active (HS) player you've seen?" question:
Coach 4: As a sophomore, I said Kaleb Brown's the best player we'll probably ever see, but I haven't seen him live. He's been hurt most of the year. So I think that's No. 1. After that, I do love (James) Kreutz as a pure football player. It's crazy he doesn't have offers, but he's probably the best guy I've seen.

Coach 6: That linebacker from Loyola is really underrated, Kreutz's kid. Someone's going to get him.
And then, when asked about players who are underrated...
Coach 1: This kid right now from my understanding has no offers and he is an absolute nightmare and you must offer him is Olin Kreutz's son at Loyola. I don't know if you have access to Hudl or whatever, this kid is an absolute f---- nightmare. He's good. He's aggressive as shit. He's got good size, long arms.

Coach 6: Kreutz is really good. I think KeShon Singleton will be a Big Ten guy. He reminds me of Malik Turner. No offers yet, 6-4, hard to tackle. Junior. I'd say him because I'm stunned he doesn't have an offer yet, which I think is crazy. I think he's better than Malik was at that age, and Malik's playing for the Cowboys now. He's that type of player.
This is me agreeing with Coach 1, Coach 4, and Coach 6. Especially Coach 1. This kid is an absolute nightmare. You must offer him.
(We did. And he committed to Illinois.)
I made way too many gifs here (20 I think?), and I don't want this article to be an absolute nightmare for dial-up internet, so I'll try to cut it down to 10 gifs. I will fail. But this needs to be the gif-iest LLUOI post ever because there's no better way to point out that all of the player evaluations (and all of the coaches who didn't offer him) are dead wrong.
Let's start with the thing I tweeted when he committed on Signing Day Eve:
I am compuhleeeetly drunk on James Kreutz's film.

Pancakes are reserved for offensive linemen so I'm making up a new term and calling this one "flapjack" because Jack got FLAPPED. pic.twitter.com/8SSNc4U88Y

— Robert Rosenthal (@ALionEye) December 15, 2021
Someone responded there that the kid he blew up isn't just some random high school pulling guard. It's Valen Erickson, a St. Rita offensive lineman who signed with Missouri. Perfect.
The next day, at the Signing Day press conference, Bret Bielema added more color to the situation. He said that Josh Kreutz (current freshman offensive lineman) told coach that his brother likes to pick out the best player on the other team and deliver a message during every game.
Message delivered:
That's a 290 lb. offensive tackle headed to Missouri pulling around and getting absolutely leveled by a 210 lb. linebacker. You love to see it.
It's funny - the St. Rita quarterback doesn't even watch the play. He's all "damn, that's... wait, that was Valen?". Kreutz certainly knows how to flip pancakes.
But this play is more than just that. I feel like we need to acknowledge that, in a sense, it's not the best football play. Yes, he prevented the pulling tackle from heading into the hole in front of the tailback, but still, there's a ballcarrier that runs right on by. As long as they're gap sound he can trust his teammates to clean it up, but "have the mike linebacker only concentrate on the puller" isn't football perfection.
I still love it, though. Deliver a message. The best thing about football is that the more physical team can sometimes beat the more talented team. And this was James Kreutz delivering a message (to an SEC recruit who out-weighs him by 80 lbs.) that this was going to be a physical game.
I need to move on before I talk about that play for another 20 minutes. Just... strap in because this is going to be a long post. I need to show you why I'm giving a kid who got two stars on Rivals four-plus Cruises.
On this one, don't watch Kreutz on your first watch. Just watch the quarterback so you can get a sense of play. Fakes the handoff, fakes the throw, takes off. Those are the three things Kreutz has to read back-to-back-to-back.
After a couple viewings of the QB, then watch Kreutz:
All of that is processed so quickly. Active feet, drift left in case of handoff, no, it's pulled, back right, might throw left so sprint right, keep the feet active, stay square, quarterback takes off, go get him, wrap up and put him in the turf.
No offers? How?
This next one is a straight up bull rush. Was the center ready for it? The center was not ready.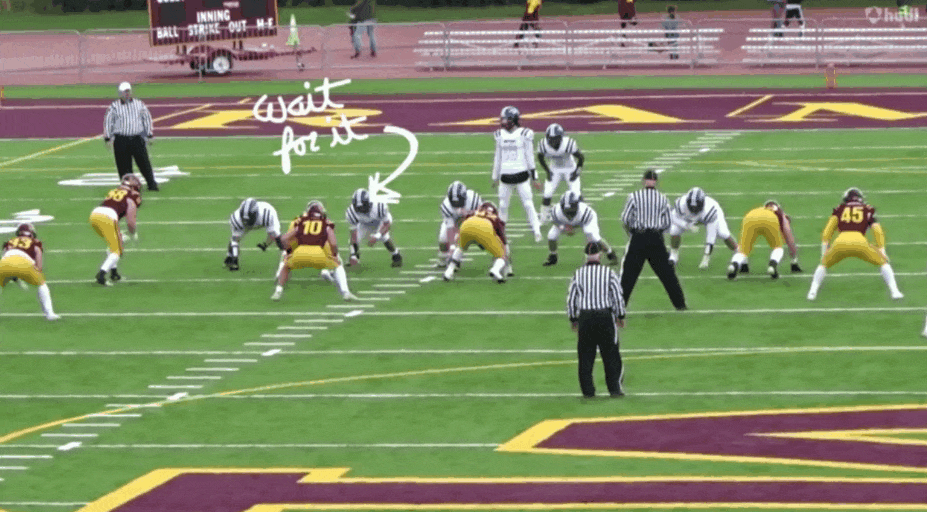 So I get to thinking - he must be short, right? Maybe he doesn't have any offers because he's 5'-10" or something.
But then I watch this clip and see that he's not short. In fact, he has a fantastic wingspan for a linebacker. Aaron Henry tweeted last week that Kreutz has a 6'-9" wingspan.
Here's the clip showing his frame, wingspan, and physicality:
No offers? I don't get it.
He's aggressive...
He can shed a block and get to the ballcarrier...
And he's relentless, chasing ballcarriers all over the field until they're on the turf:
And this one might be my favorite clip. Simple little play, but this is football right here. I have to watch it 15 times before I can tell what happens. Kreutz uses x-ray vision to see through the line, read the ballcarrier, and then he's faster than a speeding bullet through the (tiny) hole to make the tackle:
Here's a little screen pass with a wide receiver plus a lineman or two who could take Kreutz out of the play. Do they? No. This is how you wrap up, kids.
As I said on the podcast the other night, I feel like he's Jimmy Rolder without the blowup. Jimmy Rolder was a Chicagoland linebacker who had no offers this fall (he was headed to Illinois to play baseball) and then he went from unranked nobody with no offers to 4-star linebacker who picked Michigan over Ohio State in one month. I feel like Kreutz was similar - four-star linebacker undiscovered because Illinois high schools didn't play football last fall - but for whatever reason he didn't blow up like Rolder. I might go as far as saying "after being Rolder's first offer and then watching him explode, we waited until the night before Signing Day to slide James Kreutz into the signing class without anyone else discovering him."
OK, so I just went back in and rearranged these gifs. Because as I was writing about them, I noticed something. So many of them are from the same game. Apparently, someone on the St. Rita offensive line stole Kreutz's girlfriend or something. Because he abuses each and every St. Rita lineman.
We already saw this one where he abused #71 (Valen Erickson, headed to Mizzou):
On this one, #73 gets a chance and, uh, FAIL:
Your turn, #72:
And I believe this is #75. He hates these cans!
One more for good measure: it's Mr. Mizzou's job to get out there and cut Kreutz so that he can't, you know, blow up the play for a four yard loss.
Oops.
I can't recall any single recruit like this. I feel like this is a practical joke or something. Like, at the end of the season, Sebastian Cheeks (4-star linebacker from Evanston headed to North Carolina) reveals that he played for Loyola this season wearing #10 simply to prove that evaluators rate based on the hype around the player, not the actual film. 247 has Kreutz as an 82 (low three-star) and Rivals has him as a 2-star. How??
I mean, I get it. I'll regret this post in three years. It will come out that he ran a 4.97 forty at some camp somewhere and that's why schools backed away. It's always about the measurables, and I'm probably doing that thing where I get overly excited about film for a kid on a great high school team whose defensive line kept him clean and let him make plays.
But still. Son of an NFL player? High school coaches saying "I don't know why this kid doesn't have offers"? Film like that? How on earth does a kid like that get 2-stars in an age when nearly everyone gets three stars?
Before we get to the Cruises, I feel like I need to document that St. Rita game above. Let me take a few hours here to make a video. I mean, what's another two hour delay in publishing this post?
First the video...
And then the Cruises.
James Kreutz - Four and one-quarter Tom Cruises.