Walkon
Dec 6, 2021
[]
[]
13 Comments
You have currently viewed 1 story this month.
IlliniBoard now offers two free stories per month, for more please subscribe.
I'm not going to lie here - being on press row for Illinois basketball games is really cool. I mean, don't get me wrong, being on press row for any college basketball game is really cool, but the biggest difference between covering games at the State Farm Center and covering games elsewhere is proximity.
At the State Farm Center - you are CLOSE. At other venues I've visited, sometimes the media section is up a level from the floor and other times it is close to floor level, but in no other arena is it like this…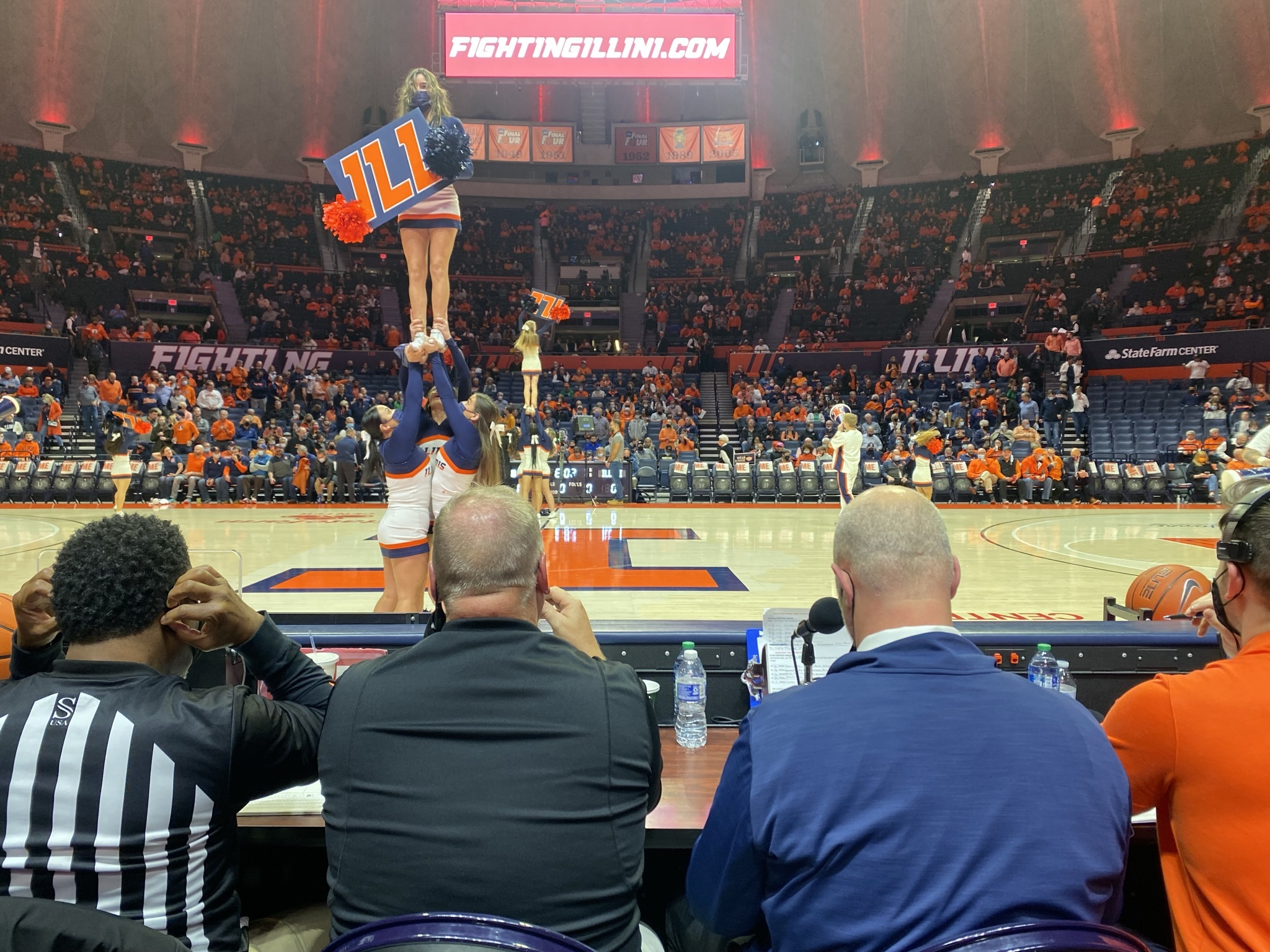 From this vantage point, not only do you see everything, but you hear just about everything as well. Our usual IlliniBoard press row seat is right near center court which allows us to be close enough to each bench to see and hear just about anything a coach from either team is saying when he is up and off the bench (which is, of course, all time). Teams have moved time out huddles out onto the floor, so while we aren't privy to those interactions, just about everything else is right in our wheelhouse.
Coach to player, player to coach, coach to referee, coach to other coach - we catch it all down there. So I thought it would be fun to revisit a post I made from three seasons ago in which I document the interactions I witnessed during the game and share the most interesting ones here. Brendan Quinn of the Athletic gets full credit for the inspiration here - as he had the first idea to do this a few seasons ago during a Michigan-Illinois matchup.
I also did a similar version of this post back in 2019 - in another game against Rutgers. If not the post, you might remember the game - Giorgi Bezhanishvili set an Illinois freshman single game scoring record (35 points) in a 99-94 OT win against the Scarlet Knights.
Since Rutgers was in the building again on this night, I thought it would be fun to revisit the experience, so here is the Illini win against Rutgers from Friday night - in moments…
90:00 before tipoff --The Orange Krush is officially in the house. It is the first Big Ten game with the Krush in attendance since March 8, 2020, and they are AMPED. They will have things to say tonight.
80:00 before tipoff -- A random collection of Illini players are getting shots up - including Omar Payne, Benjamin Bosmans-Verdonk, and Brandin Podziemski when Da'Monte Williams saunters on to the court. After leading the nation in three point percentage last season, DMW comes into this game struggling with his deep ball - having made only 3 of 14 attempts. He gets to work from the arc right away and after starting with 3 straight misses, he drains 9 in a row. After a little "yeah I'm good nod", he transitions into his pre-game flexibility regimen.
75:00 before tipoff -- Robbie Hummel and Loren Tate are at the scorer's table sharing stories. I can't hear their conversation, but I wish I could.
63:00 before tipoff -- The full Illinois roster (minus Andre Curbelo) is going through structured pre-game warm-ups under the watchful eye of Illinois assistant Geoff Alexander. "Game speed!" he calls out to no one and to everyone in particular.
36:00 before tipoff -- Kofi Cockburn adjourns to the sideline at the far end of the court to do his customary tennis ball juggling and soccer ball kicking routine. Kofi employs these drills before each game to sharpen his hand-eye coordination and footwork, but it's always a treat to see this 7-foot 285 pound behemoth showing off his nimble side.
34:00 before tipoff -- From the soothing "slow jams" played when the opposing team is going through pre-game warm ups to a full array of hip-hop, the pregame music soundtrack at the State Farm Center is always an eclectic experience. From my observation, the clear cut favorite of the Illini players is Drake's "Way 2 Sexy".
26:00 before tipoff -- Andre Curbelo walks onto the court in street clothes. It is already known he is out for tonight's game, but he serves as a reminder that this Illinois team is still not at full strength. He appears in good spirits, though, as he shows off a few dance moves and shares a laugh with Jacob Grandison and Tyler Underwood.
20:00 before tipoff -- a loose ball finds Cockburn who is standing beyond the three point line. He lets it fire - splash.
15:00 before tipoff -- WE HAVE A BO BOROSKI ALERT. At least it's not Larry Scirotto. Bo is joined at midcourt by the other two officials for tonight - Paul Szelc and Chris Beaver.
5:00 before tipoff -- Rutgers comes out of the tunnel for their final pre-game warmup. The Orange Krush is not impressed.
The Orange Krush is ready to hate on Jersey tonight. #Illini vs Rutgers tips off in about an hour. pic.twitter.com/gHAQvQLFJk

— Tyler Cottingham (@TylerCott) December 3, 2021
3:00 before tipoff -- Trent Frazier leads the Illini onto the court as "Thunderstruck" blasts throughout the SFC. The Orange Krush IS impressed.
2:30 before tipoff -- Brad Underwood makes his way onto the floor. He continues to opt for pandemic-casual attire in a sharp navy blue ¼ zip. He acknowledges the Krush, fist bumps the entirety of the scorer's table and embraces Rutgers coach Steve Pikiell. The two coaches have a short chat and we are just about ready to go here.
20:00, First Half -- It's Kofi Cockburn vs Cliff Omoruyi at center court. Boroski throws it up and the Illini control.
18:55 -- Alfonso Plummer gets a high ball screen from Cockburn and splashes home a midrange jumper for the first two Illini points of the night. Plummer has been a revelation on offense - averaging 24 points over the last four games. He came in with the reputation of being a one-dimensional three point shooter, but has been effective scoring the ball at multiple levels. Yes please.
18:30 -- The Orange Krush hate fest on Rutgers' guard Paul Mulcahy has begun. Just 90 seconds into this game, and they are up and rolling with the first "#UCK YOU PAUL" chant of the night. They only stop the chant to boo him when he gets the ball. They seem extra feisty tonight.
18:18 -- Underwood is off the bench for the first time this evening. He is not happy with the shot selection from DMW following a Rutgers turnover. No words - but his withering glare speaks volumes.
16:37 -- Geoff Alexander is on Kofi Cockburn for not running back on defense after Omoruyi has beaten him down the floor on two consecutive possessions. "KOFI!! RUN!!" he yells.
16:06 -- An exasperated Underwood quizzically looks to his bench after Trent Frazier passes up an open three in favor of making a bad pass to Plummer in the corner which leads to an Illinois turnover. "SHOOT THE BALL!" he exhorts to Frazier as he runs by.
15:45 -- DMW drills a pull up three pointer - from the EXACT spot where he had previously drained nine straight in pre-game warmups.
14:19 -- The fifth Illinois turnover of the half is a traveling call on Coleman Hawkins and it earns a foot stomp that was probably heard in B-section. Underwood storms down the bench ostensibly looking for someone - anyone - to sub in for Hawkins, but he ultimately decides better of it and leaves Hawkins in the game.
13:19 -- Underwood subs in DMW and tells him "Wheel" on the ensuing out of bounds play. The play was designed to get Plummer a look, but Plummer is called for traveling.
12:16 -- Hawkins drives baseline and finds Luke Goode for a three to put Illinois up 13-7. Steve Pikiell wants time out and Andre Curbelo is the first Illini player off the bench to greet Goode. Goode also makes an effort to find Hawkins to thank him for the assist. Coming out of the timeout, Frazier reminds the Illini defense to keep talking.
12:07 -- Steve Pikiell is baffled by Bo Boroski. Pikiell gives Boroski a "hands up/WTF?" gesture after Boroski called Mulcahy for an offensive foul well away from the action.
10:14 -- Pikiell engages Boroski again to question why goaltending wasn't called when Cockburn interfered with the rim after Ron Harper, Jr. was fouled on a shot attempt. His negotiation is unsuccessful. Pikiell remains baffled.
9:17 -- After a stoppage in play Rutgers assistant coach Karl Hobbs yells out a new defense. Underwood hears this and grabs Jacob Grandison as he walks by to tell him the play he wants. The result is an easy bucket by Cockburn on a lob over the zone from Grandison. That's such good stuff.
7:10 -- The rout is already on. It's 27-11 Illinois after a Grandison offensive rebound and putback. Pikiell literally grabs Boroski as he runs by to tell him he needs another time out.
7:00 -- The Krush has not forgotten Paul Mulcahy. At least this "YOU SUCK PAUL!!" is the slightest bit more family friendly.
5:16 -- It's 32-15 Illinois and we've reached the Jacob Grandison heat check portion of our evening. However, he misses a step back three and Underwood is not happy. "MOVE THE #UCKING BALL!".
4:52 -- Goode gets caught watching the ball and as a result is a late close out on what becomes a Rutgers three from Jaden Jones. Mount Underwood erupts. "WHAT ARE YOU DOING GOODE!?"
3:47 -- After another Grandison three pointer, Cockburn is slow to get back on defense (again), Rutgers gets an easy layup and Underwood is running mad - literally. He mimes the running motion while he yells "YOU BETTER START RUNNING!!"
3:32 -- We have a kerfluffle. Rutgers guard Jalen Miller is called for a technical foul after a loose ball scrum. Afterwards, Underwood and Boroski have an extended conversation about how many free throws Illinois should be awarded. While Plummer shoots the two free throws Cockburn, Frazier, Grandison, and Hawkins stand at half court with their arms around each other while the five Rutgers players are standing apart with their hands on their hips
2:30 -- After another empty possession Steve Pikiell would also like his team to "MOVE THE #UCKING BALL!"
1:02 -- Hawkins has his driving layup attempt blocked out of bounds. Underwood gets his attention and tells him "TWO FEET!" as he demonstrates a jump stop and power layup move.
:52 -- Following a Rutgers turnover, Underwood and Alexander wave their arms forward toward the offensive end indicating they want Plummer to get the ball up the floor faster to get a 2 for 1 opportunity. Frazier gets a shot off at :39 and Kofi gets free throws following an offensive rebound putback attempt.
00:00 First Half: Illinois 43 - Rutgers 23 -- Krush is relentless. As a Rutgers manager waits patiently by the scorers' table for the first half stat sheet, Krush has directed their ire at him -- "YOU LOST TO LAFAYETTE!" The poor soul nods his head and mouths "Wow."
20:00 Start of the second half -- After Illinois breaks the huddle, Brad Underwood is holding his court diagram "whiteboard". It says DEFENSE: KILLS/KILLS/KILLS and REBOUND. OFFENSE: .5 BASKETBALL. We know that a "kill" is three consecutive stops on defense. ".5 Basketball" is the Illini coaching mantra for never letting the ball stick for more than ½ second on offense.
19:15 -- After Kofi misses an awkward lay-up attempt at the rim. Underwood gets his attention and calmly tells him: "Two hands - Dunk the ball."
18:17 -- Alfonso Plummer drains a three from the wing with no Rutgers defender anywhere close to him. Steve Pikiell can only shake his head.
17:27 -- DMW gets called for traveling on a stutter step drive and Underwood rhetorically asks Boroski - "I thought that wasn't supposed to be traveling this year?"
14:22 -- The first media timeout of the second comes late and DMW is absolutely gassed. As he is standing bent over with his hands on his shorts, Illinois Strength Coach Adam Fletcher is there with a water bottle and some encouraging words.
13:34 -- Illinois is up big but Underwood is still in ABC mode. Always. Be. Coaching. After Luke Goode misses an ill-advised step back three, Underwood jumps up and gives the freshman his second "WHAT ARE YOU DOING GOODE?!" of the night. Goode subs out at the next whistle and Underwood is waiting for him - but with a smile. He stops him and says "You know a step back three is not what we want there."
12:39 -- This possession highlights the growth of the Illinois offense over the past three games. Hawkins feeds Kofi in the block and when the double comes from the corner, Kofi rifles a pass to DMW in that same corner. DMW makes the extra pass to Frazier who buries the triple. That is very simple yet almost unguardable offensive basketball and bodes very well for the future.
11:45 -- Plummer drives for a layup and one through the now largely uninterested Rutgers defense and Andre Curbelo is immediately off the bench to show his fellow Puerto Rican some love.
10:35 -- Kofi passes out of a double team to Grandison on the wing. Grandison gives the ball back to Kofi on the repost and Kofi again passes out of the double to Grandison. This time, though, Grandison misses the three and the ball bounces up and over the backboard. Kofi has a huge smile on his face as he tells Grandison about missing his assist.
10:12 -- Hawkins converts an alley oop dunk from Goode and lets the Rutgers defender know about it. We remember that Hawkins has a tendency to get a little chirpy, and although nothing came from this exchange, Geoff Alexander intercepts Hawkins after the ensuing Rutgers time out and offers him some counsel. The Illini lead is now 70-37 and we have reached the "Kofi is dancing in the time out huddle" part of our program. After the timeout Underwood gets the big man's attention and asks him: "You got one more run?" Kofi re-enters the game a minute later.
7:56 -- Coleman Hawkins turns the ball over right in front of Brad Underwood. He falls to the ground in the process and looks up to see Underwood looming over him with a "GODDANGIT!!" Underwood and Hawkins each spoke about their relationship in the post game as it's evident that it's been a process. Underwood went so far as to compare it to two rams butting heads. Underwood leaves Hawkins in the game after the turnover, and as Hawkins subs out a minute or so later he tells Underwood "I'm tired - that was my fault." We'll call that progress.
4:12 -- There are few things which make Underwood angrier than lazy close outs to the perimeter, and after Plummer is especially slow in getting to the arc for a Rutgers three, Underwood is in his ear all the way down the sideline as Plummer runs past the Illini bench. The ball finds Plummer in that corner, and as he dribbles back up toward the top of the floor Underwood is in his ear again: "So help me if you shoot this…" Narrator: Plummer shoots it. Kofi snares the offensive rebound for a monster dunk, but Underwood calls time out immediately to get his regulars out of the game. He spends most of it letting Plummer have it.
3:44 -- It's officially garbage time with Brandin Podziemski, Luke Goode, BBV, Austin Hutcherson, and RJ Melendez on the floor. The Orange Krush serenades Melendez with the Happy Birthday song and most of the remaining SFC crowd joins in. Crack research tells me that it is indeed Melendez's 19th birthday.
2:12 -- After Podziemski launches (and misses) a guarded three pointer with 23 seconds left on the shot clock, Underwood is not happy. "WHAT ARE WE DOING?! RUN CLOCK!!" We all agree Brad.
00:00 Final -- Illinois 86 - Rutgers 51
Illinois AD Josh Whitman waits in the tunnel to embrace each Illini player and coach. After all have gone past, Whitman waits patiently. He waits for the big man - Kofi Cockburn who is doing a post game interview with ESPN. Finally, Cockburn runs through and they share an embrace worthy of two large humans.
A fitting end to the best night of this young Illinois basketball season so far.