When You Wish Upon A Star
Robert
Feb 21, 2021
[]
[]
23 Comments
You have currently viewed 1 story this month.
IlliniBoard now offers two free stories per month, for more please subscribe.
This is the first game where I've flown. Flights were cheap, I could stay by the airport and Uber to the game, so I decided to fly. My alarm went off in Champaign at 5:10 and I landed in Minneapolis at 10:04. That's a big improvement over the drives to Lincoln and Piscataway.
Because I flew, this trip felt different. I don't know why, but flying to cover the game put me in absolutely the best mood. (Don't worry, I'll bring this all around to the game and to Ayo.)
After I landed I shuttled to the hotel, I checked in and started getting my things together to head to Williams Arena. I shot my wife a quick text and said "I'm having a blast". She knew the game didn't start until 2:30, so she asked that that was about, and I told her that something about A) boarding a plane and B) checking into a hotel to C) cover an Illini basketball game gave me the strongest "I worked really hard and built something" vibes yet. I felt, I don't know, credible. Like, I created a thing and people pay for that thing and then I take that money and purchase a plane ticket and a hotel room. Seems simple, but today, man, it felt good.
My wife responded with something like "I'm happy for you" and I sent her this gif: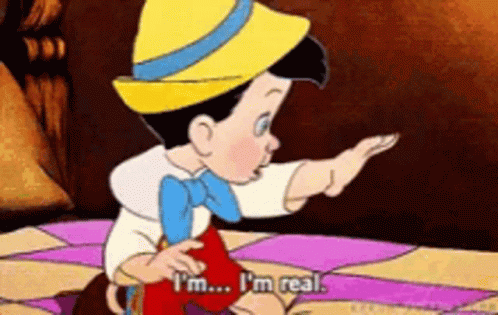 She laughed.
I guess it's a bit embarrassing to say that - a 48 year-old man more or less having a "look ma, no hands" moment - but that's what I was feeling. And, of course, when I got into my Uber, I had a song from Pinocchio in my head: I Got No Strings On Me. If you think my brain has this massive catalog of Illini memories, you should check out the "Disney movies from when I was six" wing.
Here's how my memory works. I send that gif to make my wife laugh (she knows me, and will know exactly what I'm communicating there - that's one of the single best things about marriage, by the way), and then my brain will be stuck on Pinocchio and Pinocchio-adjacent memories for the rest of the day. Watching it as a kid, getting angry when people were laughing at Pinocchio, the terrifying Pleasure Island - way too many memories of a 1940 cartoon for a kid born in 1972.
With my brain working this way, I head to the game. Anyone care to guess what song was stuck in my head after the game? Oh, I guess I already told you with the post title. Well, I think the second verse fits best here:
If your heart is in your dream
No request is too extreme
When you wish upon a star
As dreamers do
---
Believe me, I understand how fortunate I am. I'm not sure I've ever understood something more. There's a college basketball season happening, Illinois is #5, and I get to be there.
Not only that, but for games like Rutgers, Penn State, and Nebraska, I was the only Illini person in press row. There is zero chance something like that would get lost on me. There's this long series of events - from my wife getting a job offer in Champaign to a global pandemic - and they result in me, at 10:00 on a snowy Friday night in Lincoln, Nebraska, getting to watch Ayo Dosunmu celebrate with Da'Monte Williams after he took over and won the game. And because that moment happened in the corner, away from TV cameras and not even visible to teammates, I'm one of three people aware of that moment.
It will be 2042 and I won't be over that. I am so incredibly lucky. So many of you were so kind in reaching out to say "oh man you quit your job and then sports get canceled three weeks later I'm so sorry", but please see the payoff here. I'm in Minneapolis, and my team just beat the fighting Pitinos 94-63, and I get to be there to cover it. I'll take "seven months without sports" every year if this is the payoff on the other end.
I also feel a great sense of responsibility. I need to tell you what it's like in there. Hey, maybe I should do that now.
As I tweeted during the game, I can't recall a team as dejected as Minnesota at the under-12 timeout in the second half. Their body language could best be described as shell-shocked. Illinois started the second half 18 for 22 - one more time: EIGHTEEN FOR TWENTY TWO - and Minnesota just wanted to run and hide somewhere. As I recall, Illinois missed the first shot of the second half (Miller missed a three and Kofi got the rebound and dunked it), so that would mean an 18-for-21 stretch immediately followed the Miller miss.
I need to go look at up and screencap it. And just for fun let's start with the little five point burst at the end of the first half. Over those 12 minutes...
The numbers on the right are the streaks. We hit 2 in a row, then 6 in a row, then 4 in a row, then 2 in a row, then 6 in a row. 5 dunks. 8 layups. The only three besides Trent's halfcourt heave was Da'Monte's three with 11 minutes remaining. Let's put all of that together:
8 layups, 5 dunks, 2 threes, and Ayo goes 4-4 on two-point jumpers as the Illini make 20 of 24 shots over 12 minutes and 6 seconds while pushing a 10-point lead out to a 36-point lead.
And let me tell you, the Illini bench was as loud as it's been this season. When Kofi and Adam Miller had those back-to-back dunks on the fast break, the screams from the Illini bench were echoing around the old Barn while the Minnesota bench just sat there in stunned silence. I can't think of much to compare it to. It felt like Minnesota was giving up, but there were still 15 minutes left and the Illini bench kept screaming and screaming and screaming.
Even the Minnesota media started to make "my God" noises. Like, an "oof" noise followed by laughter. More or less saying "MY GOD" through noises and laughter. Like I said, there's not much I can compare it to. The Illini were operating at 99.4%, and Minnesota had no answer whatsoever, and it's dunk dunk layup dunk jumper dunk layup and suddenly the scoreboard says 88-52. It was around that time that you could hear the Minnesota media's laptop keyboards come to life. Eight minutes to go, but they don't have to wait to write it. "The Gopher's looked completely helpless as #5 Illinois came into Williams Arena and..."
All the while I'm sitting there wondering how I got so lucky. I know it's killing so many of you to not be able to see this team in person, and that thought almost makes me feel guilty for how fortunate I am. I believe this to be the best Illini performance since the UNLV 8/9 game in the first round of the 2011 NCAA Tournament, and the fact that I could be here watching it live is just so incredible. I feel like I need to take all of this and condense it into a sentence like I did for our scoring streak above.
I spend my first seven months in Champaign waiting for sports to return and when they do, I get the insane opportunity to cover a top-5 Illini team up close, often as the only Illini fan in the building.
Like a bolt out of the blue
Fate steps in and sees you through
When you wish upon a star
Your dreams come true
---
I found this tweet earlier this week:
The future king of Champaign measures the height of his throne. pic.twitter.com/j4g18cu6Vc

— Robert Rosenthal (@ALionEye) January 23, 2018
I was still sitting in press row (typing out my article, no doubt) after the Illinois-Michigan State game that January. I want to say it was maybe Martin Luther King Day? Ayo, a senior in high school at the time (but having already signed with Illinois) came down from Chicago for the game. We lost, I was writing about it, and as I was typing (with maybe 20 people left in the State Farm Center), Ayo walked out on the court and imagined layups. I took that photo and tweeted it.
OK, now I'm curious what I was writing. Let me go look it up.
WHOA. My goodness. I didn't expect to land on that. Let me set the scene here.
It's Underwood's first year, and we lost to Michigan State that night to drop to 0-8 in the Big Ten. We all started to ponder a winless Big Ten season. So I wrote some things:
I caught part of a Virginia game recently. A machine. They don't even have all that impressive of athletes on their roster, but they know what they're supposed to do and they know how to execute it. Purdue, as much as I hate to say it, is a bit machine-y right now. They plug in players and keep going. And Michigan State - this program (and team) is just a machine. They have insane athletes - Bridges and Jackson have to be two of the more impressive players to play in the State Farm Center in the last 10 years - and they know exactly what they're supposed to be doing. Such a machine.

I remember our machines. In the 80's, 2-seed, 3-seed, 4-seed, 3-seed, 3-seed, 1-seed, 5-seed from 1984 to 1990. In the early 2000's, 4-seed, 1-seed, 4-seed, 4-seed, 5-seed, 1-seed, 4-seed from 2000 to 2006. Players would come and go, we'd have great athletes and get a 1-seed and then we'd drop down a peg athletically and "drop" down to a 4-seed. Safely in the tournament every year, freshmen being brought along slowly and then unleashed, the players change every year but the basketball doesn't - a machine.

I don't really need to go over how we got away from that. Weber broke the machine, Groce slapped it back together real quick but it was never truly repaired and eventually fell apart. Now we're trying to put it together piece by piece.

And honestly? I felt OK about the repairs tonight.
I remember this post now. We had fought and fought but were simply outclassed by Michigan State. I wanted to note, however, that there was some fight in this team despite the 0-8 conference record. "Fight" is a good first step.
I continued:
Which, to me, is a step towards building another machine in Champaign. We'll have to get better athletes - good Lord were we overmatched tonight - and we'll have to do something about this layup-line defense (it eventually comes around, right?), but the mental stuff that seemed to be lacking recently is coming around. I was exhausted watching this game, which isn't something I said a lot the last few years.

(As I'm typing this, Ayo Dosunmu just walked out to the basket at the north end and reached up to touch the net. Yes, help is on the way. And we need a lot more just like that.)
Kofi and Giorgi, Miller and Curbelo, and here we are.
Let's skip to the end and then let's talk about it.
Still, after Friday's debacle, I'm a bit more upbeat tonight. "Fight-wise", I feel like that was one of our better performances in the last few years. Even the late 9-0 run to cut it to 7, led by Kipper's crazy offensive burst, showed that they just wouldn't quit. We were fairly relentless against our best opponent this season.

And that's something we can build from. First step: no Big Ten basement. Next step - is it too much to ask for a little run in the Big Ten Tournament? Third step - land a top 10 class.

The 39th step? A rebuilt Illini basketball machine.
We're... there?
I mean, that was a machine today, right? Complete and total destruction of an opponent, yes? My goodness did we travel a long way in only three years.
Let's see if KenPom can help us track where we were and where we are. After losing that game in January of 2018, we fell to 107th in KenPom. We'd continue to tumble all the way down to #112. Nebraska is #119 right now so yeah - that's where we were.
Now, we're #5. (Michigan State that night in 2018? #6.) The thing I was dreaming we could someday be has suddenly become the thing we are.
How? The "future king of Champaign" turned out to be the best player in college basketball. We took some parts from an inherited recruiting class (Trent and Da'Monte), we added a monster in the paint, we grabbed two superstar freshmen, and we found other pieces like Giorgi and Grandison to complete our machine. We tested it at 7,000 RPM's today and she purred like a kitten.
Of course, it probably doesn't mean much without Ayo at the wheel. Two triple-doubles in 15 days is simply remarkable. Let me try to frame all of this:
As of today, Ayo leads the Big Ten in assists and is second in scoring.
He's also SEVENTEENTH in rebounding. That might be more stunning than being first in assists and second in scoring. Our All-American guard - whose teammate leads the conference in rebounding and grabs everything that comes off the rim, I might add - trails 16 frontcourt players in the Big Ten rebounding standings. Also, he'd be Wisconsin's leading rebounder.
He got this triple-double in only 32 minutes (against Wisconsin it was 35 minutes).
As @IlliniStats keeps tweeting, he's the only player in the last 11 years in college basketball to be averaging 20+ points, 6+ rebounds, and 5+ assists. 11 years.
Also, he made Marcus Carr do this:
There was a lot of Ayo vs. Garza debate today, and honestly, I'm not sure I even care. I'd love to see Ayo win the Wooden Award, but even if he doesn't, I just feel so incredibly lucky that he chose to shine in our universe. He got in front of a microphone at the Nike Store in Chicago and talked about bringing Illinois basketball back and then he delivered on his promise. There we were, lost in a decade of "what happened to Illinois basketball?", and he decided to bring us back.
Makes you almost feel unworthy, right? We spent so much time hoping Illinois Basketball would become ILLINOIS BASKETBALL again - I've talked to a lot of you, it's all you've really thought about for the last decade - and here we are getting everything we asked for. The feeling we had during that second half run today... we all thought it was gone forever, and Ayo brought it back. I might just break into song.
When you wish upon a star
Makes no difference who you are
Anything your heart desires
Will come to you