Looks Like University Of Illinois - Magnus Moller
Robert
Jan 14, 2022
[]
[]
4 Comments
You have currently viewed 1 story this month.
IlliniBoard now offers two free stories per month, for more please subscribe.
First off, at the Signing Day press conference I learned that it's not pronounced Mag-nuss. The G is silent and Ma is pronounced like the vowel in "cow". Moww-nuss.
Second, Magnus was my third-favorite American Gladiator behind Nitro and Zap. (This is a joke. There was no American Gladiator named Magnus. Although there should have been.)
Maybe I should just give you my actual top-5 American Gladiators (maybe I shouldn't). Counting down from 5 to 1.
5. Gemini - Don't ask me how I know this, but both of Gemini's sons played football at USC (Shane Horton and Wes Horton). Wes Horton went to the NFL and played with the Panthers for six seasons. Gemini was just the best. I wanted Gemini to be my high school guidance counselor. And if you were born between 1970 and 1974, you did too.
4. Blaze - Of all the events, Assault was my favorite. The Gladiator firing tennis balls and the contestants trying to hit the target above the Gladiator's heads. In my memory (it's been more than 30 years), Blaze was the best at Assault. I went looking or video of her firing the tennis balls and all I could find was this one (where Blaze loses). But if you've never seen the show, well, here:
3. Malibu - I submit that there is nothing more 1989 than Malibu on American Gladiators. Not the Living Colour "Cult Of Personality" video, not the release of Tetris on Sega, not the premiere of Baywatch on NBC. This is pure, un-cut 1989: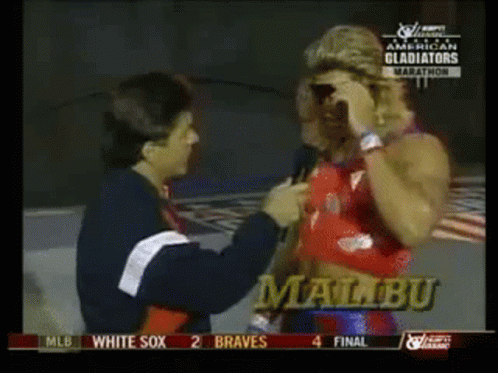 God, I miss it.
2. Zap - Gentlemen prefer blondes... who can bench 300 lbs.
1. Nitro - The GOAT. It's not even close. He was a beast at the joust thing. I still remember being in awe of how this guy somehow stayed on the platform:
While doing some research earlier, I saw a clip (within a much longer video) that had all three of my dudes - Nitro, Gemini, and Malibu. If you want the pure essence of American Gladiators - Mike Adamle's tracksuits, bad acting from the Gladiators, a producer in all of their ears saying "I know it's corny but just keep going - the people will love it" (we did), this is it:
And Magnus Moller would have been perfect for it. Magnus, from Denmark, who has grown a mullet in the past and would do it again, firing tennis balls from the platform during Assault. I don't know what kind of budget we have for the recruiting BBQ in late July but if I'm Bret Bielema I'm doing a Gladiators-style competition with Magnus as the featured Gladiator. Who wouldn't commit on the spot?
"Robert, you're terribly behind on LLUOI posts and you spent more than most of your afternoon researching, clipping, and writing about American Gladiators?"
Yes.
It's mostly because this is one of the more difficult LLUOI articles to write. There's just so little to go on. Adding an offensive lineman from Denmark is a shot in the dark.
Bret Bielema took a similar shot in the dark with Hjalte Froholdt at Arkansas (pronounced yell-duh fro-holt). Offensive lineman from Denmark, took a stab, and Froholdt was a fourth-round draft pick who is now with the Cleveland Browns. There's an organization over in Europe - PPI Recruits - who tries to place European players with American programs (think Pro Kick Australia except not for punters). That's how Bielema found Froholdt, and that's how Bielema found Moller.
There's film from Europe, but it doesn't really tell us much. You know how I'll write an LLUOI post about a kid from a 1A school and I'll say "it's really hard to glean much when he's blocking a 163 lb high school defensive end"? This is similar. The competition is so bad that it's hard to learn much. You just have to go off "this kid is massive".
Here's an example of said film:
So yeah, A) he's massive, and B) I'm not sure I learned much else.
He's also very tall. And as you might recall, I'm not the biggest fan of tall offensive line recruits. In fact, I think I've gone on record as saying 6'-7" is the max. I know it's fun to say "Kofi would be a great offensive tackle", but Kofi would not be a great offensive tackle. Once you're 7', defensive ends can just push you over because you're top-heavy. You have to be insanely, uh, "thick" to be able to play offensive line when pushing 6'-8", 6'-9", or 6'-10".
However, as you might recall, I also have that "head and shoulders" thing where I don't think anyone's height should be listed from the top of their head. Every time I go on that rant I end with the same phrase so I'll just put it out there again: NO ONE IS BETTER AT FOOTBALL OR BASKETBALL BECAUSE THEY HAVE A LONG NECK. I'm willing to accept "Mike Glennon's long neck is beneficial because it gets his eyes above the defense", but that's about it.
With offensive linemen, all that really matters is where your torso is located. A lineman who is 14" from shoulders to top-of-head might be listed at 6'-4" and a lineman who is 11" from shoulders to top-of-head might be listed as 6'-2" but give me the 6'-2" guy because his shoulders are an inch higher.
I've always used Mike Glennon as the example, but let's use the latest neck phenomenon, Davis Mills from the Houston Texans. If Davis Mills was an offensive lineman, all that would matter would be his shoulder height. He's listed as 6'-4", but honestly, I bet he stands shoulder-to-shoulder with some 6'-0" guys. Four inches of extra head/neck height (if he were a lineman) would be meaningless.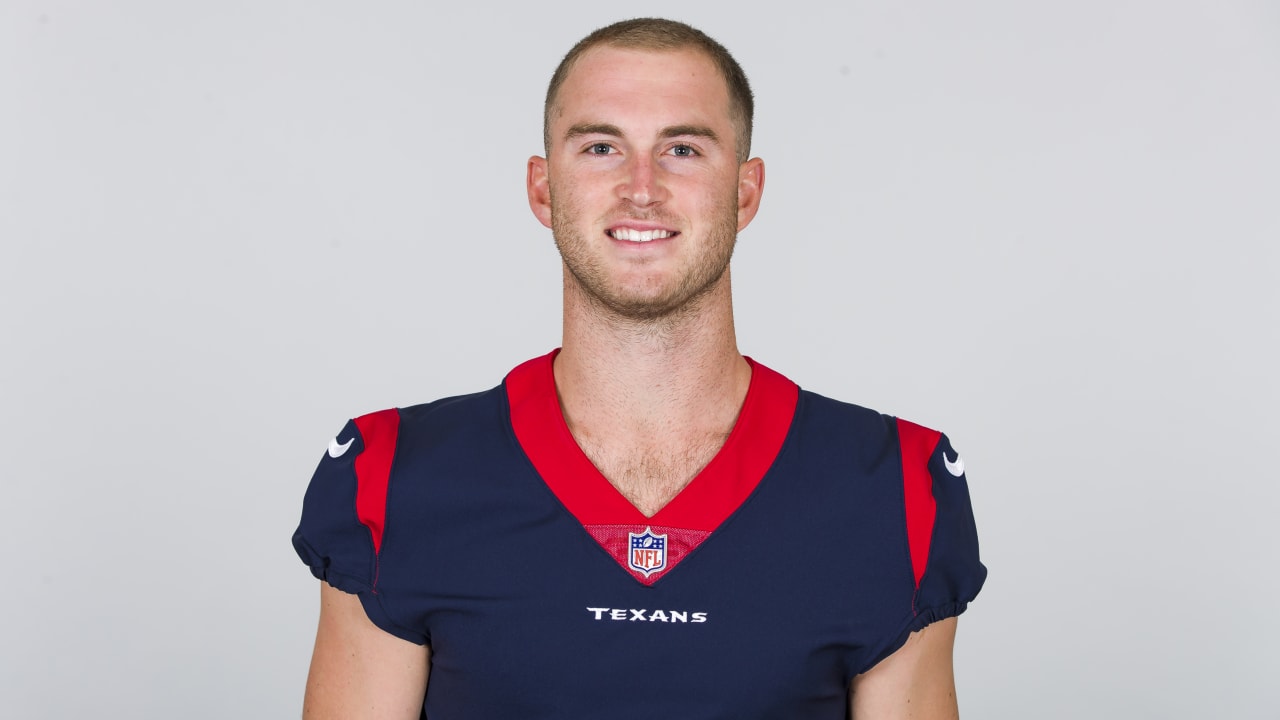 Magnus Moller is similar. Here's a photo from his Twitter. He's probably two inches taller than Hunter Whitenack (left side of the photo), but that's only because of his long neck. Shoulder-wise, they're dead even. Whitenack might even be an inch "taller".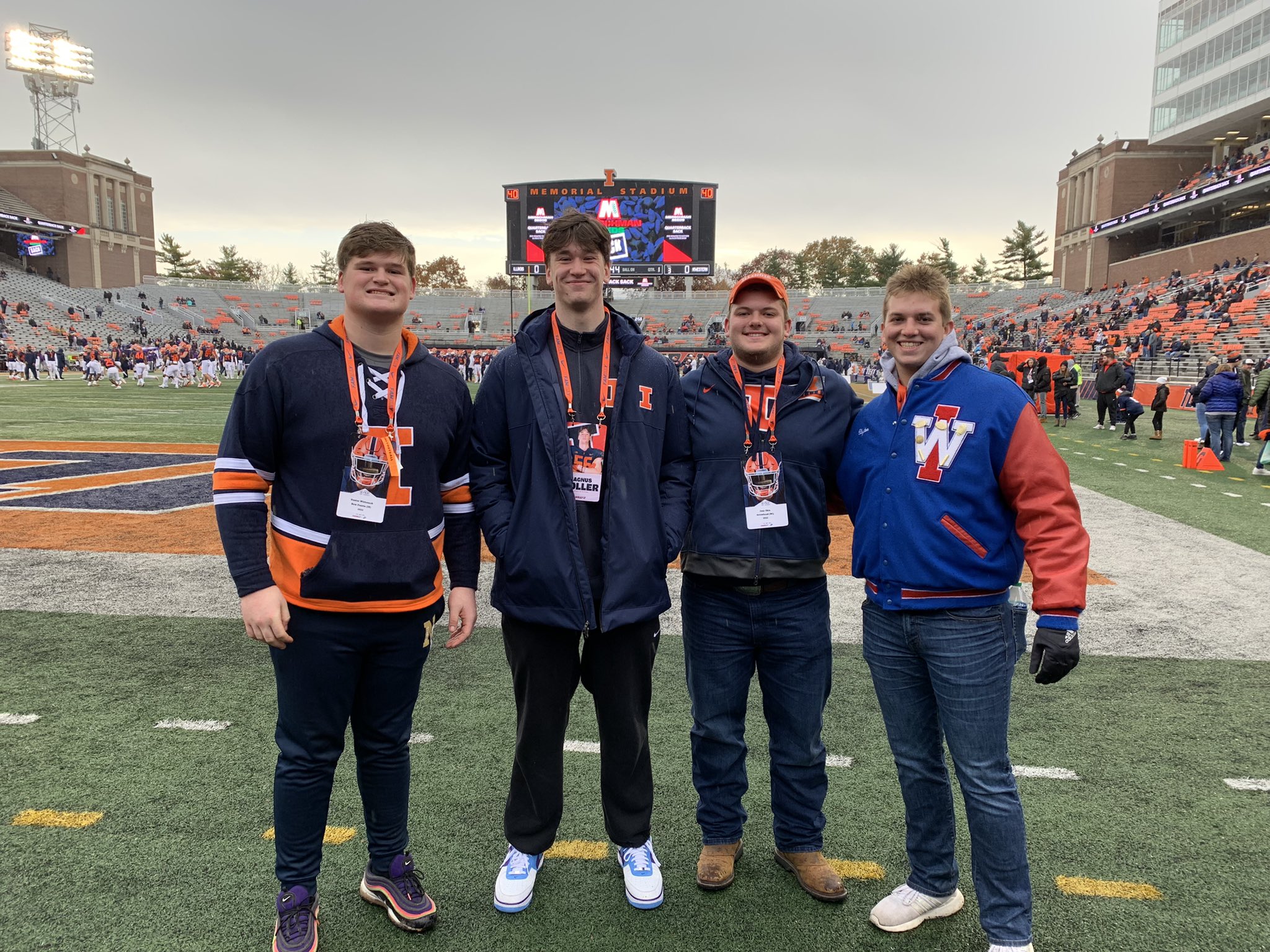 So yes, height-wise, he appears to be at least seven inches taller than Joey Okla (orange hat). But shoulder-wise, they're probably only three inches apart. My point: Moller is a 6'-5" lineman with three extra inches of head/neck.
Man, I'm all over the place with this one. But there's just not much I can evaluate. This is a project recruit. We found a 6'-8" guy from Denmark with good footwork and we're saying we think we can develop him into an offensive lineman. I've not really done this before, but the best comp for him might come from the basketball side. A similar project recruit would be... Samba Kane?
Similar background (Kane played soccer as a kid, grew to 7'-0", and an organization that places athletes from Senegal at private high schools in the United States sent him to a HS in Colorado), similar journey using his athletic talent to get a college scholarship in the US, similar "you know the basics, and we will now teach you the specifics of the sport." Huge fan of all organizations that create opportunities for kids like this.
But most of the kids from these organizations still fall under the category of "project". There are offensive linemen coming out of Texas who have had a personal line coach for 10 years and four years of having a specific, on-the-payroll OL coach in high school. Organizations like PPI Recruits can teach the kids the sport in Europe, but there's just so much more development necessary once they arrive on campus. Can't teach "tall with broad shoulders and good footwork", though, so here's hoping he develops like Froholdt.
Tom Cruises stay pretty low, like they do for all project recruits. Hope he develops, but for now, I"m going with...
Magnus Moller - One and one-half Tom Cruises