Robert
Nov 11, 2022
[]
[]
5 Comments
Now that I've figured out my writer's block (Orange and Seventeen subscribers who get the newsletter know what I'm talking about, and the rest of you probably wouldn't care if I told you because it's a LONG story), I'm gonna try to cram in the Numbers article on a Friday. Right to the digits.
QBR
We need to acknowledge what Tommy DeVito has accomplished this year so far. ESPN keeps their Total QBR number for all college quarterbacks, so here's every quarterback in the Big Ten and their QBR ranking:
CJ Stroud (Ohio St.) - 1st
JJ McCarthy (Michigan) - 13th
Tommy DeVito (Illinois) - 26th
Sean Clifford (Penn St.) - 37th
Aidan O'Connell (Purdue) - 38th
Taulia Tagovailoa (Maryland) - 40th
Payton Thorne (MSU) - 47th
Tanner Morgan (Minnesota) - 58th
Graham Mertz (Wisconsin) - 66th
Casey Thompson (Nebraska) - 71st
Connor Bazelak (Indiana) - 93rd
Ryan Hilinski (Northwestern) - 94th
Spencer Petras (Iowa) - 116th
(Rutgers does not have a QB with enough passing attempts to qualify.)
I don't know why I haven't been shouting this from the rooftops, but not only do we have Chase Brown leading the nation in rushing and the top scoring defense in the country... we have the clear #3 quarterback in the Big Ten. And probably top-25 nationally.
I want to say that again. In three weeks they will release the All Big Ten teams. If it's not Stroud first team, McCarthy second team, and DeVito third team, we riot.
OK, yes, fine, there's a chance that the statistics from the next three weeks change some things. Taulia Tagovailoa could have this amazing three-game run and we'd find DeVito on the outside looking in.
Or maybe Tommy passes JJ McCarthy for second team.
NERDstat CFP Rankings
The guy I reference the most in these Numbers articles - Bill Connelly, formerly of Football Outsiders, now with ESPN - did an interesting thing this week. He tried to assemble a CFP seeding formula. His suggestion: instead of the Committee, what if the playoff teams were chosen by a formula? Or, at the very least, what if there was a formula at the disposal of the Committee?
We see this a lot with college basketball. There's been a big push in the NERDstat world to move the NCAA seedings away from the Committee and towards a formula. These formulas are usually very close to the actual Committee results (the one I saw last year only had two changes to the "last two in"), so the argument is that for those final selections, a formula is better than a committee. And the same holds true for whether a team should be a 4-seed or a 5-seed. Let the numbers dictate that.
I'm not here to have that discussion. It's football season, so I'm here to have the football version of that discussion. What if the selections weren't made by a committee? What if there was a formula?
Here's what he came up with:
Column by column that's...
FPI Percentile (FPI is ESPN's own NERDstat - Football Power Index)
SP+ Percentile (SP+ is Connelly's own formula)
SOR Percentile (ESPN's Strength Of Record NERDstat that looks at how an average top-25 team would perform given your schedule)
RSP+ Percentile (This is the thing I wrote about last week - Bill Connelly's "Resume' SP+" which looks at how a top-5 team would perform against your schedule and the difference between their scoring margin and your scoring margin in those games.)
Poll Avg. (This column allows the humans to rank the teams, just like we've been doing for 100+ years)
Mix all of that up and the "output" column is labeled "CFP BCS" - the rankings that this formula would put out if the formula replaced the committee. And after the CFP rankings were released (we dropped to #21), he tweeted a version of this chart with plus/minus included: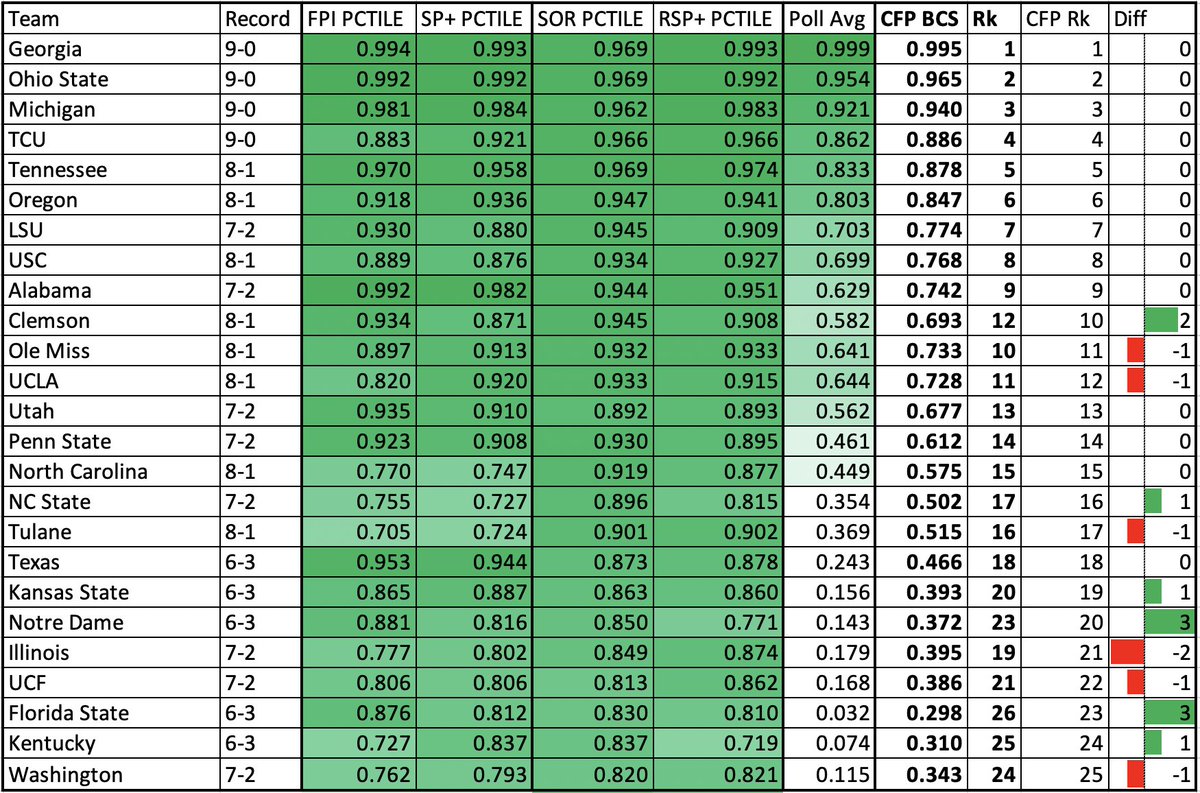 I enjoyed that because the teams being boosted too much by the committee are... Notre Dame and Florida State (LOL). And the only team two spots lower than they should be? Illinois.
The metric that's the highest for us? Resume SP+. The one that is the lowest on us? ESPN's FPI. We dropped down to 27th there (behind Wisconsin and Minnesota and even behind 4-5 Iowa State).
There's no real takeaways here. I'm past the point of trying to use numbers to say "people, we are REALLY good". I'm now trying to figure out how "really good" we are.
And the numbers now say... right around 19th.
2nd Order Wins
This is another stat I've been talking about all season. This and Postgame Win Expectancy (because 2nd Order Wins are just a total of all your Postgame Win Expectancies). The theory: sometimes you win a game you should have (statistically) lost, and sometimes you lose a game you should have (statistically) won, and since those things generally balance out over time, which teams are legitimate 7-win teams (Cincinnati) and which teams got to seven wins with smoke and mirrors (NC State)? If you'd like further explanations, go read any of the "Numbers" articles I wrote in September and October.
This is probably a really good time to talk about it again because of the Michigan State loss. We outgained Michigan State 441-294, and that's the simplest stat to say "Illinois moved the ball and Michigan State didn't - Illinois should have won", so I'm guessing a lot of people were surprised to see the PGWE for this game at... 21.3%. Take all of the stats from this game, toss them up in the air to scramble them, and Michigan State wins this game 79 out of 100 times.
How? Well, first you need to remember what the stat is set up to do. It's set up to say "when a game is played with these specific stats, out of 100 games, Team A has won 79 times and Team B has won 21 times". The stat was set up using the results of previous games. You study the former games, you find the stats that generally mean you'll win a game, and then you base your outcomes of each game on that data set. And the data set says that this was a game Michigan State wins, more or less, 8 out of 10 times.
Let's start with Bill Connelly's advanced box score for the game and his comment on why Michigan State was above 80% PGWE: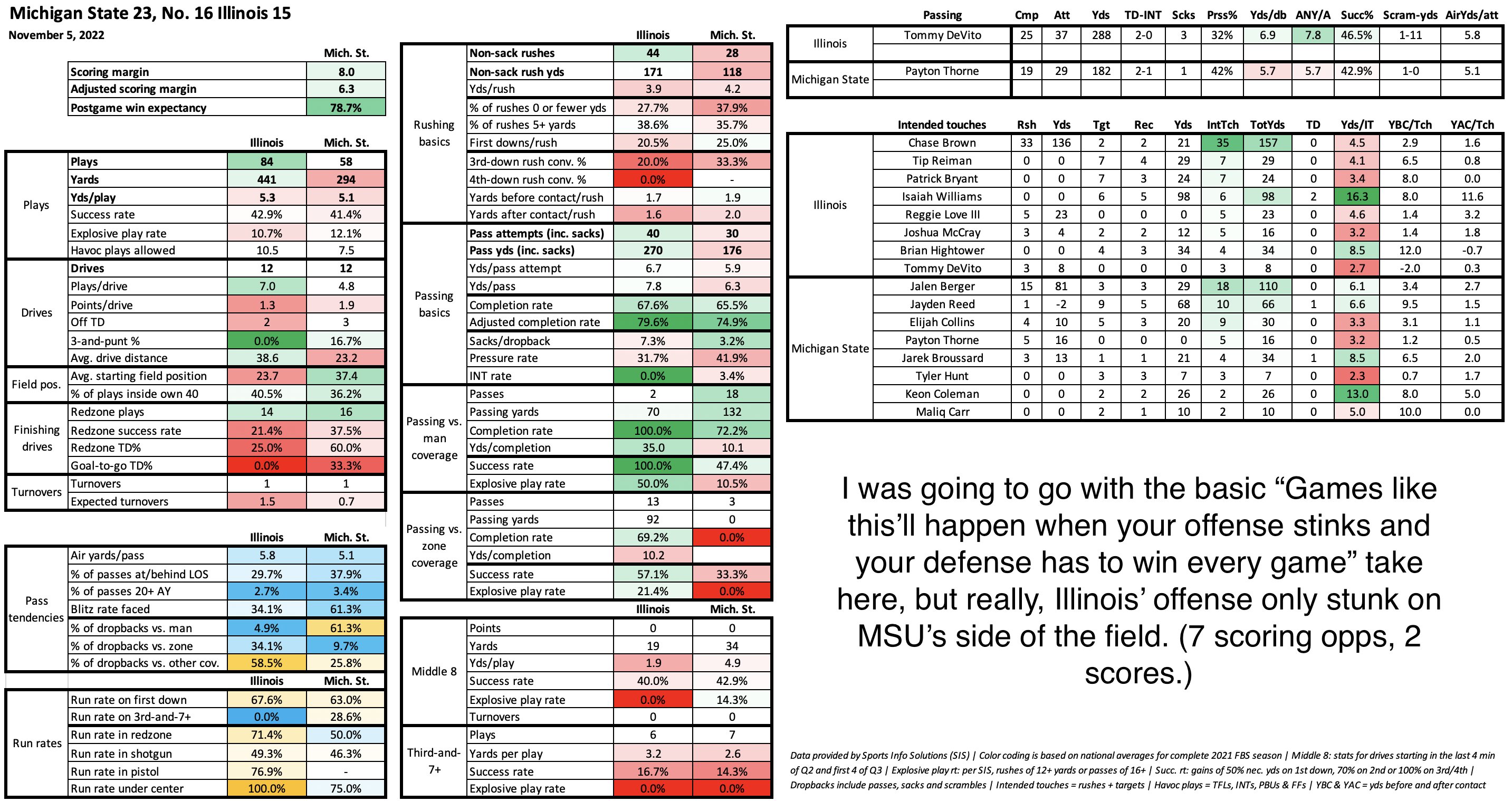 His comments are in that box lower right. The large text. The NERDstats say what we all said. If you don't score at the end of your drives, you don't win. If the yards are meaningless (meaning, they don't lead to points), then 441-294 is more-or-less meaningless. Yes, the team that outgains the opponent usually wins the game... but not if that team is going 80 yards and then turning it over on downs. That's not a recipe for successful football.
For me, two boxes here describe the entire game (and, I'm guessing, they result in "yeah, only a 21% chance Illinois wins a game like this"). They are:
14 redzone plays for Illinois and 16 for Michigan State. Redzone TD percentage for Michigan State: 60%. Redzone TD percentage for Illinois: 25%
Average starting field position: Michigan State: 37.4, Illinois: 23.7.
That second one is the whole shootin' match, folks. Remember that stat I put together years ago where I boiled everything down to yards and said "with an average starting field position like this and XX drives in the game..."? Let's do that again for this game.
Looking up the possession chart for this one, each team had 12 drives. 24 total drives in this game. And the difference in starting field position was 13.7 yards. So, 14 yards.
Illinois needed 14 additional yards on every drive. To make this an even game, Illinois needed 168 more yards of offense. More-or-less 14 yards at the start of each series just to get to where Michigan State was starting from. And that's just to make it an even game (before factoring other things like turnovers or red zone scoring). One hundred and sixty-eight yards.
The actual yard differential? 147 yards. So Illinois almost got it back to even. According to the chart up there, the average drive distance for Illinois was 38.6 yards and the average drive distance for Michigan State was 23.2, so yeah, that all checks out.
Which means we've made this loss really, really simple. A massive yards advantage completely wiped out by field position (punting is a tiny bit important, y'all). And then 14 redzone plays with only the Isaiah Williams TD in the fourth quarter to show for it. A simple recipe for losing a game.
Let's never do it again.