Robert
Dec 2, 2022
[]
[]
19 Comments
My notes are now three pages long. I've spent the last 3.5 hours writing down numbers and then coming up with different ways to frame the numbers. I think I'm ready to write about the stat that @bobzuppke stumbled on while we were recording a podcast episode last night.
If you didn't listen to the podcast yet (published this morning), I'll just translate that part of the pod:
Me: "Let's list the Big Ten wins in the first two years. Ron Turner won two Big Ten games in his first two years. Ron Zook won one Big Ten game in the first two years. Tim Beckman won one Big Ten game in the first two years. Lovie Smith won two Big Ten games in the first two years. Bret Bielema won NINE Big Ten games in the first two years. It's that simple, right? It's that simple."

Zuppke: "And how many of those losses were one score losses? Even last year..."

Me: ((long pause as the thought washes over me)) That is a GREAT question. No we have to do this..."
We then went through Bielema's seasons and looked for one-score losses in Big Ten games. And then we started to go season by season through the Lovie seasons looking for one score losses. And then I told him I'd have to research all of this because these numbers are INSANE.
That's what I spent the last 3.5 hours researching. Five consecutive Illini coaches have taken over for a coach who was fired (Lou Tepper took over when John Mackovic got the Texas job and was handed an already-built program so I didn't include his stats). Ron Turner got eight years, then Ron Zook got seven years, then Tim Beckman got three years (plus a fourth for his staff with Bill Cubit the interim head coach), then Lovie Smith got five years, and now Bret Bielema has had two seasons. I looked at every win, one-score loss, and multiple-score loss for each coach. Why the focus on one-score games? Let's zoom in on that before we talk about the numbers.
I touched on the topic in my article on Monday. In the comments of that article, IlliniBoat said this:
Bill Barnwell writes about W-L record in one score games in the NFL. If I'm remembering correctly, he determined it's pretty much random and not sustainable year to year with the exception of teams that had Peyton Manning and Tom Brady at QB, who repeatedly had a better record in one score games than expected.
That made me go look up some Barnwell articles (all on the NFL, of course, but the concept holds). The snippet below is the best thing I found. It's from this article from 2013 using statistics from the 2011 and 2012 NFL seasons.
The snippet:
The proxy for close games that often goes hand-in-hand with overall point differential, this one is the indicator that notes how it's awful hard to win a high percentage of games decided by seven points or fewer year after year. You'll see the occasional hot run from a Hall of Fame-caliber quarterback who is particularly effective at squeezing out extra possessions at the end of each half, but the vast majority of teams will see their performances in these sorts of games regress toward the mean from year to year.

In last year's primer, I highlighted five teams that had particularly good records in close games in 2011: the Raiders (7-2 in close games in 2011), Packers (5-1), Saints (4-1), 49ers (6-2), and Steelers (5-2). In 2012, despite the presence of several star quarterbacks on their respective rosters, those same five teams went a combined 16-16-1 in games decided by one touchdown or less. Their overall win-loss record declined by 19.5 wins, nearly four full wins per team. And again, the only team to arrest its expected slide was the one that upgraded at quarterback, the 49ers.

Some of the teams that had particularly egregious records in close games in 2011 used an improvement in this very category to make it into the playoffs in 2012. At the front of the line were the Colts and Vikings, who were a combined 3-14 in one-score games in 2011. Last year, they combined to go 14-2, including a 9-1 streak from the Colts. The Eagles and Rams improved to finish a combined 8-7-1 in .500 games, but the Eagles still got blown out frequently enough to lose four games off of their previous record. And, finally, the Panthers still managed to go a dismal 1-7 in one-score games last year, with the heartbreaking loss to the Falcons sticking in my memory as a notable defeat. In all, these teams went a combined 23-16-1 in one-score games in 2012, improving their overall record by an average of 3.7 wins per team.
This is the whole "clutch" debate I was referencing on Monday. The Colts were 1-7 in one score games in 2011 and then went 9-1 in one-score games in 2012. Did the addition of Rookie Andrew Luck at QB suddenly turn them into the clutchiest clutchsters ever? Or was it just a statistical regression to the mean? As Barnwell states in a lot of these articles, there's some data to support elite QB's being able to vault you above 50%, but in general, all teams settle right around 50% over time. It's a close game between two equal teams (that day) and one play here or there is going to be the difference. Nobody really makes those plays more than their opponents (unless you have a Manning or a Brady).
This isn't how the fans react while watching games, of course. And I'm often one of those fans. If the game is close and you lose, there's always That One Play. It's all we will focus on. We would have won if it wasn't for That One Play. After the Indiana game I wrote about how we just needed to complete that one pass from Tommy DeVito to Isaiah Williams (the Indiana interception) and the game was over. A touchdown would have made it two scores and the game was over unless they found some way to score, recover an onside kick, and score again.
Conversely, Iowa fans curse the fumble recovery that was returned for a touchdown and then overturned by replay back in October. "If only his elbow had been down half a second later" they lament, "Iowa would have won." It's a close game, so fans focus in on some moment late in the 4th quarter as being the difference. My Twitter mentions after the Michigan loss: angry fans yelling about the playcalling when we just needed two first downs.
If you want, you can focus on that. I do sometimes. In September of 2021 all Illini fans talked about were the decisions to punt on 4th down in the Maryland and Rutgers games. That's "why" we lost. And when Illinois beat Minnesota in November of 2021, all Minnesota fans focused on a 4th-and-6 play call from the Illinois 22 late in the 3rd quarter where the Illini stuffed Minnesota and the Gophers came away with 0 points yet again. There's always That One Play that cost a team a game.
But magically, That One Plays are evenly distributed. Over time, most every team wins as many one score games as they lose. There aren't really clutch teams or clutch coaching staffs. There's just some years where you find yourself winning nearly every one score game (Northwestern 2018, 5-2 in one-score games) and then other years where you lose nearly every one score game (Northwestern 2022, 1-5 in one score games).
So where does coaching come in? ACTUALLY PLAYING ONE SCORE GAMES. Playing competitive football. Illini fans don't know about any of this because we haven't consistently played competitive games in 30 years. As a result, we have a fanbase that sees "Michigan 19, Illinois 17" and screams about the coaches losing us this game, not "holy crap we're hang-with-Michigan good." We're so used to Michigan 41, Illinois 8 that we don't know what to do with Michigan 19, Illinois 17. We need it to be someone's fault.
Because one-possession games are so random, it's fun (or not so fun) to play around with seasons by flipping all of your one-score games. Here are some "what if" rankings which do just that: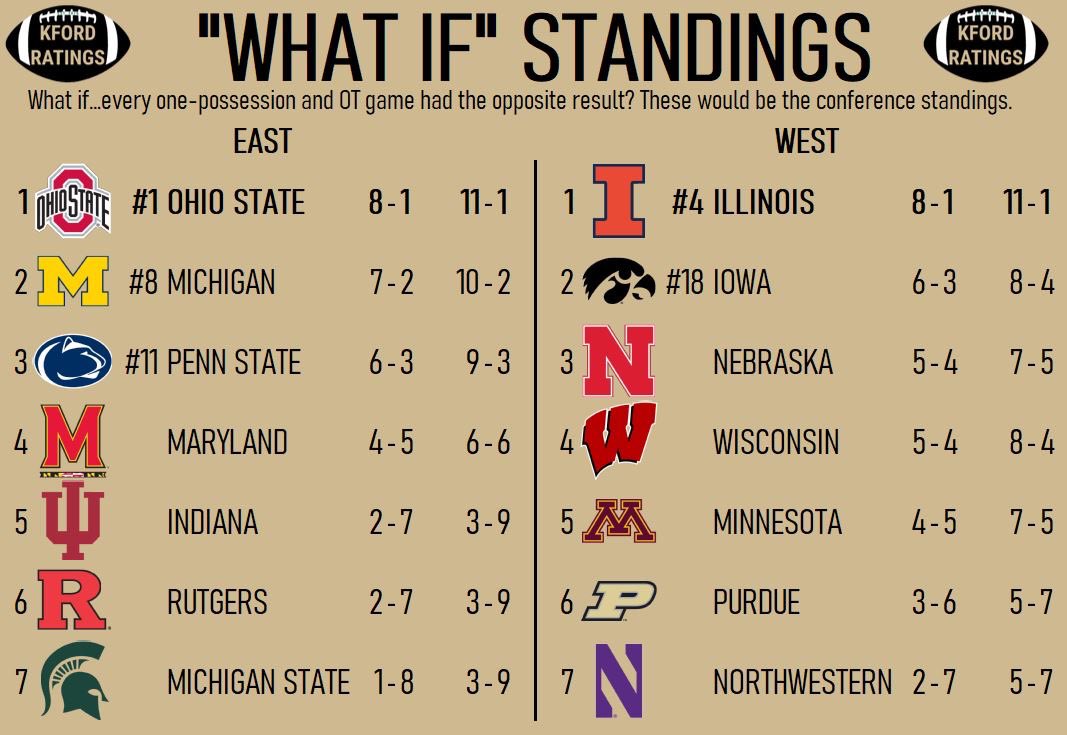 You're reading that right. Flip our one-score games (win the Indiana, Michigan State, Purdue, and Michigan games, lose the Iowa game) and we'd be #4 in the country. I think you missed that so I'll say it again.
Flip our one-score games and we're #4 in the country behind #1 Ohio State, #2 Texas, and #3 Georgia. Michigan? They won both of their one-score games this fall so they'd be 7-2. TCU? They went 5-0 in their one score games, so they're 7-5. Purdue? Out of a bowl game at 5-7. Michigan State? Behind Rutgers in the Big Ten East at 3-9. Illinois? Playing Ohio State in the Big Ten Championship Game.
Now, that's flipping all of your one score games, not bringing everything back to 50%. If we were doing that, we'd either be 10-2 (if we went 3-2 in our one score games) or 9-3 (if we went 2-3). Instead, we went 1-4 and finished 8-4. All we needed was some of that 2001 fortune (4-0 in one score games) and we would have had a 2001-like season.
Another way to get closer to what the division standings "should" be: the point differential in conference games. For the Big Ten West, here's the point differential (conference games only because non-con skews things):
Illinois +74
Minnesota +47
Purdue +11
Iowa +8
Wisconsin -22
Nebraska -43
Northwestern -157 (LOL)
Looks about right to me. Purdue needed everything to go their way to end the conference season +11 and win six games but they pulled it off. And, really, that's 100% our fault. We had them in Memorial Stadium and couldn't beat them. They are who we thought they were... and we let 'em off the hook.
OK, so that's One Score Games when we look at them under the microscope. Now let's look through the telescope. Because when you look at the horizon, MY GOODNESS.
I'm going to switch from talking about One Score Games to talking about One Score Losses (let's use OSLs for this so I don't have to type it a bunch of times). I'm no longer looking to see how we did on the ratio of one score wins vs. one score losses. I'm now going to look for competitive football.
As I mentioned above, this is where the coaching comes in. There will be seasons where you win every one score game (2001 - 4-0 in one score games) and seasons where you don't do so well in one score games (this year - 1-4 in one score games). But if you want to see if your program is healthy, when you lose, at least keep it close. Play competitive football.
Finally, the numbers. I'm only going to use Big Ten games here. There's just no way to weight non-conference games when some years we're playing Missouri-Cal-UCLA and some years we're playing Akron-UConn-Eastern Michigan. So this data set is only Big Ten games since 1997. There were eight Big Ten games on the schedule through 2015 and then in 2016 it moved to nine per year.
The overall records can be our starting point. In Big Ten games...
Ron Turner: 20-44 (.313)
Ron Zook: 18-38 (.321)
Tim Beckman: 5-20 (.200)
Bill Cubit: 2-6 (.250)
Lovie Smith: 10-34 (.227)
Bret Bielema: 9-9 (.500)
I think you probably realized that by now. Had we beaten Michigan or Indiana, Bielema would have matched Lovie's 5-year Big Ten win total in only two years. 2012 through 2020 (nine seasons): 17 Big Ten wins. The last two seasons alone: 9 Big Ten wins. Keep up this pace and after nine seasons the total will be 41.
But let's now (finally) get to what Zuppke was referencing last night. Sure, Bielema has gone 9-9 of his first 18 Big Ten games. But how many of those nine losses were one-score losses? And how does that compare to every other Illini coach since Turner?
The Big Ten OSL's starting this year and going back to 1997:
Bielema:
2022 - Indiana 23, Illinois 20
2022 - MSU 23, Illinois 15
2022 - Purdue 31, Illinois 24
2022 - Michigan 19, Illinois 17
2021 - Maryland 20, Illinois 17
2021 - Purdue 13, Illinois 9
2021 - Rutgers 20, Illinois 14
Lovie:
2020 - Purdue 31, Illinois 24
2019 - Nebraska 42, Illinois 38
2018 - Northwestern 24, Illinois 16
2017 - Minnesota 24, Illinois 17
2016 - Purdue 34, Illinois 31 (OT)
(Cubit: none)
Beckman:
2013 - Penn State 24, Illinois 17 (OT)
2013 - Northwestern 37, Illinois 34
2012 - Purdue 20, Illinois 17
Zook:
2011 - Purdue 21, Illinois 14
2011 - Penn State 10, Illinois 7
2010 - Michigan 67, Illinois 65 (3 OT)
2010 - Minnesota 38, Illinois 34
2009 - Northwestern 21, Illinois 16
2008 - Minnesota 27, Illinois 20
2007 - Iowa 10, Illinois 6
2006 - Indiana 34, Illinois 32
2006 - Wisconsin 30, Illinois 24
2006 - Ohio State 17, Illinois 10
Turner:
2004 - Northwestern 28, Illinois 21 (OT)
2003 - Indiana 17, Illinois 14
2002 - Ohio State 23, Illinois 16 (OT)
2000 - Michigan 35, Illinois 31
2000 - MIchigan State 14, Illinois 10
2000 - Ohio State 24, Illinois 21
1999 - Indiana 34, Illinois 31 (OT)
OK so let's condense that data down and compare every coach. Three categories. Wins, OSL's, and losses by nine or more.
Turner:
20 Big Ten wins
7 one-score losses
37 losses by 9 or more
Per season: 2.5 wins, 0.9 OSL's, 4.6 losses by nine or more.
Zook:
18 Big Ten wins
10 one-score losses
28 losses by 9 or more
Per season: 2.6 wins, 1.4 OSL's, 4.0 losses by nine or more.
Beckman/Cubit:
7 Big Ten wins
3 one-score losses
22 losses by 9 or more
Per season: 1.7 wins, 0.7 OSL's, 5.7 losses by nine or more.
Lovie:
10 Big Ten wins
5 one-score losses
29 losses by 9 or more
Per season: 2 wins, 1 OSL, 5.8 losses by nine or more.
Bielema:
9 Big Ten wins
7 one-score losses
2 losses by 9 or more
Per season: 4.5 wins, 3.5 OSL's, 1 loss by nine or more.
So let's define a win or an OSL as a "competitive game." Seems pretty simple. Lose by nine or more and it might not have been a competitive game; lose by a single score (or win) and you were competitive. Here's each Illini coach in Big Ten games since 1997:
Turner: 27 competitive games, 37 non-competitive games
Zook: 28 competitive games, 28 non-competitive games
Beckman/Cubit: 10 competitive games, 22 non-competitive games
Lovie: 15 competitive games, 29 non-competitive games
Bielema: 16 competitive games, 2 non-competitive games
WHAT??
And this doesn't even factor in the handicap of Bielema doing this in year one and year two. Nearly every other coach had his competitive games come later once he had his roster built up. Bielema has done this in year one and year two.
So let's rank them. First two seasons, who has the highest number of competitive games? I'll pause here to let you guess. Of these five coaches, who do you think comes out on top? CAN YOU GUESS??
Bielema: 16 (9 wins, 7 OSL's)
Lovie: 4 (2 wins, 2 OSL's)
Zook: 4 (1 win, 3 OSL's)
Beckman: 3 (1 win, 2 OSL's)
Turner: 2 (2 wins, 0 OSL's)
It's total and complete insanity. Bret Bielema has had exactly two conference losses by nine or more. And both were last season: 24-0 to Wisconsin and 33-23 at Iowa. And without that late Iowa pick-six, that one would have been a "competitive game" as well. This year's losses: 23-20 at Indiana, 23-15 to Michigan State, 31-24 to Purdue, and 19-17 at Michigan.
Under the microscope? Sure, maybe Lunney should have called a pass on second down at Michigan.
Looking through the telescope? The competitive football program of our dreams.