Looks Like University Of Illinois - Raashaan Wilkins
Robert
May 27, 2022
[]
[]
3 Comments
You have currently viewed 1 story this month.
IlliniBoard now offers two free stories per month, for more please subscribe.
On to the transfers. There are four more to cover (I already wrote the transfer LLUOI articles for Tommy DeVito and TeRah Edwards). The order: Raashaan Wilkins, Terrell Jennings, Dylan Davis, and then Jonah Morris. Just your typical college football trip from Vandy to Minnesota State to Furman to Northern Colorado.
After that, the 2022 class is done and we're on to 2023. If you've missed any, here's the journey I've been on while trying to get caught up:
Raashaan Wilkins
Terrell Jennings
Dylan Davis
Jonah Morris
Antwon Hayden
TJ McMillen
Wilkins is a defensive lineman transferring in from Vanderbilt. Why Illinois? Perhaps because he played high school ball at Mt. Carmel in Chicago. So Chicago to junior college on the Pacific Ocean to Vanderbilt in Nashville and now back to Illinois. The list that world-famous Illiniboard Slack channel slacker @RunTheBall maintains shows that he has two years of eligibility, so now I have my first research project. If his final year of high school was the 2017 season, how does he still have two years? There had to be a redshirt year somewhere.
This part took a fair bit of research. I couldn't find out if he redshirted at juco or if he had a gap year in there. I finally found this article from Vandy which talked about his 2018 season... at Division III Wisconsin-Stevens Point. And it also says that he played in two games but then took a medical redshirt because an ankle injury ended his season. Now I can track his eligibility. After he graduated from Mt. Carmel in the spring of 2018...
2018 - Wisconsin-Stevens Point (5 to play 4 coming in, takes a medical redshirt after an injury in second game)
2019 - Monterey Peninsula College (4 to play 4 coming in, plays a full season)
2020 - First year at Vanderbilt (3 to play 3 when he arrives at Vandy, plays the 2020 season but it doesn't count towards eligibility in what we call the Covid Year)
2021 - Second year at Vanderbilt (3 to play 3 again, plays a full season)
2022 - First year at Illinois (2 to play 2 coming in)
So redshirt, one year juco, two years Vandy (one was the Covid year), and now two years at Illinois.
Why leave Vandy? I didn't read this in any of the articles I just flipped through, but given that Vandy just went through a coaching change (and changed their defense) during the 2021 season, and given that his old Vandy coach offered him at Oklahoma State, I think I can get 89% of the way there.
He's recruited by Derek Mason to play a specific role on the defensive line at Vandy. After one season where Wilkins started all nine games at Vandy (the Covid season), Derek Mason was fired and Clark Lea was hired. I found this article from a Vandy blog last August saying that the preseason defensive depth chart had been released by the new staff and that Wilkins had been moved to second string. He didn't start the opener but it looks like he did end up starting 10 of Vandy's 12 games.
After the season he announced he was entering the portal. And his old Vandy coach, Derek Mason, now hired as Oklahoma State's defensive coordinator, offered him at Oklahoma State. Wilkins chose to return to his home state to play for the Illini and here we are.
So when I combine all of those things (started all of the games for Mason, was moved to the second string by the new staff and didn't start all of the games, announced a transfer after the season, was offered by Mason at Oklahoma State), I'm 62% certain this was "didn't feel like the new Vandy scheme was a fit, still had two years on his clock, looked elsewhere." But I told you above that I'm now at 89% so let me keep going.
I went digging and digging for Mason's defensive scheme. I found this article which included this graphic of Mason's defense: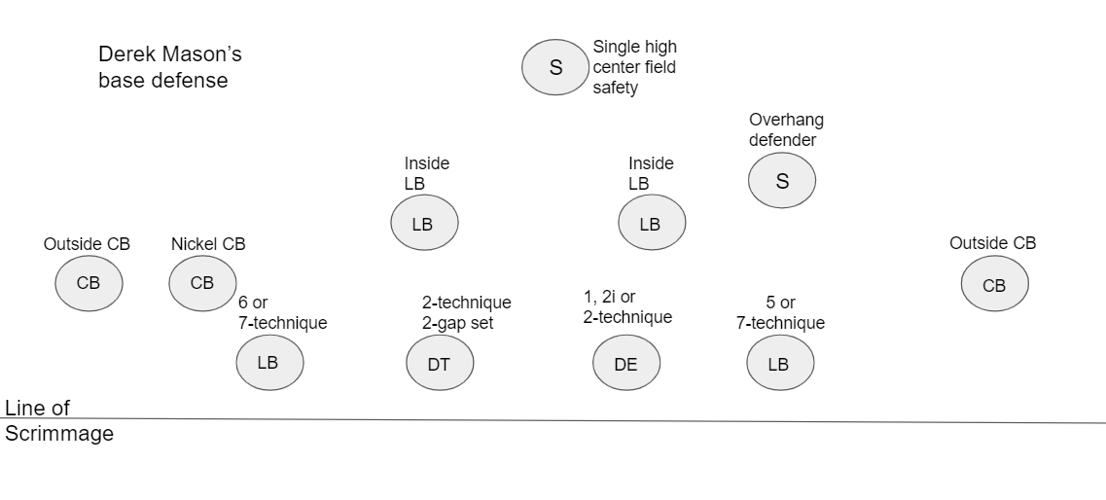 Look familiar? It's not exactly the same, but it's similar to Ryan Walters (think of Kerby in center field, Syd as the overhang, Quan the nickel, an equal pair of "inside linebackers", etc). Clark Lea, the former Notre Dame DC who took over Vanderbilt in 2021, runs a 4-2-5. I don't know the exact specifics of his 4-2-5, but since that article I just linked is comparing Derek Mason's 3-4ish scheme to Jim Knowles' 4-2-5 (Knowles left Oklahoma State for Ohio State), here's their mapping of the 4-2-5 defense: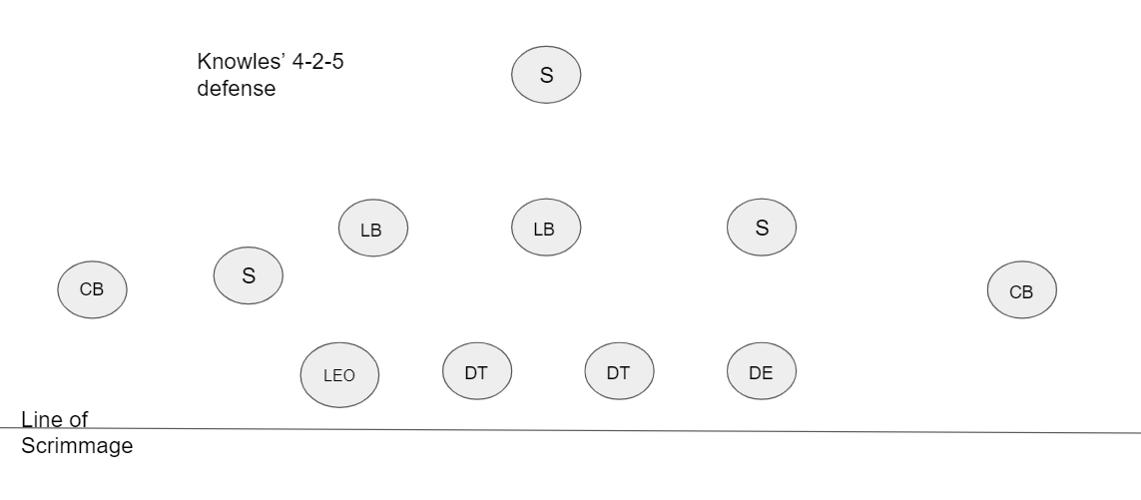 And since that's a pretty great article for anyone wanting to nerd out on defensive schemes (here's the link again), I'll just let the author explain the big difference for Oklahoma State defensive linemen switching from a 4-2-5 to Derek Mason's scheme:
Mason's defensive line's main difference to Knowles', is Mason's features "two-gap techniques," also known as "read-and-react." The interior defensive lineman are lined up over the offensive guards, and have the option to rush either the A or B gap, depending on what they read from the offense. The linebackers off the edge could also rush from either gap, or contain the quarterback.
So let's assemble all of this. And remember, Derek Mason's defensive formation isn't exactly like Ryan Walters' defense, nor is Jim Knowles' defense exactly like Clark Lea's. But talking generalities here, Raashaan Wilkins was recruited to Vandy to play that two-gap technique described immediately above. After one year in that scheme, his coach was fired, the 3-4 went out the window, and Lea's 4-2-5 was installed. After one year in that system, Wilkins is transferring out. Mason offered him to come to Oklahoma State and return to the scheme where he started every game in 2020, but Wilkins chose a similar scheme in his home state.
89%.
For film - and I love it when kids do this - he put his Vandy film on YouTube in January. So I don't have to go back to juco or high school film - we can see what kind of player he was last season. No need to create gifs for this one - let's just watch this YouTube video together...
The extremely obvious, eye-opening thing he does in this film: pursue the ball. Drag the slider back to 0:51 and watch how far he travels to make that tackle. I don't often say this for defensive tackle recruits, but his best attribute might be footspeed. Let's get Wilkins, Keith Randolph, and Johnny Newton on the track so they can race each other.
BETTER IDEA: At next year's Big Ten Track & Field Championships, we press the Big Ten to add a heavyweight division for the 4x100 relay. You have to be north of 285 lbs. to qualify. I need a fourth guy for this relay, so I'm choosing Julian Pearl (I'm guessing he would win an OL race). The Illini team for the first-ever 4x100 HWT relay would ABSOLUTELY DOMINATE. We're talking Big Ten title and then possible national title.
And I'm gonna have Wilkins running anchor. Start with Newton to establish the lead, then Pearl, then Randolph, and then Wilkins brings it on home. I'm so ready to produce the video right now, complete with a slow-mo stretch for the line with no other Big Ten runners in sight.
What's that? Can he help the football team? Who cares? HWT 4x100!
Let's look at the three-deep to see where he might fit in. Remember, I list three DL spots and two OLB spots on the defensive line but there are many variations thereof. For this, here's the nine players I had listed at the three interior spots this spring:
RDL | Randolph (rs-SO) | Woods (SR) | McConnell (rs-FR)
NT | T. Edwards (rs-FR) | V. Brown (JR) | Avery (SR)
LDL | Newton (SO) | B. Barnes (SO) | Pate (SR)
It looks like Deon Pate might be used as a pass rush guy this fall in certain packages, so if I was to put Wilkins on this chart, it would be in Pate's spot. With his track speed -- OK, fine, not "track speed" but he started at Wisconsin-Stevens Point as a tight end and grew into a defensive tackle plus we just went through his film which showed that he's fleet of foot for a guy his size -- I think he trends more towards the Randolph/Newton positions. Those two will certainly start, so then he's battling Jamal Woods, Bryce Barnes, Sed McConnell, and Deon Pate to be the third guy in that rotation.
Overall, I see this one as a schematic fit. As you maybe saw last season, this staff made big schematic changes to the defense. And this offseason, they went and found two defensive tackles - one at Northwestern, one at Vanderbilt - who fit this new scheme. Both were looking for a new spot because.. HEY, sorry to yell but pay attention here because you were starting to glaze over and this is where I land the plane:
TeRah Edwards was recruited to Northwestern to play in the well-known Mike Hankwitz defensive scheme. After one season playing in that scheme, Hankwitz retired. Edwards then played one season in the Jim O'Neil defensive scheme and announced a transfer, finding a much better scheme fit with Ryan Walters. Raashaan Wilkins was recruited from his junior college to play in the well-known Derek Mason defensive scheme. After one season playing in that scheme, Mason was fired. Wilkins then played one season in the Clark Lea defensive scheme and announced a transfer, finding a much better scheme fit with Ryan Walters.
That's what you need to know about Bret Bielema's approach to the portal and the defensive line this offseason, I think. He found two guys who were looking around after a scheme change changed their outlook in the defense they had signed up to play. If you want to discuss the good side of the portal and the elimination of the "if you transfer you must sit out a season" rule, it's this. Both guys signed up to play in a defense but only got one season before that coach was fired or retired. They played one more season in the new defense, it wasn't for them, so they portaled. Both landed at Illinois and get a fresh start without being punished with a sit-out year. Coaches/schemes can change overnight. And now the players can do the same.
This does not mean "they'll be absolute superstars here." They now have to learn the Walters scheme and fight their way into the rotation. But it's smart portaling, in my view. The portal theme with the previous staff seemed to be 4-stars that flamed out at previous schools (and it worked, to a degree, with guys like Josh Imatorbhebhe and Wole Betiku). The portal theme with this staff seems to be scheme-centric. They needed another interior offensive lineman last season and they went and found Jack Badovinac at Colgate. They needed a jumbo 3-4 OLB and found Alec Bryant on the outs at Virginia Tech. Rutgers changed their offense and our staff told Art Sitkowski he could come run something more pro-style based at Illinois.
See where I'm going here? In 2019, Lovie boosted the roster by adding Milo Eifler, Trevon Sidney, Josh Imatorbhebhe, Wole Betiku, Richie Petitbon, Derrick Smith, and Brandon Peters - seven players who weren't climbing the depth chart at Washington, USC, USC, USC, Alabama, Miami, and Michigan, respectively. This offseason, the Illini portal additions are coming from three P5 schools who went a combined 10-26 last season (Northwestern, Vanderbilt, and Syracuse) plus Furman, Minnesota State, and Northern Colorado.
Again, not saying "this will work!" I'm saying "well, this is different." There are many ways to portal - USC is now up to TWENTY portal additions this offseason, blatantly attempting to steal everyone's best players - and I think we're getting a clear picture of how this Illini staff will approach it. Instead of highly-ranked high schoolers stuck behind other talented players at blue bloods, this approach focuses on guys whose careers were disrupted by coaching changes plus small school guys who might be able to Badovniac at this level. And the hook for a guy like Wilkins? "You played your high school ball in Illinois - come on home."
For Tom Cruises, I have a number in my head and I'm just going with it before I overthink this.
Raashaan Wilkins - Two and three-quarters Tom Cruises.