Robert
May 3, 2022
[]
[]
0 Comments
You have currently viewed 1 story this month.
IlliniBoard now offers two free stories per month, for more please subscribe.
I think this will be the fourth of five mailbag posts and then I can put spring ball to bed and get back to the real nuts and bolts of IlliniBoard: writing LLUOI posts for players who committed five months ago.
This set of questions come from Twitter. And then I'll do one more with questions from Slack and that will be that for the mailbaggery this spring.
Can this offense average 25 points a game?

— Keith Cummins (@ILLfan76) April 26, 2022
This is such a simple question with so many layers. Let's begin by discussing the average points put up by the Illini offense the last 10 seasons:
2012: 16.7
2013: 29.7
2014: 25.9
2015: 22.7
2016: 19.7
2017: 15.4
2018: 26.0
2019: 26.7
2020: 20.1
2021: 20.2
Average over those ten seasons: 22.3 ppg
It's just a simple question -- can this offense join 2013, 2014, 2018, and 2019 on the list of offenses scoring 25 ppg or more? -- but there's a lot of layers to it. This is the Big Ten, where the 9th-best defense will be 38th nationally in scoring defense (a simpler way to say that: lowest scoring average of the P5 conferences). And the style of offense/defense (and clock management) plays in as well. And there's the whole "this is Illinois, so lower expectations until something sustainable actually happens" thing, too. So it's not as simple as "the average across college football has crept up above 30 ppg, so 25 ppg should be easy". It's never easy.
The first place my brain goes is the Big Ten West and defenses. We play every Big Ten West team every year. Here's the ppg allowed last season (including national ranking):
4. Wisconsin (16.2 ppg allowed)
T7. Minnesota (17.3)
13. Iowa (19.2)
29. Illinois (21.9)
34. Purdue (22.4)
36. Nebraska (22.7)
89. Northwestern (29.0)
Now let's add in the other Big Ten defenses we faced last season: Rutgers, Penn State, and Maryland.
T7. Penn State (17.3 ppg allowed)
56. Rutgers (25.6)
98. Maryland (30.7)
The average defense in the Big Ten West last season allowed 21.2 ppg. The average ppg allowed of our nine Big Ten opponents (removing Illinois, obviously): 22.3 ppg. See where I'm going with this?
So in a way, this seems so simple. There was one offense in the country last season that averaged exactly 25.0 points per game: Penn State. And they finished 90th in scoring offense. If the bar to clear here is "just be 30th percentile" then this is basically getting accepted at Mizzou - absolutely anyone can do it. All the 2022 Illini offense would have to do is not finish somewhere between 91-130 in a certain statistical category.
I should note - this isn't just a one-year thing, either. Here's the average total points per game in all games across all conferences since 2014 per PFF:
Big 12: 61.6
AAC: 60.2
MWC: 60.0
Pac12: 59.5
Sun Belt: 57.5
MAC: 56.3
CUSA: 55.9
ACC: 55.3
SEC: 53.6
B1G: 52.5
It's called defense. Ever heard of it?
I'm stalling at this point. I need to answer the question.
No, I do not think this offense will average 25 ppg this season. I would love for it to happen, but with the departures of four seniors on the offensive line (Vederian Lowe started 12 games, Doug Kramer started 11, Jack Badovinac started 7 games, and Blake Jeresaty started 4 games), there's a big rebuild up front. Badovinac and Jeresaty essentially combined to be one "starter" at guard last year (with Badovinac eventually winning the job), so you're missing three senior starters. That's a big rehab project for any Big Ten homeowner.
I'm hoping for improved play from DeVito and/or Sitkowski in the quarterback room, I feel great about the running back room (two legitimate stars), and maybe we've taken a massive step forward in the offensive coordinator's office. But with the OL losses I just described plus the loss of a few weapons via the transfer portal (Daniel Barker to Michigan State, Donny Navarro to Northwestern, Deuce Spann to Florida State), no, I don't see an offense that will put up 25 points per game.
Especially not when facing nine Big Ten defenses (including Michigan and Michigan State this season).
Illinois has had reliable punting and kicking recently. Is Illinois facing a big dropoff?

— In The Joilet (@detlef4uiad) April 26, 2022
Who let Detlef ask a question? Wait - I did. I let Detlef ask a question.
Blake Hayes was 1st-team All Big Ten in 2020 and 3rd-team in 2021. James McCourt was honorable mention All Big Ten in 2020 and 3rd-team in 2021. Ethan Tabel was the longsnapper for five full seasons (and Blake Hayes was the holder all of those seasons) with... let me check my memory here for a moment... no, I don't believe there was ever a dropped snap (or a snap over the head) on a punt nor a muffed FG/extra point. Five years of clean kicks.
Facing a dropoff? Yes. Absolutely. Facing a big dropoff? Not sure yet. All three replacements have at least one year as the backup. So it's not like we're turning to true freshmen or something. If these three guys win the starting jobs...
Caleb Griffin has waited four long years as the backup placekicker. Now he'll get two seasons as the starter (the second one thanks to the Covid bonus year).
Hugh Robertson has waited two years as the backup punter. He was only supposed to be the understudy to Blake Hayes for one year, but Hayes returned for a Covid bonus year and Robertson was on the bench in 2020 and 2021. He's still only a redshirt freshman this fall, so if he punts for four full years he'll be 32 years old his senior season (and turn 33 right around the time of the football banquet that year).
Longsnapper Aidan Hall is very similar. Arrived in 2019 and was going to redshirt one year, backup one year, and then hope to grab the job in 2021. Tabel stuck around another year, so now Hall is entering His fourth season (as a redshirt sophomore) hoping to be the longsnapper for three seasons.
...then you have a fifth-year kicker (still a junior), a fourth-year 'snapper (a sophomore), and a 29 year-old punter (only a redshirt freshman). Get old stay old? We're exactly that in the specialists room.
Will they, like, make field goals and pin punts at the two? TBD. A lot of work to do to get anywhere close to the last few seasons.
Are we going to beat NW?

— Tait Bowers (@ta1t) April 26, 2022
Yes.
(I really wanted to just answer this question with one word and then hit "publish". But I can't ever limit myself like that. Except for that time in 2012 when the SOC for the Wisconsin game just said "we're gonna get killed.")
But yes, I think we will be better than Northwestern again this season. Let me go pull out that SP+ graph with Illinois and Northwestern plotted next to each other.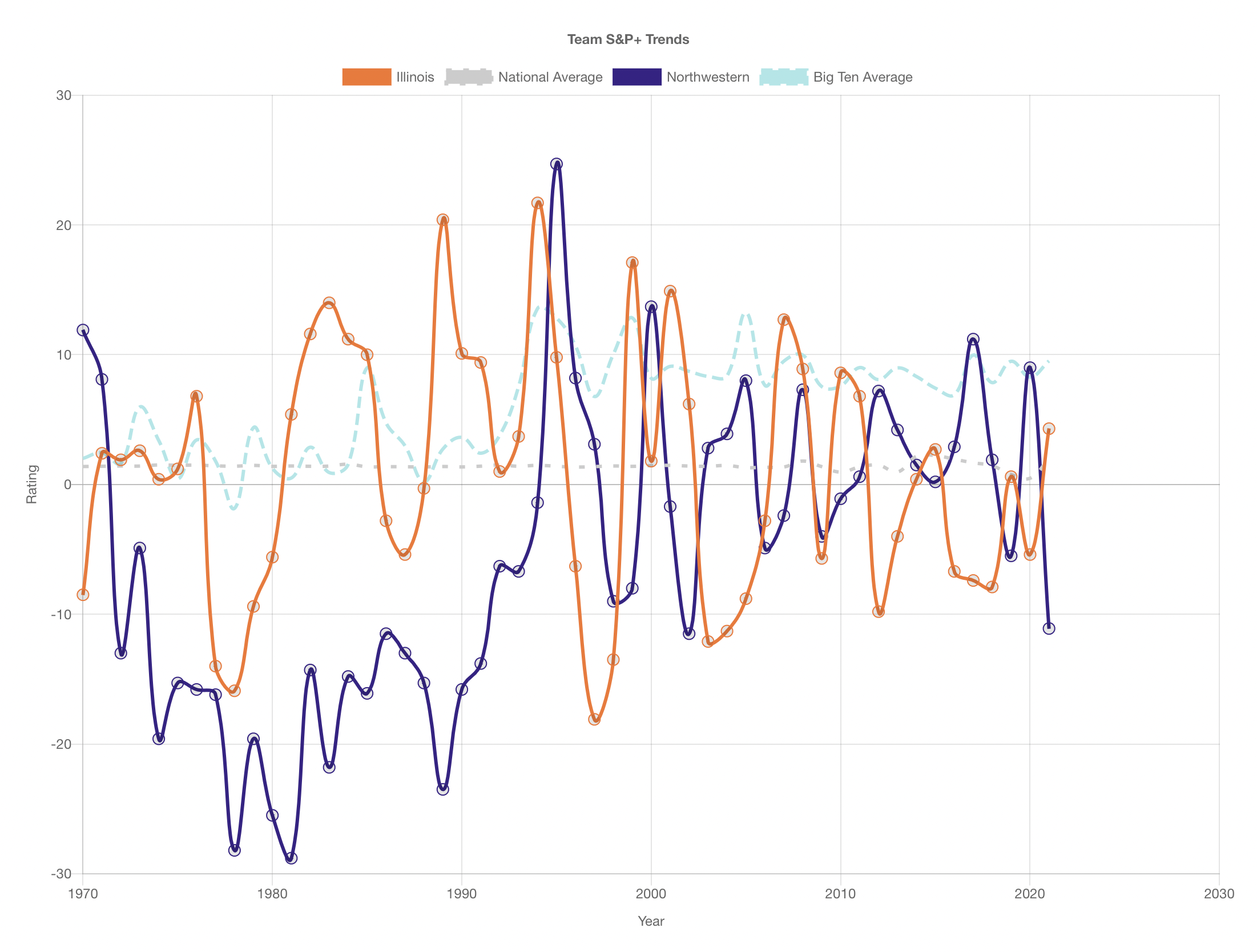 This the SP+ score for each season. Orange is Illinois, purple Northwestern (duh). This is not yards or points or even wins/losses. This is just everything that goes into your overall SP+ score. For you basketball people, just think efficiency and scoring margin. How did you perform drive after drive after drive? Bill Connelly boils that all down to a single number, either positive or negative.
2021? 4.3 for Illinois. Our highest SP+ score since 2011. -11.1 for Northwestern. Their lowest since 2002. And only barely. 2002 for Northwestern was -11.5. Had Northwestern been -11.6 this past season, it would have been their worst season since 1991. Read that again because it's important.
I mean, just follow that -10 line all the way across and look at the orange dots close to it. Northwestern's 2021 season was 2012 or 2004 Illini football. Think back to those seasons (Beckman's first season and Turner's last season). That's where Northwestern fell to in 2021. I don't think they do their little Northwestern thing and just recover from that quickly. I really do feel like the mirage of 2020 has blinded everyone to how far they've fallen. Without it, Northwestern's trend line is looking disastrous.
Go back to the chart above and just eliminate the Covid year. That year (2020) they had an SP+ score right at the national average but they won the Big Ten West with some help from Covid (Minnesota game canceled) and the schedule (their crossover games were 2-3 Maryland and 2-5 Michigan State). That entire season was a fluke for a lot of teams (Michigan won 2 games in 2020 but then went to the playoff in 2021; Indiana won the Big Ten East in 2020 but then went winless in the B1G and 2-10 overall in 2021), and I feel like that was the case for Northwestern as well. 2020 told us very little.
Fitzee has had two seasons -5 or below in his tenure: 2019 and 2021. If you want to know what a -5 season looks like, the closest Illinois seasons to that are 2009 and 1996. So just look at it that way. Fitzee had 2009 in 2019 and then he had 2003 in 2021. The 2020 season in between (a +9.0)? The closest Illinois season to that was 2008 (+8.9).
So there you go. Just think back on those Illinois seasons. The last three years for Northwestern: the 2009 Illini followed by the 2008 Illini followed by the 2003 Illini back to back to back. Now picture yourself as a Northwestern fan looking at 2022 (sorry to do that to you, but just try). How you feeling? Pretty scary, right?
I haven't been shy about saying that I expect a dropoff for the Illini next season with all of the players who departed. And I'm not shy about saying this:
I think we win at Northwestern in November.