Robert
May 9, 2022
[]
[]
9 Comments
You have currently viewed 1 story this month.
IlliniBoard now offers two free stories per month, for more please subscribe.
I've gotten a few "what about basketball recruiting?" comments after my recruiting rant (published Friday evening), so maybe I should just keep going. Those were my thoughts on football recruiting (and player rankings) - how 'bout a Part II talking about basketball recruiting?
But first, a few comments on rankings in general. I always talk about "exit ramps" when writing something. Get close to a point that the reader has already filed away as "decided" in their brain and zzzipp up the exit ramp they go, no longer interested in what you're saying because they already think they know where that highway leads. Please try to stay on the highway here.
I believe in ranking high school athletes. I believe in ranking entire classes and comparing them to everyone else's class. I believe you can learn so much about how good a college basketball team will be just by looking at the number next to their name in the rankings. There will be surprises and there will be busts but if you're consistently bringing in top-100 players you're probably going to be pretty good.
BUT, and this is a big but - there's been a sharp downturn in the last five years. On the football side, it's rankings continuing to align with certain teams (as covered in the last post). On the basketball side, it's similar, but I'd say that it's more "lack of effort" than anything. My guess - I don't know this to be true, but this is my guess - is that the legwork of the old scouts (Clark Francis, Van Coleman) is a thing of the past and now the shortcuts (who is invited to which camp, which players are pursued by the private high schools, etc) make lists easier to compile but less accurate.
Let's start with Matt Painter and then we'll get to Brad Underwood. I think I linked this in another article this spring, but I could not agree more with what Matt Painter says here. If you're, like, reading this at work and you can't play sound so you just normally skip the audio clips, put some ear buds in (or do what I always did - head to stall #2) because this is important:
Somewhere in college basketball a redshirt freshman needs to hear this from @BoilerBall HC Matt Painter. @Sash_Stefanovic sat his first season. Today, no player in America had more fun. pic.twitter.com/fS13uKF5cC

— Charlie Clifford (@cliffWISH8) March 6, 2022
Not even gonna lie - my feelings towards the entirety of Purdue basketball shifted because of this clip. I mean, I'm not a fan, but I'm pretty sure they dropped two spots on my hate list just because of this one clip. He hit every note:
Everyone can tell you who the top 20 players are, but from 21 to 500, there's no reliable rankings.
A player is ranked low and commits to a blue blood and jumps in the rankings - why?
A player is ranked high and signs with a non blue blood and he drops in the rankings - why?
Some guy will be unranked with coaches following him everywhere all summer while there's some guy ranked in the 30's with very little recruiting buzz - why?
I'll pause here to talk about how each one of these bullet points has been neutered by bad actors trolling around looking for Twitter likes. There's a legitimate point here - the rankings have gotten significantly worse and no one is calling it out - but no one wants to stand behind it because of the other people who on that side of the fence. Let me see if I can explain this.
Brad Underwood finds some gems (Alan Griffin, Giorgi Bezhanishvili). Both had big senior seasons in HS but went mostly un-noticed. That March (after he committed), Griffin had this massive breakout moment with a huge run in the state championships. He had probably earned 4-star consideration at that point. But there's no real mechanism in place to do that anymore. Rankings are set so some guard going to a Big Ten school - rank him, I don't know, 190-ish. The old lists - mostly by a function of rankings not coming out until the spring/summer after a player was finished with high school, always caught players like this. If someone was having a breakout state tournament, Van Coleman would hear about it. But now, it never seems to be caught.
I'm getting off track. My point here is that while Giorgi and Alan were great examples of "there really need to be deep evaluations done after senior seasons are complete", that does not mean every player signing in the spring is that kind of player. But Twitter will be alive with "I don't care what you say - if Underwood wanted Bernard Kouma, then Bernard Kouma is a top-100 player." The complaint starts to become some kind of rule. The fans want to hear that their player isn't ranked high enough, Matt Painter is over here saying that the ranking services base rankings on which school the player signed with, and so you have fuel for the Twitter fire: EVERY player committing to Illinois is ranked too low.
And because Painter's point has fallen into the hands of those only interested in social media buzz, it is bludgeoned to death. There are legitimate concerns with the laziness of college basketball rankings these days. But when that point is used by people who just want to tell you that every single Illini recruit is incredible, no one is going to listen to any well-reasoned "actually, I think he's a bit undervalued" take. And they're going to get angry at you when you tell them that Skyy Clark isn't going to be a 5-star for long (which he's not now, but... no one has reached out to apologize).
ANYWAY, let's get back to Painter. He makes the point of Zach Edey. Edey's composite ranking: the 440th-best player in the 2020 class. "Trying to rank players beyond 200-or-so being a bit ridiculous" not withstanding, having someone like Edey ranked that low is, well, to quote Matt Painter, "how foolish are they?". Edey was a big deal for Team Canada - here he is with Chet Holmgren on a FIBA all tournament team (including next year's #1 pick in the NBA Draft, Victor Wembenyama from France)...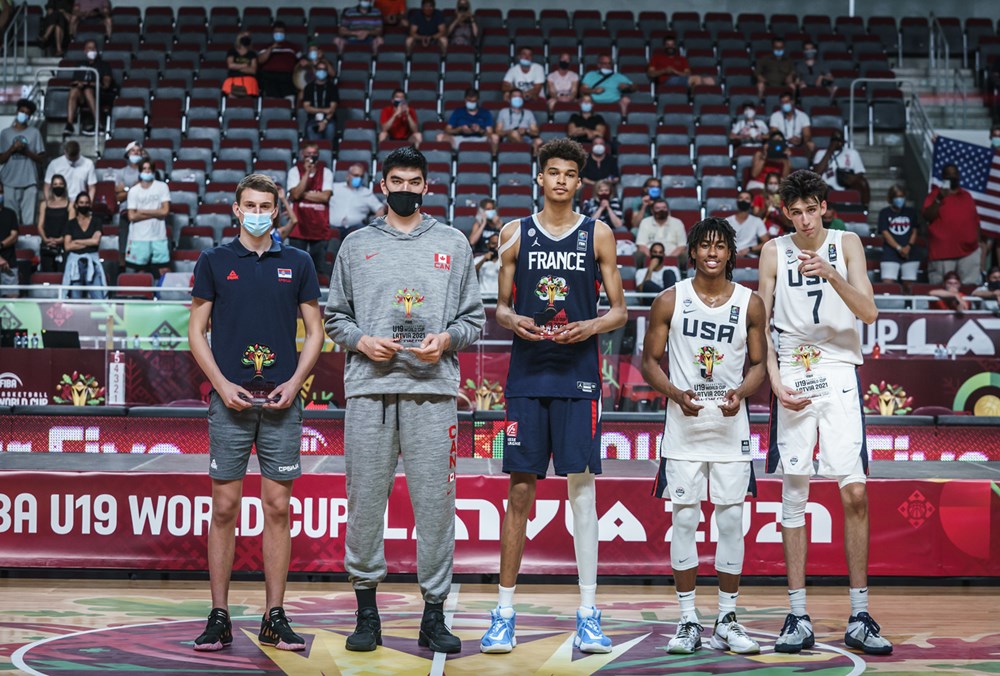 ...and the rankings have Edey 440th while Mady Sissoko was headed to Michigan State ranked #41. There are many reasons for this (international game has changed things, private, basketball-only high schools have clouded things further), but I feel like the biggest part of it has been the individuals who only existed to rank the classes (Bob Gibbons and Van Coleman, sure, but also Dave Telep and Rob Harrington) being replaced by rotating groups of experts who don't really attach their names to the rankings. My theory: when Rivals and 247 rank people under the masthead and not "Dave Telep's rankings", it's much easier to do the "drop him from 45 to 74" thing that Matt Painter is referencing there.
Which is why you hear coaches speaking up about it more and more the last decade. A good example: I did this sit-down interview with Brad Underwood in 2017 after he got the job. Here's what he had to say at the time about recruiting rankings:
"I've never been one to give two hoots about the star system. Most of the guys doing those evaluations have never coached a second or done a scouting report. Beauty is in the eye of the beholder. It's about putting a puzzle together. And it's our puzzle. Just because a kid is really, really talented - we may not need that spot."

So yeah, would I ever shy away from a one-and-done? Absolutely not. I coached Michael Beasley and Bill Walker and they were great. But can you win without (one and dones)? Absolutely. The national college player of the year this year is Frank Mason (Kansas) and he's a four-year guy. I think you find the pieces that fit, the style that fits. We like motored-up guys, high-character guys, guys with some IQ, and we like toughness."
Let me try to compile all of this together into one coherent point (because I do still believe in a system of ranking players). Even with all the noise, I still compile my list of RSCI top-100 players because it means something when 4-5-6 different services all rank the same kid in the top-100. I'm not talking about abandoning all rankings. This is not headed for some "Underwood wants him, so I want him, end of story." If Underwood never finds another Ayo or Kofi, he'll never climb to #2 in the polls again.
My point here is simple. As Matt Painter said, everyone can name the top-20. Mostly because they're already on the NBA radar, some for years. Landing one of those kids is a massive boost to a program (see what Paolo Banchero did for Duke this year or Cade Cunningham getting an otherwise average Oklahoma State team to 4-seed last year). But college basketball programs are built upon those players ranked 21 and up. At Illinois, we haven't landed a kid ranked any higher than Dee Brown (#19 in the 2002 RSCI) in the last 35 years, so we live in that 21-500 range that Matt Painter was talking about.
And in 2022, the rankings of players in that range are just bad. Sorry, but they are. Too many defaults are applied. The legwork of Dave Telep and Van Coleman appears to be a thing of the past. It just feels like an Alan Griffin can't be properly ranked anymore. In the past, one of those guys hears serious spring buzz and knows "where there's this much buzz about a kid, I need to get him in my final rankings". But now, it appears to be "a kid who was the MVP of the New York state tournament is going to Illinois? Just put him around 190 or so."
(Actually, with the Illinois reputation getting a boost the last three years, now it might be "put him around 120 or so.")
So I think Underwood nailed it. There used to be evaluators at AAU events with massive networks of contacts. And they'd use those contacts and listened to every "you know that kid who Purdue signed is gonna be a star" in order to fine tune their rankings throughout the year. Now, a Carsen Edwards doesn't even crack the top-100.
Edwards is probably the perfect example here. He blew up his junior year playing high school ball in Houston, averaging 24 ppg. Purdue pounced quickly - he got offers from Vandy, Baylor, Texas Tech, Houston, and Purdue and committed to Purdue after his junior year. Then, as a senior, an even bigger blowup as his high school team was at one time ranked as the #1 team in the country, playing national showcase events across the country. And Edwards was their star, averaging 26.3 ppg. He'd go on to be two-time First Team All Big Ten, a 2nd-team All American as a junior, and leave early after his junior season (went 33rd to the Celtics).
His composite ranking coming out of high school? 118th.
In the past, there was no way a Carsen Edwards would have been under-ranked. If anything, he would have been over-ranked because the high school star of the #1 high school team playing tournaments around the country would be considered a superstar by default. Sure, he's only 6'-0", so knock down his ranking for his height, but still the point here (I think?) is to be naming the top players going off to play college basketball. And for 247 to say that Carsen Edwards is the 139th-best player in that class tells me that this was a default number (going to Purdue, didn't have any blue blood offers) and not an actual player evaluation. If there's a Clark Francis working the phones, he's hearing from 25 people "that Edwards kid from Houston is a future superstar". And then he'd have the autonomy to move him up to #34 in his rankings.
THAT'S my issue with college basketball rankings. No, it does not mean that every kid going to Duke is over-ranked and bad. No, it does not mean that every kid going to Michigan State and ranked 41st (like Sissoko) will be a bust like Sissoko. And no, you may NOT use this point to say that Sencire Harris is wildly under-ranked and Jayden Epps is wildly under-ranked and that Ty Rodgers is wildly under-ranked and that Skyy Clark is wildly under-ranked. You're only saying that because you're an Illinois fan and you want every recruit to be awesome.
I'm saying that the rankings have issues right now, and so they require a deeper dive than just taking the number at face value. I completely whiffed on Griffin and Bezhanishvili when handing out Tom Cruises, and now I think I understand the places where the system has broken down a little bit. In 2022, basketball-only high schools are the new AAU, and international recruiting isn't just for Gonzaga anymore, so there are about three dozen "Mady Sissoko vs. Zach Edey" situations playing out in every recruiting class. I think I can find them if I dig deep enough.
One final point: I really wish I could hear some of the conversations that go on when coaches are sitting next to each other at spring and summer tournament games. I'd love to hear Underwood and Painter sitting next to each other discussing the latest 2015 rankings. "Justin Simon moves over to Brewster Academy, picks Arizona, and he's ranked 33rd. Carsen Edwards stays at his public high school, picks Purdue, and he's 118th." They have to think that people like me look so silly when quoting the latest player-ranking updates.
But quote them I shall. I'm dumb enough to believe that I can dig through these bad rankings and separate out the next Giorgi from the next Greg Eboigbodin. What's the old X-Files statement?
The Truth Is Out There.