Robert
Aug 15, 2022
[]
[]
12 Comments
You have currently viewed 1 story this month.
IlliniBoard now offers two free stories per month, for more please subscribe.
This is one of the three articles I was going to put in an "Up To Speed" post on Friday but then decided to flesh them out a bit more. One was golf recruiting, then this one discusses the Big Ten media deal, and then I'll get to what coaches say (and don't say) in press conferences. If you missed the golf recruiting article, it's here.
I'm also writing the football preview right now, so if you're having any "I thought Robert would be writing more about football" thoughts, I am. You just won't be able to read those football words until next Monday. If you're new around here, every year, on the Monday before the first game, I publish the largest Illini football preview known to man. It's usually somewhere between 20,000 and 25,000 words, but I think last year was 27,000. If we're ever a certain bowl team in the preseason and the favorite in the Big Ten West, expect 35,000 words.
Of course, will there be a Big Ten West by then? PERFECT SEGUE.
I've been watching the reports about the Big Ten media deals quite closely. Nothing is certain yet - only "sources are saying that..." stuff - but I have a lot of thoughts on what those sources are reporting.
First, so you know my #stance: I'm all for the Big Ten expanding with USC and UCLA. The only real threat (to Illinois) that existed this past year was the possibility of two trains arriving at the same station at the same time. If the "college football is moving in the direction of NFL Lite" train and the "the SEC just keeps getting more powerful" train end up at the same spot, there was a chance that said "NFL Lite" would just be the SEC. All conference affiliations (for football, at least) would be tossed aside and every team from Ohio State to USC would attempt to join the SEC for football. They'd be this break-off league of 32 teams and everyone else would be left to sort out some kind of B-tier playoff (just like the FCS today).
This USC/UCLA move, and the resulting boost to media rights deals, more or less cements that this will not happen. It firms up the whole "the SEC and Big Ten are way, WAY ahead of the other conferences in media revenue" thing. If there's an NFL Lite break-off tomorrow, I'm thinking it would just be the SEC and the Big Ten.
As One Of The Seventeen, I'm also pleased with this (rumored) TV deal. As I tweeted last week, at first I was a bit confused with ESPN being completely out. But then I looked at it in terms of NFL Lite. If the rumored deals are announced next week -- CBS buying a package so they can have a featured Big Ten game at 2:30 every Saturday; NBC buying a package so they can have a featured Big Ten game at 6:30 pm every Saturday -- then it's an exact facsimile of an NFL Sunday when combined with the Fox "Big Noon Saturday" we've seen the last few years. The NFL has a featured game on Fox/CBS at noon (in this case, 11:00 am Central), a game on CBS/Fox at 3:00 (would be 2:30 for the Big Ten game), and then a game on NBC in the evening. All three slots, including a new "Saturday Night Football" to match NBC's "Sunday Night Football" (would Carrie Underwood sing the theme song?), would have Big Ten games while the SEC lives solely on ABC and ESPN.
If you ask me, that has the chance to push the Big Ten numbers ahead of the SEC numbers. Especially when the game at 2:30 is Wisconsin at Michigan and the NBC game is Ohio State at USC. NFL fans accustomed to the pace of an NFL Sunday might wander on over to Saturday as well. If NFL Lite becomes a thing, everyone will want a team they follow, and you'll see a lot more bandwagoning going on.
Why are the networks going so crazy for college football? Because the NFL is king and the networks believe college football can be the queen. Ready for a mind-blowing stat?
Read it again. Read it five times and let it blow your mind a little more each time. The portion of this Big Ten deal being split off for CBS and NBC to have their own timeslot on Saturdays will make more money (a 2:30 game on CBS and a 6:30 game on NBC for 13 weeks) than the entire NHL makes for their national TV deals. And when you add in the other games (Fox, etc), it's more than Major League Baseball makes on their national TV deals. Think about that.
Those aren't the only games, of course. I tweeted this last week, but I'm guessing the whole package for a Saturday afternoon in October or November looks something like the list below. Two of the 16 Big Ten teams have a bye week, and then the seven Big Ten games would be something like this:
11:00 - Fox
11:00 - BTN
11:00 or 2:30 - FS1
2:30 - CBS
2:30 or 3:00 - BTN
6:30 - NBC
9:00 - FS1
That 9:00 game would most likely be a UCLA or USC home game (starting at 7:00 pm Pacific). But as an alternative to that, I could also see them maybe having an 8:00 CDT game (on FS1 or BTN) where it's some central time zone team with a home game at 8:00 pm. And maybe there's a Friday night game here or there. Using my NFL Lite brain, seeing as the NFL creeps in on Saturdays as college football winds down late in the season, I think we might see college football continue to creep in on Friday nights. I'm not the biggest fan, but, whatever.
Where this whole "reports state that there will be no more ESPN/Big Ten partnership" thing really hits hard, though, is basketball. We don't know the exact details yet, so we can't say anything with certainty, but the worst part of this whole thing is likely losing those Tuesday-Wednesday-Thursday night basketball games on ESPN and ESPN2. That's not something that can just move over to NBC or CBS. They're not going to bump: "NCIS - Allentown" for a college basketball game. A lot of those games will be on FS1, and maybe NBC is offering USA Network as a "we use USA for overflow Premier League games so we can do the same for college basketball", but hearing "after the game stay tuned for a Chrisley Knows Best marathon" isn't going to be the same as an ESPN broadcast.
(There's been some discussion of the Big Ten and their new media partners sub-licensing games back to ESPN even if ESPN doesn't have one of those packages. But I couldn't begin to tell you how that might work, so I'll just leave it alone until someone reports on it.)
All of this is probably just me thinking with my 2002 "cable packages are everything" brain. I think in terms of "I love that Illinois basketball is on in every bar in America right now" when we're playing at Duke on ESPN, but maybe bars are now just cord cutters who can pull up a streamed game on Amazon Prime whenever they want. And I still think in terms of "Illini highlights on SportsCenter!", but perhaps all that matters in 2022 is that the game can be accessed somewhere. A "broadcast" is... irrelevant? Maybe "honey, I'm going to stream the game on Discovery+ on my Kindle out by the pool" is the new "honey, I'm headed to the bar to watch the game with the fellas."
Still, this whole thing probably has big ramifications for Big Ten basketball. Does the Big Ten/ACC Challenge go away? Probably. ESPN wouldn't be able to broadcast from any of the Big Ten arenas. That big Illinois-Indiana matchup on Tuesday will be on... FS1 if we're lucky? Just feels like we're going to have to get used to "Wednesday's game is on USA Network and then Sunday night we're on Peacock." And that's while Wednesday night sees Arkansas-Kentucky on ESPN and Ole Miss-Missouri on ESPN2. 2002-me really wants that ESPN game.
Like I said, maybe that doesn't matter today. And I'll be at every game, so it really doesn't matter to me. But I still feel like Big Ten basketball loses some prestige with this (rumored) media deal. Maybe there's more featured games on CBS in January and February. But it still feels like these media deals mean that Big Ten basketball will mostly be seen by Big Ten fans seeking out the game. To me, that's a huge loss.
Why is basketball an afterthought here? That tweet above from Bryan Fischer should tell you the entire story. And when you factor in a chart like this...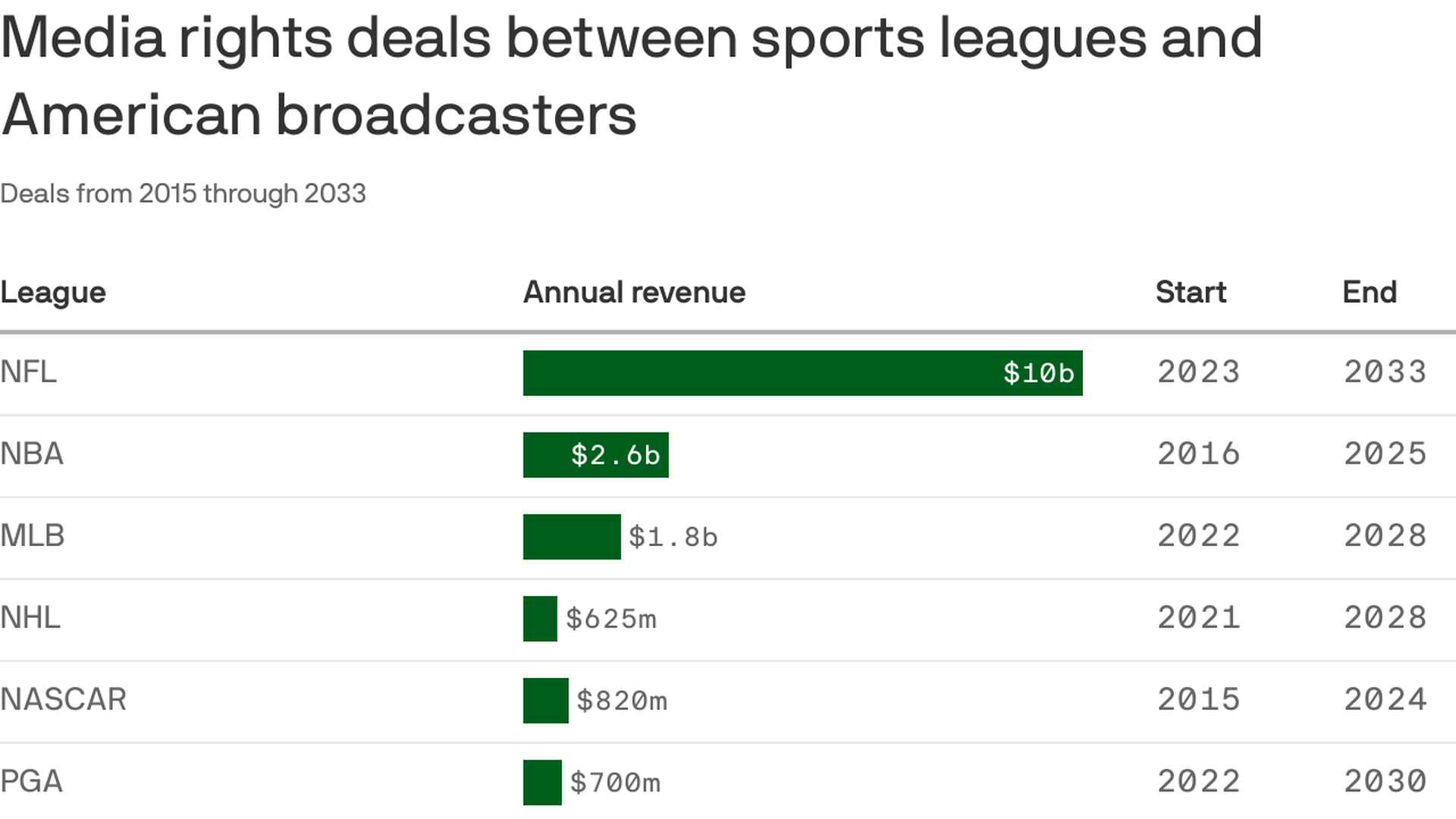 ...then you realize that a lot of people look at college football right now and say "you know, NFL Lite could maybe be #2 on that list some day".
Now, there's obviously another debate here. Based mostly around "I don't want college football to become the NFL - I want college football to be college football." There's so many different ways this could go. Will players eventually be paid? Will they be employees of the University? Is it one flat stipend for all 85 players or would the stars be paid more? There are currently 131 FBS programs - is it as simple as 32 teams breaking off from FBS to create their own NFL Lite (with players being paid) while the other 99 teams continue to compete as Division I - Football Bowl Subdivision? And what does that mean for all of your feelings around why you've always loved college football?
Honestly, I'm not sure where I shake out on all of those. All I know is that this TV deal (and all future money available) seems to point towards some kind of NFL Lite. The Big Ten footprint now extends from Los Angeles to 12 miles outside of New York City (I mapped it when I was there last winter - Jersey Mike's Arena at Rutgers to the "now entering New York City" sign: 12.1 miles). Why expand that far? Because regional rivalries are not as important as television footprint. Why? Because networks will pay more than a billion dollars for the chance to broadcast those college football games.
Will those networks pay more than a billion dollars to broadcast Akron-Eastern Michigan? Absolutely not. What about Colorado State-San Diego State? I'm not sure how much they'd pay, but I'm guessing it's less than 10% what the Big Ten is getting from this deal. Running some rough numbers here for the two conferences in this part of the country, the current MAC television deal with ESPN is about 5% of the Big Ten deal currently being discussed. So if Ohio State is soon going to make 20 times more than Ohio University just in television revenue alone, then yes, "both of these teams are on the same tier of college football" gets more ridiculous by the day. They've never been the same model, but it's now reaching unsustainable levels.
Which means, at some point, there's another split. I don't know how many teams (the current 32 in the Big Ten and SEC? 48 including another conference of 16? 64?), but at some point, there will be a tier for Ohio State and a tier for Ohio (in the same way that there's currently a tier for Youngstown State and a tier for Mount Union). There would be Division III and then Division II and then FCS and then FBS and then... NFL Lite. FCS and FBS (or whatever they would be called) remain under the existing "players receive full ride scholarships" model. NFL Lite players will receive full ride scholarships plus... we don't know yet, but it will be something significant.
I'm not pretending to know how that will shake out. When you look at the television deals right now, the Power Five has officially split into a Big Two and a Little Three. Conference distributions for Big Ten and SEC schools will soon be twice what ACC, Big 12, and Pac 12 schools receive. At some point, someone is going to take the Football Bowl Subdivision which looks like this (generalizing, but this is close)...
Big Ten & SEC: $100 million per year in media rights revenue
ACC, Big 12, & Pac 12: $50 million per year
AAC, CUSA, Sun Belt, MAC, and Mountain West: $15 million per year
...and do a full-on reorganization. My guess is that the football schools on that middle tier all get together to produce a 16-team conference that can approach the Big Ten/SEC revenue with a TV deal, but that would be extremely complicated. So it might be the Big Ten and SEC each inviting 4-8 more teams in order to create the AFC and the NFC. Or it might just be the current 32 teams.
However it shakes out, change is coming. Players will get a stipend soon. It might eventually become a salary. I think a split is inevitable, but I don't know where the split will happen. CBS and NBC are saying "let's do the Sunday model on Saturday" and now I think the Big Ten and SEC might try to do the same thing.
The good news: as an original member of the Big Ten, we're finding out just how shiny our football silver spoon has been all along.
The bad news: "The Illini basketball game will be on USA Network right after this episode of Temptation Island."