The 90 Illini #10: Julian Pearl
Robert
Aug 19, 2022
[]
[]
0 Comments
You have currently viewed 1 story this month.
IlliniBoard now offers two free stories per month, for more please subscribe.
This is kind of funny (to me). The main thing to know about Julian Pearl is that he was a 6'-6" high school basketball player that the old staff looked at and said "he could grow into an offensive lineman." So my first thought here was to go find a photo of him as a skinny high school basketball player and then compare that to a photo of him this summer.
I did a Google Image Search for "Julian Pearl Basketball" and found a photo right away. Went to copy the location to embed it in this article and... it was from my Julian Pearl 90 Illini post last summer. Where I wrote about what he looked like as a high school basketball player compared to what he looks like today.
The next time I have an original thought: 2024.
10. Julian Pearl
Offensive Lineman
Uniform number: 54
Year in school: Junior (without the Covid waiver, 1 year to play 1; with the Covid waiver, technically 2 years to play 2)
Height: 6'-6" -- Weight: 315 lbs.
Hometown: Danville, Illinois
High School: Danville HS
Best offers: Only two published offers - Illinois and Northern Illinois.
Tom Cruise rating:
2021 statistics: Played in all 12 games with 11 starts.
Background
OK fine I'll show you the photo again and I'll compare it to what he looks like today.
Playing basketball in high school in January of 2018:
And playing football last fall: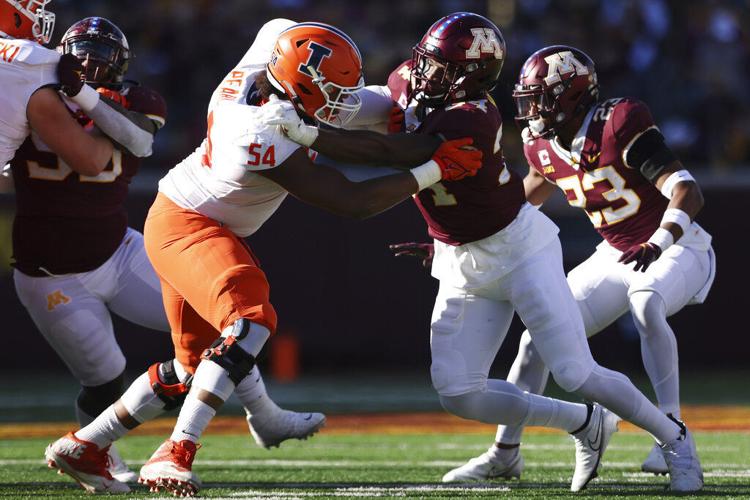 I guess maybe you can't really tell how much he's bulked up. But he's really bulked up. From 250ish to 315ish.
One problem: he still loves basketball. And while playing basketball this spring, he broke his thumb and missed all of spring practice. He's healed now, so he's ready for his junior season.
2022 Outlook
Pearl started last year at right guard. Mid-season, the staff flipped Pearl and Alex Palczewski with Palcho moving to RG and Pearl moving to RT. Now he's on the move again, moving to left tackle to replace the recently-drafted Vederian Lowe.
We really didn't know that would be the move until the open practice a few weeks ago. It seemed like the most logical choice for Lowe's replacement, but this spring, with Pearl injured, juco-transfer Isaiah Adams was at left tackle. At the August 6th scrimmage, though, Pearl was at LT.
Of course, that was only one practice. There's a chance the line we see next Saturday isn't the line we saw that day. That was just one of more than 20 practices. But one thing is for certain: he'll be one of the starting offensive linemen. And possibly primed for a breakout season.