Stream Of Consciousness - Wyoming
Robert
Aug 27, 2022
[]
[]
18 Comments
You have currently viewed 1 story this month.
IlliniBoard now offers two free stories per month, for more please subscribe.
At the start of every year of SOC-ing I go over the history. You've heard this 13 times now so I'll make it quick.
I started the first blog in late 2008. First real post was signing day at the beginning of February, 2009. Really got rolling that summer writing about the football season. And then, the week of the first game, I couldn't sleep. We had to beat Missouri. We just HAD to.
And so I sat down at my computer and wrote Stream Of Consciousness - missouri (yes, I didn't capitalize Missouri because it was this thing I thought was cool at the time). I didn't have some plan for "Stream Of Consciousness" to become a thing. It was simply the first game I was "covering" for the website (and I was still four years from a press pass), and before that first game, I wrote out my thoughts stream of consciousness style.
This will now be the 14th season "covering" the team, and here I am, still writing SOC posts the night before the game. I keep them in the same style of that very first one: no editing, no going back up and revising something, no thinking about those last two paragraphs, deleting them, and going in a different direction. Once the paragraph is complete and I hit the return button, those words are in permanent ink.
After the first few I started including a game prediction. And then, before the first game each year, I added a season prediction. I did a TV thing on Monday and a radio thing on Tuesday and The Field Pass podcast on Wednesday and all three places I said the same thing: I won't predict the season until Friday night. It's just this thing I've always done. Season predictions don't happen until the Friday night before the season.
It's the Friday night before the season.
Here's what I have to say about season predictions in general. I saw this tweet two weeks ago. I haven't stopped thinking about it since. I could write a 3,000 word article on this tweet alone.
A guy with a Michigan newsletter (Scott Bell) talked to 20 people who cover Michigan football to get their season predictions. Here are those predictions (you'll probably need to click on the tweet to see all of the numbers):
Time for one of my favorite yearly newsletters: I rounded up 20 U-M football experts and got their predictions on a number of U-M football topics. Including 2022 record, player superlatives, surprise games and more.

Grids are below. More info inside (🔒)https://t.co/9BFRqQ7wkG pic.twitter.com/HVWtrpTIqE

— Scott Bell (@sbell021) August 10, 2022
Michigan's over-under in Vegas is 9.5 wins. He interviewed 20 Michigan writers (including all the Detroit newspapers plus The Athletic) - more or less 20 people who cover the beat. And every single one of them said Michigan would go 10-2, 11-1, or 12-0. I cannot get over this. I seriously cannot. That tweet has lived in my head for weeks.
Again, the Vegas over-under is 9.5. These experts went 20 for 20 on the over (not even one!). If it's 9.5, for every 11-1 prediction there should be an 8-4. But there wasn't a single 8-4. There wasn't even a 9-3.
Why? Because we are in the age of Tell The Fans What They Want To Hear Or Else. Even at the Detroit News and MLive and The Athletic. As everyone moves over to the "a few free reads and then you need a subscription" model (hey, I was here first), they're all learning that if you want those subscription dollars, tell. the fans. what they want. to. hear. Predict 8-4 (a very real possibility for Michigan!) and you're not getting that cash.
I'm starting that way because I'm about to predict that Illinois finishes 4-8 this season. You're going to get angry, and you're going to come up with what you think are my motivations, and, honestly, the fallout will mean that my prediction will cost me thousands of dollars. It's just how it works in 2022. Tell the fans what they want to hear or else. If they're angry at the coach, sure, you should push into anger and hate. But if they're happy with the direction of the program, tell 'em what they want to hear.
But to me, 4-8 is the most logical prediction given our losses. We're 14th out of 14 in returning production in the Big Ten. We haven't recruited well compared to others (unless you're someone who thinks Lovie was killing it on the recruiting trail). We had a very encouraging season last year, but the last time we followed an encouraging season with another encouraging season was 1988 into 1989 (if you want the math on that, read the preview).
And then there's all of the NERDstats. Most of the NERDstats agree that 4-8 is the expectation. I was going to link several of them, but here's a composite one I saw today: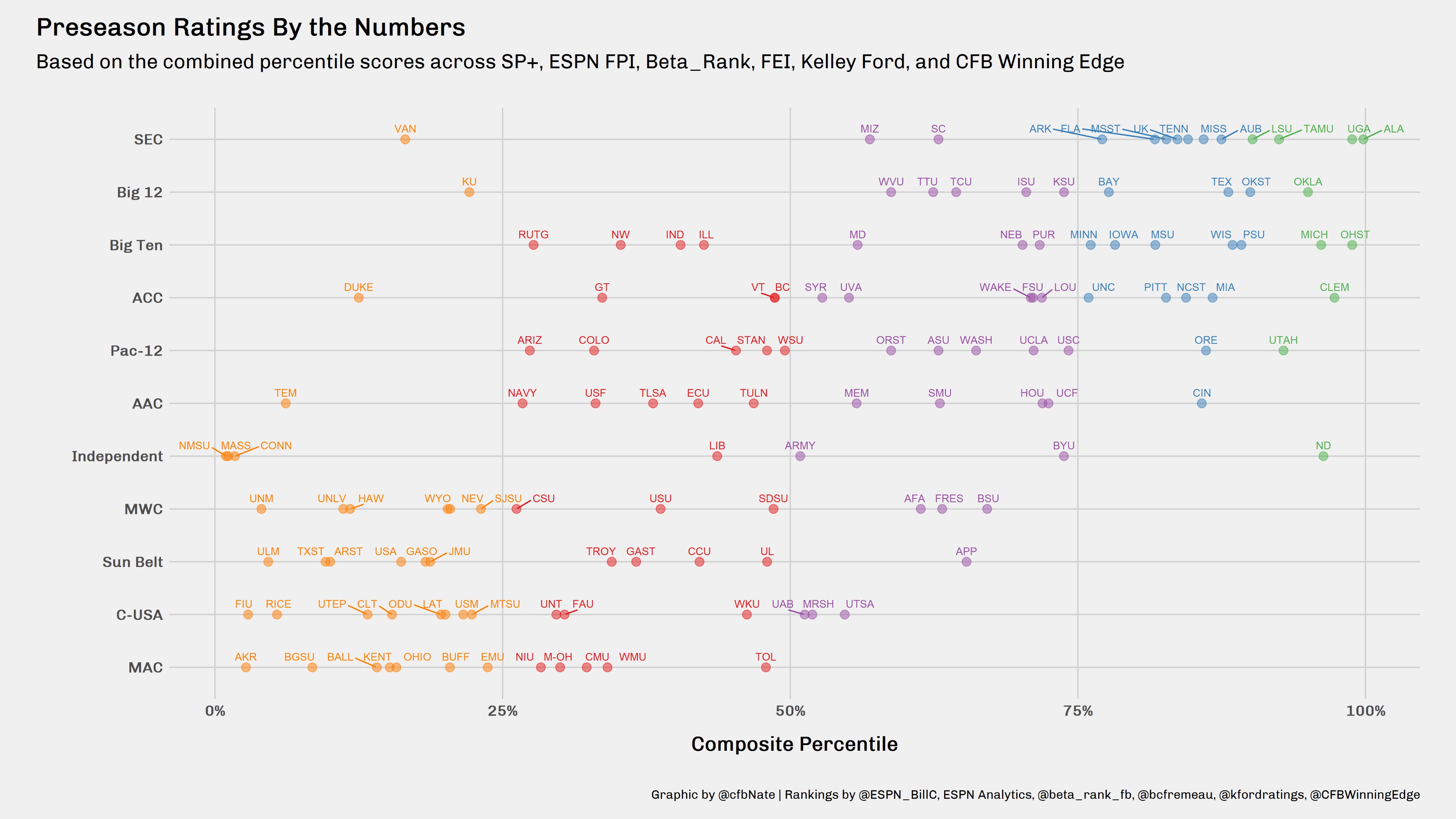 That composite has Illinois 76th nationally (which sounds about right). There's clearly a bottom tier to the Big Ten with Illinois, Indiana, Northwestern, and Rutgers (the more things change...), and we're the best of that bottom tier this year. I'd say that sounds right. Encouraging season last year with super seniors. Many of them left, especially on defense. Offense will probably be better but the defense will probably be worse.
I thought this was a pretty good way to look at it (from the KFord ratings which are part of that composite above):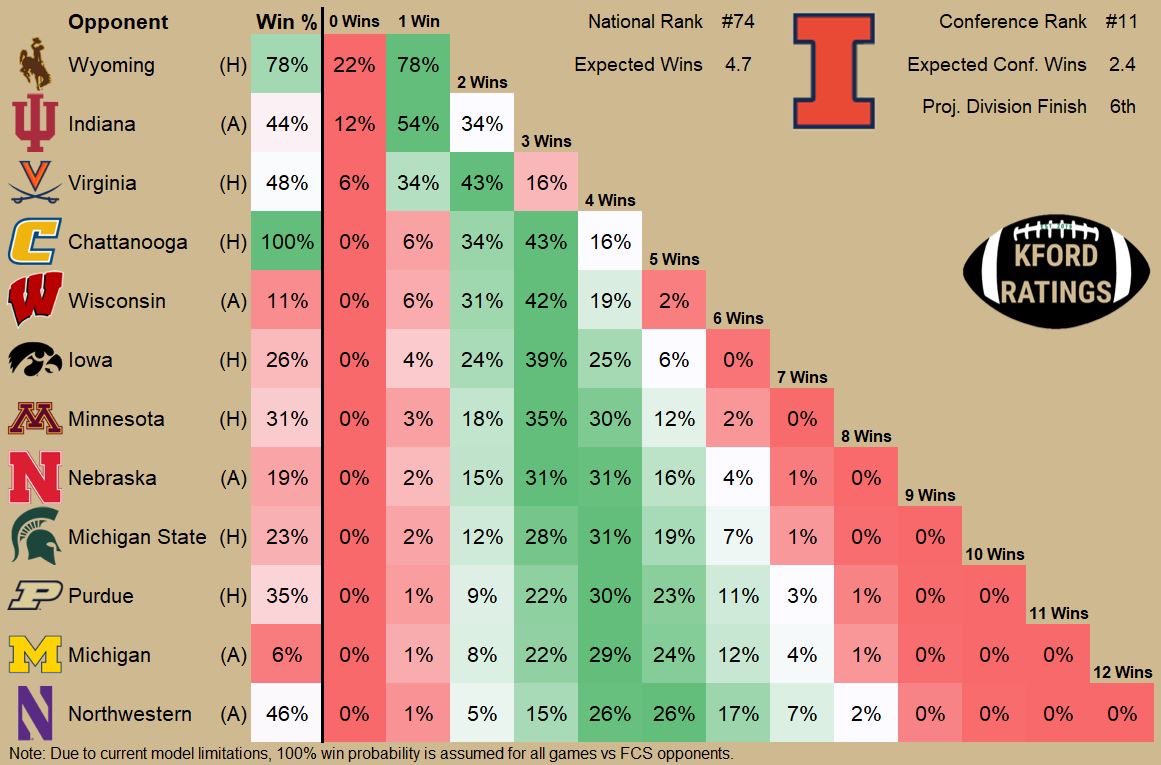 26% chance of four wins, 26% chance of five wins. I think that's right on. I see this season right on the razor's edge between 4-8 and 5-7.
But when you look at that first column, I think that tells the story. Underdogs in all nine Big Ten games (per this one formula). Early lines already have us as a dog at Indiana so yeah, I think that will be true. Maybe if Northwestern is awful again we can go up there as the favorites, but it doesn't look like we'll be favored in any games after Chattanooga.
So to me that looks like 4-8. Which is fine! I just want to see more of the same from last year (when I also predicted 4-8 and got 5-7). This is about what this thing looks like in years 3-4-5, not year 2.
Am I lowering the bar for Bret Bielema to clear? I don't know, maybe? If we go 4-8 or 3-9 you're going to hear a lot of "this is fine! last in returning production!" from me. But really, I just feel like the Vegas line and the NERDstats and my gut are all in perfect agreement. It's either 4-8 or 5-7. And I'm leaning 4-8 because of the defensive unknowns.
(If it's something like 7-5? Extend Bielema for 35 years.)
I need to get to this game but I always put these in bold so...
2022 Season Prediction: 4-8
This game, however, I believe will be an Illini blowout win. Famous last words.
As a returning production junkie, I'd like to note that Bill Connelly has Wyoming as one of the ten most inexperienced teams since he started tracking the stat in 2014. The best way to say that: he has logged returning production for 1,170 FBS teams in the last nine seasons. This year's Wyoming team ranks 1161st. They return absolutely nothing.
So even though it's the first game, and even though Craig Bohl used to just build great team after great team at North Dakota State (no matter how many players he lost), it's still very hard to win the first game out when you've lost nearly every good player to the portal or graduation. When ten contributors from last season to the portal (Wyoming lost a bunch of Daniel Barkers in the portal, not a bunch of (name an offensive lineman who transferred out in the last 12 months), and when you add those losses to your graudation losses, well, you get the 1161st team out of 1170.
To this returning production guy, that means six games minimum before it's not a disaster. That's turnovers and penalties and "why is this so hard?" football. We lost a lot, too, so we're going to have some "why is this so hard?" tomorrow. But I think Wyoming will have a lot more than we will.
In some ways - and this is a bit hot take-y - I feel like Chattanooga might be a tougher opponent than Wyoming? Chattanooga is ranked 12th in FCS this year. I know they'll have a better defense than Wyoming, but the question is on offense. Actually, that's probably not too hot take-y. There's a decent chance Chattanooga would be Wyoming on a neutral field. Especially "first game with brand new everything" Wyoming.
So I think I'm gonna lean into a big win. A friend texted me today that the line has moved from -10 to -13 in the last day or two, so it seems like bettors are leaning in this direction as well. Super new Wyoming looks lost against Illinois and the Illini win comfortably. Let's go with it.
Illinois 31, Wyoming 10