The 90 Illini #24: TeRah Edwards
Robert
Aug 4, 2022
[]
[]
1 Comments
You have currently viewed 1 story this month.
IlliniBoard now offers two free stories per month, for more please subscribe.
TeRah Edwards is a redshirt freshman, but he's a junior. So on one hand, when I fill out the information below, I think "why would I have a redshirt freshman who transferred in during the offseason and didn't have the luxury of learning the defense last year all the way up here at #24?"
On the other hand, he's a third-year player (Covid year at Northwestern, then "true freshman" season at Northwestern where he redshirted), so maybe he's ready to jump right into the mix as a third-year player. He's had those two years in a college weight room to get his body (for a DT, mostly his legs) ready for college football. And as I'm saying that I'm realizing that his two years at Northwestern were spent with that psycho strength coach, so maybe I don't want to talk about his time in the weight room because it will make me think of Mr. Short Sleeves For A 28 Degree Game: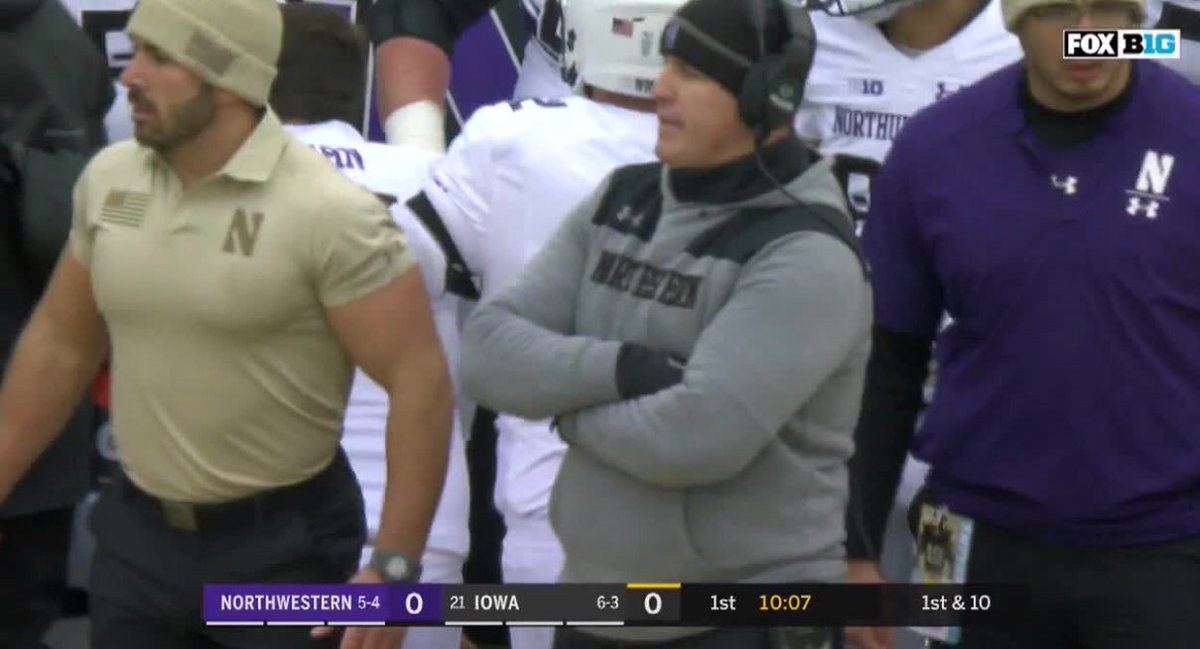 Don't make me pull up gifs of him roid raging on the sideline. I'll just get so annoyed all over again.
24. TeRah Edwards
Defensive Tackle
Uniform number: 23
Year in school: Redshirt Freshman (4 years to play 4)
Height: 6'-2" -- Weight: 310 lbs.
Hometown: Groveport, Ohio
High School: Groveport Madison HS
Transfer From: Northwestern
Five best offers: Michigan, Penn State, Tennessee, Michigan State, Pittsburgh
Tom Cruise rating:
2021 statistics: Played in three games at Northwestern, redshirted.
Background
Edwards was a fairly big recruiting win for Northwestern in 2020 (as you can see from the offer list there). He then played in two games as a true freshman (2020, so no eligibility lost) and then three games last year (less than four, which gives you a redshirt. Thus the "third-year player, still just a redshirt-freshman" described above.
This spring he seemed to move up through the ranks quickly. By the end of the spring, I'm fairly certain he was headed for the starting spot at nose tackle (he's in a battle with Calvin Avery and Verdis Brown to replace Rod Perry). I say "headed for" because he had an injury this summer. At Big Ten media days, Bret Bielema said Edwards might miss "two weeks" of camp, so that would mean he wouldn't get back on the field until two weeks before the Wyoming game.
2022 Outlook
In the same way that I described the three-way battle to replace Owen Carney (junior Ezekiel Holmes, redshirt freshman Alec Bryant, and true freshman Gabe Jacas), this is a similar three-way battle to replace Rod Perry. It's Calvin Avery or it's Verdis Brown or it's TeRah Edwards. I wouldn't be surprised to see any of the three start the Wyoming game. And the battle will go well into the season.
The difficult thing for Edwards with this injury: he's falling a bit behind. Yes, he enrolled in January so he got to learn the Ryan Walters defense this spring. And he's learned Terrance Jamison's coaching technique. But we've seen it before from players who miss several weeks of camp. The coaches get into a groove with their player rotations as the season approaches and it's difficult to jump back in the pool and swim to the front.
So here's hoping that once he does get back, Edwards can swim pretty fast. Maybe he should just picture that Northwestern strength coach swimming after him. That's enough to motivate anyone to move up to first string.