Robert
Feb 11, 2023
[]
[]
10 Comments
That's my view there. If you zoom in and look down at the court, you can see Tyler arriving at his seat down by the court (with his computer bag over his shoulder). We decided to cover this game using the "Back & Forth" format we've employed over the last 7-8 years; him down in press row, me up in the 200-level. I wanted to compare the experiences in real time.
And we chose to do this for a game that gave us 25 minutes of absolute frustration, followed by 10 minutes of absolute perfection, followed by 5 minutes of "just get this over with."
So what you're going to read was written as the game went along. The first email, from me to Tyler, was just before tipoff. The final email, also from me to Tyler, was sent an hour after the game. Here we go:
---
I got to my seat before you did. Even took a picture of you walking in. That elevator is a game changer. It says "for official use only" but I think my credential makes me official?
Anyway, it's dead up here pregame. And LITERALLY as I say that a fan walks by and says "let's get a win, Robert!". So not completely dead. But... a slow arriving Saturday crowd.
As we're lined up for the national anthem, I'm struck by how tall we are. I'll get a pic right at the end of the anthem to show people what I'm talking about.
See how lengthy we look from up above? I guess I don't really ever notice that when I'm down where you're sitting. But from up here, we're so... lengthy.
NOT DEAD DOWN HERE. Krush is in full throat - like fully locked and loaded. I very much remember last from last year how much they love Paul Mulcahy. Our length is indeed our strength on defense, but Rutgers might have the best shot blocker in the league in Cliff Omoruyi.

At the under 16 TO, it's kind of "defense optional" so far from the best two defensive teams in the conference. Brad Underwood was NOT happy with Matt Mayer on that end of the floor and he got an early seat in favor of Ty Rodgers. Fun start though.
I do enjoy the things that get the most noise. So far, up here in 200, here are the two largest crowd reactions:
When that little kid that was introduced during the under-16:00 timeout and Tim Sinclair said "when he grows up he wants to be a YouTuber", man, nothing gets more of a chortle out of some olds than "wants to be a YouTuber."

When Luke Goode checked in for the first time this season.
It's funny. When I'm down there by Krush I get wrapped up in what Krush cares about. I'd probably hate Paul Mulcahy six times more at this moment. But sitting up here, I'm all "YOUTUBER??" and GO LUKE.
Although Goode just missed his first three a little bit ago. Keep shooting, Luke.
The game? Oh, the game sucks so far. As of this last play here the rebounds are.. 14-4 in favor of Rutgers. Yikes yikes yikes. Offensive rebounds 7 to 1. No fouls on Rutgers yet with Mulcahy headed to the line for their third set of free throws. Not good at all.
On the fouls - Underwood and Larry Scirotto had a fun exchange after Underwood thought Ty Rodgers was fouled on offense and Rutgers got a foul on their end. Underwood was HOT and Scirotto was all "I NEED YOU TO BRING IT DOWN NOW!" LOL at Scirotto as tolerant parent.

Teams are settling in more on defense but I feel like we are getting good looks with cold three point shooting is biting us again. Several open ones and yet 0-6 so far. Offensive rebounding was the story through the under 12 TO, but the three point shooting (our lack thereof) was the story of the last four minutes. We're down six. We've missed all our threes and Rutgers has made 2 of 4.

Keep shooting Luke. (No RJ Melendez so far BTW).
This is as frustrating as basketball gets for me. Rutgers has to inbound with what - four on the shot clock? - and they get a LAYUP. And then we miss another three. I need to take a few minutes off here.
OK I'm back. Sincere just hit our first three and I'm able to calm down a bit. It just gets so frustrating sometimes. Saturday afternoon, in Assembly Hall, and it just gets so quiet up here. Not that I could blame anyone. Everything is ugly so far.
The thing that's so noticeable up here today: not much frustration. Back when I used to sit in Carmen's 200-level seats, there would be a ton of audible frustration during a slog of a game like this. So many 'come ON, guys" screams. A constant murmur of frustration.
Today it's just pin drop during those moments. And that's not a callout. I'm not saying "come on, fans, we need to hear audible frustration". It's just an adjustment in this building over the last 15 years. Bad moments are met with "here we go again", not "this isn't us - turn it around". More complacency than frustration.
Well Krush is hyper offended at every perceived basketball slight, so maybe it averages out?

Down here, we just witnessed working the refs at its finest. Brad Underwood has been BEGGING all day for a carry on Paul Mulcahy - and he just got it at an absolutely crucial time with 10 seconds left in the half. Steve Pikiell was beside himself.

Meanwhile, Terrence Shannon, Jr. is starting to let the physicality (absolutely nothing is being called at the rim) of this game get to him. He's been visibly demonstrative to the refs on several occasions. He's lucky he got the call at the end of the half because he was just "bull in a china shopping" that possession no matter the outcome.

All things considered, I feel pretty fortunate to only be down four points here at half. Not much from TSJ or Mayer. One made three and we spotted Rutgers 7 second chance points and 9 points off turnovers (which happened on the same possession a couple of times to be fair). Our two point FG defense (Rutgers is 11-27 on twos) kept this one close.
I don't know why but the feeling of this game is just way off for me. I can usually find "pretty fortunate to be"... but I'm not there. I'm having my frustration game for this season. Maybe I didn't get enough sleep.
I took a walk at halftime to try to walk it off. Found that the restroom lines up in 200 are just as long as always. So I pulled rank and took the elevator down to the event level, used the media restroom, and took the elevator back up. Was trying to clear my head (while texting things to people like "FRUSTRATING game").
I hate how good McConnell is on defense. I yelled and screamed on Twitter last year when McConnell won BTDPOY over Trent but I totally get it. His anticipation is just insane. Even one quick jab step to get someone to have to redirect their drive.
It's quiet up here, people are only cheering when A) we score, or B) Rutgers misses, and other than that it's dead silent. Those fans we all know who stand up and scream "come on everyone, make some noise" are losing their minds right now. Just so, so quiet.
We need something big to happen. This is like a party where no one is having fun. Need a Johnny Carson impersonator to hit someone.
I don't think turning the ball over after a media time out and giving up a three followed by Mayer fouling a bad two point shot from McConnell is what you had in mind. (And then another turnover.)

The big three of the last few games Mayer, Shannon, and Epps have been kind of bad today - which makes the whole vibe of the game feel weird.

But the three is such an equalizer. After all that nonsense Coleman Hawkins hits a three, Harris gets a layup, the margin is suddenly just one and Steve Pikiell wants a time out.

(That all just happened over the course of two game minutes. LOL).
Underwood getting the crowd involved there is so weird. Not weird for him to do - weird that he has to do it. After we cut it to one, I'm sure Krush was loud, but it's the HEAD FREAKING COACH who has to be "this is a home game and I actually would prefer if the crowd would make some noise right now" guy for the rest of the SFC.
As I'm typing that, Jayden Epps dribbled the ball across halfcourt right as the play clock went from 21 to 20. I'm really worried about a ten second call soon.
Any idea down there why no Melendez? He's still in his orange warmup on the sideline. Injury? Or just not playing?
This response is going to be all bullet points.

I think it's pretty much Luke or RJ for those minutes right now.
Coleman Hawkins has been absolutely tremendous this afternoon - the kind of game where you understand why he shows up on mock NBA drafts.
Ty Rodgers might be the best freshman rebounder I've ever seen.
We are in the midst of a 16-0 run - spurred in part by Underwood revving up the crowd? Does that qualify as "something big happening'?
Given that it's still only a nine point game, I'm not ready to get comfortable just yet. Went from down six to up 13 with a 9-0 run, but they've scored four straight and it's only a nine point game with 3:46 left as I type this.
That said, it's absolutely hilarious that we're going to publish something that shows all of my frustration in a game where we suddenly break off a 19-0 run. "WE NEED SOMETHING TO HAPPEN!!" (Is a 19-0 run good enough for you, Robert?)
Crowd is alive up here, by the way. The story of this game is that Underwood "come on, crowd, you need to make noise now". Suddenly, in a flash, everyone in this building remembered that we're Illinois, at home, at the SFC, and we make noise here. What a dominant run.
(Still gonna be nervous this last 3:46.)
...and Matt Mayer promptly gets fouled on a three. He's uncannily good at that. By my count that's four straight games he's drawn a foul on a three point attempt. He only made two of three - but enough for a little four point burst.

Illinois going to face ALL the defensive pressure here over the last two minutes. We'll see how they handle it.

TSJ bombs a three - and it's a 14 point lead with a minute left. Think that should just about do it.
What a crazy game for us to choose to do this. I need to go compile the stats with 15:00 minutes left in the second half. Actually, I'll start with Coleman Hawkins' second turnover of the 2nd half with 14:58 left in the game. At that point we are...
Trailing 47-41 at home to Rutgers.
Shooting 2-13 from three.
Getting out-rebounded (I don't know the numbers at that point but in the first half Rutgers grabbed 15 of the first 19 rebounds).
We have 10 turnovers to their five.
And that second Hawkins turnover with 14:58 left brought out the loudest OH COME ON grumble from the 200-level I may have ever heard. Frustration Nation in full effect.
After that? Rutgers misses FIFTEEN consecutive shots, we hit 7 of 11 (and get to the line twice) and by the time Rutgers finally scores again with 5:02 left in the game, they had "cut it" to 11. If Evan Miyakawa calls a 10-0 run a killshot, what's a 19-0 run? An EMP attack?
Yeah I'm not sure you're going to see 19-0 in this conference very often, but I feel like it's one of those things where water finds it's level - analytically speaking anyway.

We are one of the best defenses (ELITE!) in college basketball against the two point field goal attempt. 16th overall and first in Big Ten games only. It's our grand equalizer. Even though Rutgers torched us in the shot volume game (69-56) because of offensive rebounds and our turnovers, 53 of their shots were two point attempts. So when you can get a Rutgers team - which is offensively challenged to begin with - to play right into the heart of your defense then at some point it just becomes basic math.

But you have to make shots to get to 19-0 and we also saw that over that stretch. We talked before the game (and you talked with John Gasaway on the pod) about how we haven't seen this team put all the pieces together in a game yet. Well we still haven't seen it for a whole game, but we sure as heck saw it the second half today.
It's so strange. There was a graphic put out (maybe by Evan Miyakawa) earlier this season that put us in the "streaky" category. I think you were the one who sent it to me. Let me see if I can find it.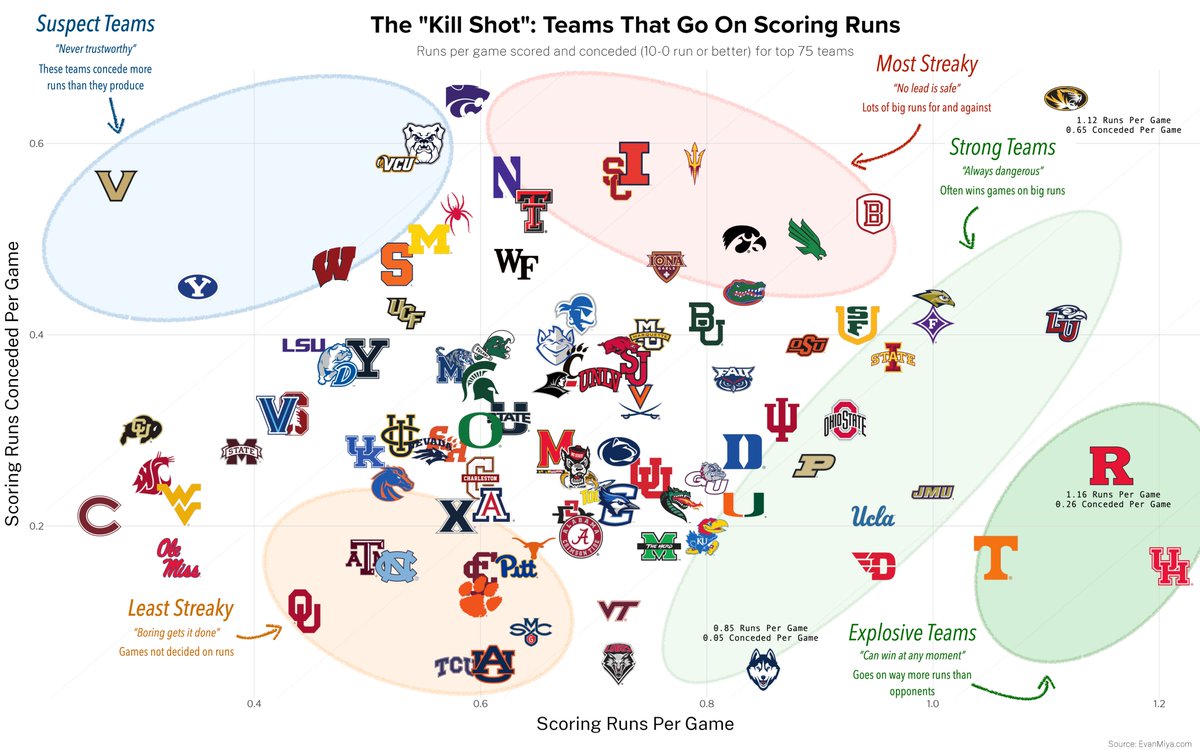 It feels like we simply saw the extreme version of this today. A question I will pose to you: is this the streakiest Illini team you can remember? A list:
Beat two top 10 teams in UCLA and Texas // Lose at home to Penn State by 15 and to Missouri by 22.
Terrence Shannon is an All American // Terrence Shannon has been figured out.
We look like we don't know what to do against Rutgers for 25 minutes // We destroy - I mean, absolutely destroy - the #2 defense in the country over the next 10 minutes.
I can't tell if this is a good thing or a bad thing once the Tournament gets here. Probably a bad thing. (But the ability to turn it on like this is probably a good thing?)
Actually, I think this team has successfully evolved from "streaky" to consistent. At Northwestern, we fell behind in a game by 10 points for the fifth consecutive time. Since that night (10 games ago) we've only trailed by 10 points in a game once and have only given up one of those Evan Miyakawa "kill shots" once (both against Indiana). To me that reads like a team that has started to define itself. Guys are settling into roles. Matt Mayer and TSJ as reliable scorers. Dain Dainja as a traditional low post anchor. Epps as a lead guard. Sencire Harris and Ty Rodgers as defensive stoppers. Coleman Hawkins as the Swiss Army knife.

More importantly it appears they have finally latched onto a concrete identity - and that's the lockdown defense we've been talking about all afternoon. Heading into these last seven conference games and then the post-season, I'd say that's pretty good timing.
Yeah, you're right. Probably the best way to define this game wasn't "streaky offense". It's "this team has the ability to keep the other team from scoring from the 15:03 mark of the second half to the 5:02 mark of the second half." There's a lever we can pull called "make it really hard for the other team to score."
So maybe I should be looking at this the other way. We won this one with a 19-0 run. Will we pull another 19 soon? Probably not. Will we pull a 0? Absolutely.
Thanks for settling me down, by the way. My one big crowd takeaway is that I can definitely feel the 200-level nervous energy up here. As you said throughout, Krush can really keep it energized down around the court. But up here, it was Quiet City (until we cut it to one and Underwood encouraged the crowd to get loud).
And maybe that's my big lesson today. Don't get caught up in the nerves. Don't fret when we're not doing much on offense.
A good defense can be trusted.