LLUOI 2023: The Quarterbacks
Robert
Mar 25, 2023
[]
[]
18 Comments
Thing I didn't think about when switching to this format: reviewing three players at one position in the same article - and adding 3-5 gifs per player - means these articles will use up your entire data plan with one click. Once I get to the offensive linemen I'll be testing the hosting capacity of the site.
But the whole idea of doing it this way is to tie the Looks Like University Of Illinois process to the offseason evaluation of the roster. I spent a few articles talking about the massive need at quarterback, so I want to look at all three quarterbacks at the same time. So... hope your wifi is good. (Actually, as long as I write enough words before you get to the gifs, they'll have loaded by the time you scroll down there.)
What did we learn by going through the returning lettermen and the returning bench guys? Well, we learned that we have one single returning scholarship quarterback and he's a redshirt freshman. Next year at this time we'll be talking about the three or four returning quarterbacks, but this year, with Tommy DeVito graduating and Art Sitkowski now a student assistant coach, we have exactly one returning QB (Donovan Leary).
So this will be the most important LLUOI. Leary could win the job (he was Bret Bielema's very first QB recruit), but given that he'll only be a redshirt freshman, it's more likely that the starter will be one of the transfers. We should talk about the transfers. And give them Tom Cruise ratings.
Luke Altmyer
Sophomore
Transfer from Ole Miss
6'-2", 200 lbs.
This was the big transfer portal addition this offseason. Altmyer was a consensus 4-star recruit in high school who had offers across the SEC (Alabama, Ole Miss, LSU) and ACC (Florida State, NC State, Louisville). Despite being from Starkville (and his dad being the former Mississippi State team surgeon), he chose their Egg Bowl rivals.
And his career at Ole Miss sets up quite well for "quarterback who needs another opportunity somewhere." Meaning, these are the kinds of situations coaches are looking for when looking through the portal for a quarterback. Here's what I found while researching it.
Altmyer arrives at Ole Miss in the fall of 2021. They have a quarterback who has the starting job completely locked up: Matt Corral. Ole Miss goes 10-2 that season with Corral throwing for 20 TD's and running for 11 more. Altmyer redshirts that season, but in their bowl game, Corral is hurt and Altmyer is thrown into the game. His stats (this is in the Sugar Bowl vs. Baylor): 15-28 for 174 yards, 1 TD and 2 INT.
In the offseason, Ole Miss adds Jaxson Dart from USC out of the transfer portal. USC had hired Lincoln Riley, Riley was bringing eventual Heisman winner Caleb Williams with him from Oklahoma, and Dart got out. He landed at Ole Miss, setting them up for a QB competition: sophomore Jaxson Dart vs. redshirt-freshman Luke Altmyer. Ole Miss started the season with Troy and then Central Arkansas, so Lane Kiffin used those two games for a quarterback competition. Dart started the opener against Troy (with Altmyer getting some snaps in the second half), and then Altmyer started the Central Arkansas game. He went 6-13 for 90 yards with two passing touchdowns and one rushing touchdown and then (in a blowout) was replaced by two different quarterbacks.
After that, Kiffin made his decision: Dart was the starter the rest of the season. Altmyer got snaps in two additional games, but Dart was the season-long starter. After the season, with Dart having two more years of eligibility, Altmyer entered the portal. (But Dart shouldn't feel good about that - Ole Miss then added Walker Howard from LSU and Spencer Sanders from Oklahoma State out of the portal.) Wheel in the sky keeps on turnin'.
So Altmyer now lands in Champaign in a pretty good situation. He's only a redshirt sophomore, so if he nails down the starting job, he could hold it for three full seasons. Might he do that? Let's look at his film from that Central Arkansas game last year.
First pass of the game was a little under-thrown but, um, incredible catch.
What do we learn from that? Altmyer has a 4-star throwing motion. That's textbook right there. Feet planted firmly on the ground, effortless throw with what appears to be a very strong arm. That's the kind of throw where if an assistant coach is out on the road recruiting in April or May and he goes to watch a kid throw, after this one throw he offers him. You can teach all the other things around quarterbacking - you can't teach an effortless throw.
What else? Well, this play reminded me of Johnny Johnson at Michigan in 1993.
That's the most encouraging play from that entire game. Really great stuff. A defender has his foot so he can't plant. Another defender is closing in so he has to release it. Touchdown.
Good stuff good stuff.
Can he run? Well, here's a look at a touchdown run from the same game:
That leap is encouraging to me. Stiffarm the defender, leap for the goal line. Yes, it's only Central Arkansas, so a Big Ten blitzing DB would likely have him on the ground. But still, fight the guy off and get the TD? We like that.
All in all, he looks like a 4-star should look. The biggest negative is probably the stat lines. Career stats so far (which is the Sugar Bowl in 2021, the Central Arkansas game in 2022, and mop-up duty in six other games):
28-54 (51.9%) for 217 yards. 5.9 yards per attempt. 3 TD's, 3 INT's.
Those are freshman and redshirt freshman stats, so there's not much to learn here. But it should be noted that the 3 interceptions and the 50% completion percentage are probably a big part of the reason Dart won the starting job there last season. Still, if we went by Kurt Kittner's stats eight games into his career we'd see a sub-50% completion percentage, 1 TD, and 7 interceptions. For a transfer from an SEC school, it's good that Altmyer has played in eight games over two years. Your first eight games will almost always be rough, so I'm glad he got them out of the way in Oxford.
For Tom Cruises I don't think I can go into the fours. Height is a concern here (my guess: 6'-0.5" in socks). But I still think this is a great addition. And he's the likely starter.
Luke Altmyer - Three and three-quarter Tom Cruises
---
John Paddock
Senior (walkon)
Transfer from Ball State
6'-0", 190 lbs.
I should probably start with the Wright family stuff. I think it's important. And it's probably the only reason someone who started at a MAC school last year would accept a PWO spot at a Big Ten school for his final year of eligibility.
Illini football has a three-generation family: Bob Wright played in the 30's, his son John Wright in the 60's, and his son John Wright II in the 90's. The wide receiver room in the Smith Center is named after John Wright, so there's a fairly deep history here. And John Paddock is John II's nephew - his sister's son.
John Wright II was in school when I was in school, so I could give you several paragraphs on him. I'll just keep it to one. Mike Bellamy was the leading receiver in 1989. In 1990, with Bellamy off to the NFL, Shawn Wax was the leading receiver. And then, after he graduated, the leading receiver in both 1991 (my freshman year) and 1992 was John Wright II. He caught 46 passes in 1991 and 47 passes in 1992. I'd have to look this up but off the top of my head I'd guess that John Wright II caught more Jason Verduzco passes than any other Illini player.
And now... his nephew is taking a PWO spot in hopes of quarterbacking the Illini for his final season of eligibility. He's been at Ball State the last five years (he's using his Covid year for this sixth season here). For four years he was the QB understudy, but last year he was their starter. His stats:
286-480 (59.6%), 2,719 yards, 18 TD, 14 INT
It was a run-heavy offense at Ball State (Carson Steele had 1,556 rushing yards and then transferred to UCLA this offseason), so he's probably used to running a similar offense to this. The main issue with his stats, obviously: the 14 interceptions. Last year, Tommy DeVito had 4 interceptions. 14 would have made for an entirely different season.
Overall, I love the potential storyline here. He's the only upperclassman at QB - Altmyer is a sophomore, Leary is a redshirt-freshman, and the next guy on this list is a true freshman - so there's a massive opportunity for a one-year-left senior QB to bridge the gap here. And it would be such a great story if he did that where his great-grandfather, grandfather, and uncle all played football.
To the tape. I captured this one because it's nearly identical to the first Altmyer clip above. Both throws are underthrown. The fortunate thing for Altmyer - he had a receiver make a ridiculous play on the ball and somehow catch it against the guy's back. Here, Paddock gets picked (but it was nullified by the defense being lined up in the neutral zone).
This was the best throw I saw when watching that game. Hits the receiver in stride...
Great footwork there, too. Watch the clip again and just look at Paddock's feet. Backpedal, anchor off the right foot, establish base, fire. Quick release, too.
The main issue when watching his games, though (and take this as a "this is Big Ten football and you need perfection at every position" take): his arm strength isn't 100% there. You don't have to have plus arm strength to play QB in the Big Ten, and there have been plenty of quarterbacks with that arm strength who have failed, but... I'll show you what I mean.
In the Ball State/Kent State game, he threw this sideline out and got picked on a crazy deflection:
College football games are won or lost in these little moments. That ball needs to be released 0.27 seconds sooner and it needs 29% more zip on it to be complete. Because of these tiny little shortcomings, that's an INT instead of a completion. And when that happens in practice, the coaches usually turn to the other QB.
Again, way too harsh. I'm just pointing out where games are won or lost. When you hear people talk about "arm strength", it's not "can throw the ball 65 yards in the air." It's this exact play. Near hash, 10 yard out to the far sideline. Can you deliver a strike before the cornerback stops his backpedal and drives forward towards the pass? If you can, you can start.
This will ding Paddock on his Cruises. I love the story and am fully ready to write it from any angle but for Cruises I can go any higher than...
John Paddock - Two and one-quarter Tom Cruises
---
Cal Swanson
Ardmore HS, Ardmore, Oklahoma
6'-3", 190 lbs
"Swan Song - how you livin'?"
"Yes."
Writing these articles is a constant reminded of how old I am. Remember during the 2004 season (Turner's last year in Champaign) when we had a chance to beat a ranked Purdue team (Kyle Orton at QB) but Jon Beutjer fumbled as we were driving for the tying score? Cal Swanson was born two days before that game. Swanson was 2.5 months old when Ron Zook became the Illini head coach. I am so, so old.
My first thought on Swanson (besides all the Parks & Rec jokes I'm going to make over the next five years) is that I already fear the transfer portal. If he's great, he's 100% going to be the starting quarterback at Oklahoma. His father and his uncle played for the Sooners in college, but Oklahoma didn't offer Swanson. So Swanson picked Illinois. My read on that situation: if Swanson is in any way great, and if Oklahoma ever offers him, he's 100% gone. He might even take a PWO spot as a senior like Paddock just did with Illinois.
I want to get right to the gifs here because I made five of them. I made five of them because I'm completely flabbergasted by Cal Swanson's release. That's not me saying "wow what an incredibly quick release five Tom Cruises" - I just can't remember seeing anything like it. If anything, it's something that will need to be changed by the coaching staff. A lot of the power and accuracy of throws comes from the windup. And he just... throws it.
Here's what I mean: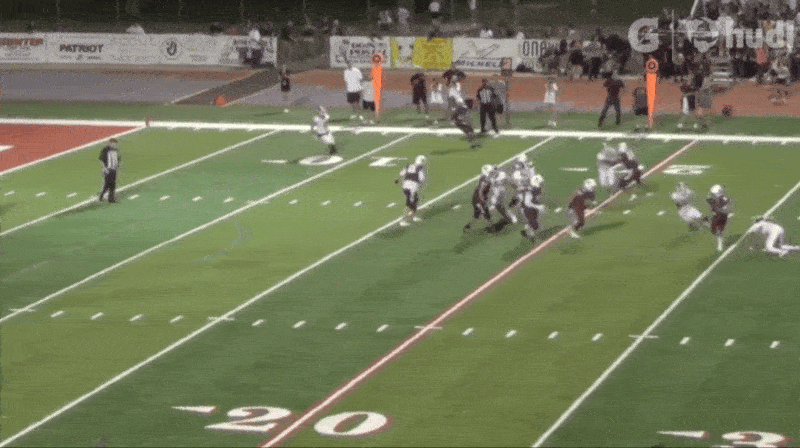 Did you see him throw it? I didn't. Neither did the cameraperson. Took me 2-3 loops to see the moment he threw it.
And this isn't some one-time optical illusion. His Hudl tape is full of instances where the cameraperson had no idea he had thrown the ball:
I mean, what even is that? He releases it from the 15, the receiver catches it at the other 33 (that's 52 yards in the air for those of you who enjoy the maths) and really, the only way you can tell he threw it is that he hops over the 15 yard line. Every throw is a flick.
Here's another example. You can see the throw a little easier now (because you're locked in and looking for it) but here's yet another cameraperson who is confused:
The way he runs immediately after releasing it makes you think it was just a pump fake. But it's a throw.
Here's a good view of the actual release. He simply doesn't cock the hammer back before he fires. It's one motion from his chest and then up and fired downfield:
Endzone view gives us a good look at how he kind of loops it up away from his body and then fires (all in one motion):
I think this is more good than bad. Quarterbacks with a long, clunky release always struggle in college. I think this will really help him when throwing on the run. Build better technique while keeping that release lightning quick and we've really got something.
The issue, of course, is accuracy. It's like putting on the golf course. Yes, some players can do the Brandt Snedeker "pop" putt with very little backswing and then a bit acceleration through the ball. But for most putters, to keep the ball on line, there has to be a pendulum-like backswing and follow-through on the same plane. Keep in on the same plane and the putt will go where you want it to go.
So this film is kind of like watching Will Zalatoris putt. He gets it online, and hey, if it works for him, that's great, but long term, any teacher will want the herky-jerky motion removed and replaced with a nice, fluid follow-through. (Zalatoris will now go win the Masters and by the time you read this in three weeks you'll be thinking Cal Swanson is basically a Masters winner at quarterback.)
I like a lot about this film. Reminds me a tiny bit of Tommy DeVito? So I like this pickup. His senior film is much better than his junior film so I've warmed to him a lot over the last nine months.
Tom Cruises? I think this is a solid three. I gotta leave for practice now, and we get to see 40 minutes today, so maybe I'll even see Swanson throw and then come back here and add a quarter Cruise. For now, though...
Cal Swanson - Three Tom Cruises