PMP 2023: Illini Football, September 2013
Robert
May 21, 2023
[]
[]
2 Comments
For this PMP, the person who donated $100 to the scholarship fund (Randy) replied to my "what article would you like me to write?" with "whatever you want." I still felt like it should be random, so I decided I would write about a certain Illini football month. And I employed Ben (who writes the baseball stuff around here) to be my randomizer.
Here's my texts with Ben: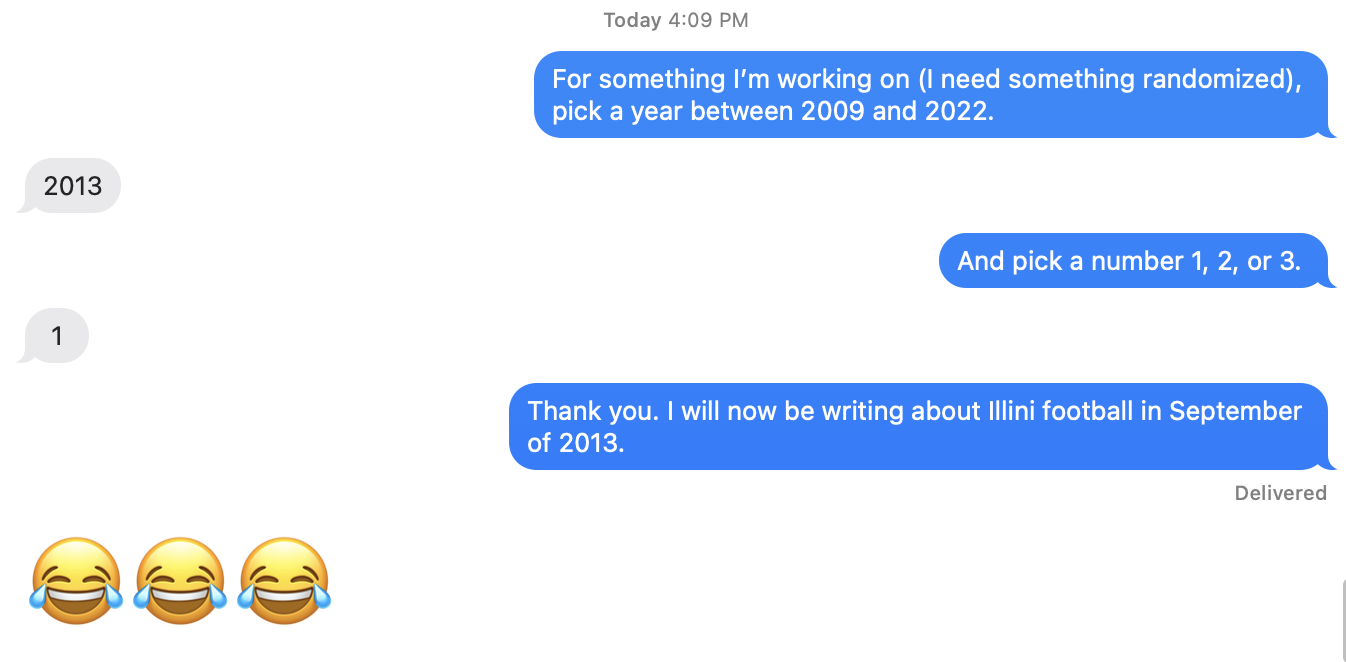 I figured if I said "now pick September, October, or November", Ben would know that I was talking about football and pick one of those months intentionally. So I went with 1, 2, or 3. And I now feel good about this article not being my idea. For Randy's PMP donation (thanks so much, Randy), I will now write about Illini football in September, 2013.
Not gonna lie. I'm super pumped about the choice here. When Ben picked 2013, I was really hoping he'd choose 1 (September). What a month. I remember it all so vividly. The Cincinnati game where Cincy's Munchie Legaux got hurt. The closer-than-we-thought game with Washington up at Soldier Field. Real hope (and a real offense) that had us dreaming right up until the point where the calendar turned from September to October.
And then we won exactly one game in October and November combined - the game where Steve Hull was running around the Purdue endzone trying to run out the clock before taking a safety. 1-7 in the Big Ten that year, but I don't have to talk about that. Ben picked 1, which means September, which means I get to write about August Syndrome turning into September hope.
To set things up here, 2013 was Tim Beckman's second season in Champaign. In his first season, we went 2-10 (winless in the Big Ten). Despite having a quarterback entering his third season as the starter (Nathan Scheelhaase), that 2012 offense was putrid. The co-coordinators (Billy Gonzales and Chris Beatty) were fired after only one year and Bill Cubit was hired as offensive coordinator for 2013. The main discussion point in August of 2013: can Cubit fix the offense?
2013 was also my first season covering games from the pressbox. I made the move from the old blog over to IlliniBoard in late July that year (which means I'm almost at 10 years on IlliniBoard?), and that led to the press pass and me giving up my season tickets. So that first game - Southern Illinois - was the first time I'd be watching a game from the Memorial Stadium pressbox. Those were the days.
For some reason, I want to do this from memory and not look up a bunch of box scores, so I just glanced at the schedule to get the order of the games and the scores correct and I will now list out everything I remember.
Illinois 42, Southern Illinois 34
Besides all my memories of how nervous I was entering the pressbox, the main thing I remember about this game was SIU, with the ball, down eight, driving to send the game to overtime. I believe we batted a pass away in the endzone on 4th down to end the game. I also remember that a lot of the crowd had headed back to their tailgates when we were up 15 in the 4th quarter and had no idea that there was a pass heading for the endzone with a chance to send the game to overtime (if they had caught it and then converted the two point conversion, which they would have because 2010's Illinois Football).
It was a very shaky start against an FCS opponent. And given everything that had happened for Beckman up to that point - the opening press conference which didn't win him many fans, the 2-10 first season which included a loss at Arizona State where the defense didn't even know the sideline signals yet, him firing his co-OC's after only one season - that win did nothing to convince anyone that Year Two would be much different.
The only good to come from that game: it appeared we had a passing offense again. Steve Hull (sorry, STEVEHULL) had moved from DB to WR and it appeared that the roommate connection (Scheelhaase to Hull) was something we could rely on. Was it just the FCS opponent though?
Illinois 45, Cincinnati 17
We found out that the offense wasn't just good against an FCS opponent. The offense was good against a pretty good Cincinnati defense that had stifled Purdue the week before. This was my first instance of going insane internally in the pressbox and finding that I could release some of that glee by tweeting in all caps. At least I think it was all caps. I remember tweeting something like "I DON'T KNOW WHAT'S HAPPENING BUT I LOVE IT" when we took a 17-3 lead (or something like that). Let me dig and see if I can find that tweet.
That was actually somewhat easy to find:
WHAT IS GOING ON. THESE ARE THE THINGS I DREAM ABOUT. MY DREAMS DONT HAPPEN IN REAL LIFE IS THIS REAL LIFE I DON'T EVEN KNOW HOW TO BEHAVE I

— Robert Rosenthal (@ALionEye) September 7, 2013
You may wonder how I remember a specific tweet during a specific game, but that one was quite important to me. This was the first big moment where "you cannot make a sound in the pressbox" would be tested. And I found that ALL CAPS really helped. I needed to let it out somehow and that's how it came out.
(It's also kind of hilarious that in 2022 I left the pressbox in part because it's... too noisy. It became a gamewatch with everyone commenting on nearly every play. I avoid those gamewatches with friends, so why would I attend one with people who don't care about the outcome and aren't dying inside like I am? I started with ear buds to drown it out, then moved to noise canceling headphones, and finally just moved back down into the stands where I don't have to worry about it.)
ANYWAY, that was a memorable game. I want to say that Cincy had just missed the rankings that week, and we beat them 45-17. The game was still somewhat in doubt in the 3rd quarter but we stopped them in the redzone and their QB was injured and out for the game. We then scored the last 21 points of the game and it was a blowout. Is this thing starting to turn around?
#19 Washington 34, Illinois 24
Of the four games that September, this was the one that convinced people it might be starting to turn around (it wasn't - we would finish 4-8). We lost to Washington at Soldier Field in Chicago but the main takeaway was that we went toe-to-toe with #19 and didn't embarrass ourselves. In fact, had one pass to STEVEHULL been thrown with 1% less power, we might have won this game.
We had no business playing Washington back then, by the way. We scheduled that game before the Big Ten required one non-conference P5 opponent per year. That game had been scheduled by "we'll play any TEAM, any WHERE" Ron Guenther. The reason? He had planned to celebrate the 50th anniversary of the Rose Bowl win over Washington in 1963. Scheduling has changed a lot over the years, but in the moment that game was scheduled, everyone else in the Big Ten was avoiding any P5 opponents and scheduling as many wins as possible. And we were playing Washington to celebrate an anniversary.
(As I recall, the Guenther loyalists in the DIA were quite angry at Mike Thomas for moving that game to Chicago because it meant that the anniversary couldn't be celebrated. That was a theme of the DIA at the time, apparently. Lots of stories out there about Mike Thomas' battle with team I Still Report To Ron. But that's for another day.)
There was a deep pass from Scheelhaase to Hull that went off his fingertips and would have possibly changed the outcome (I want to say we were down seven and had he caught it we would have been tied - instead, we punted, Washington got the ball, and they kicked a FG to win by 10). But the overall theme of the day was that we hung with a top-20 opponent. After the 2012 where everything looked like a disaster, 2013 looked like a completely different team. Maybe there's even a bowl on the horizon?
(There was not.)
Illinois 50, Miami-Ohio 14
The main thing I remember about this game was that after our long run of scheduling MAC teams right when they were having their Season Of The Decade (I regret to inform you that those days might not be over and that Toledo might be a 10-2 football team this fall), we finally caught a MAC opponent at their low point. I'm almost certain that Miami-Ohio went 0-12 that season. They were bad bad bad. I think I'll look that one up so that I'm not giving you bad information.
Yep, 0-12. I looked at the seasons around that and they had lost their final four games of 2012 (and their first five games of 2014), so this one was part of a 21-game losing streak for Miami-Ohio. So the thing I remember from this one was absolutely true: they were bad bad bad.
I also have this thought in my head that Nathan Scheelhaase missed part of this game with an injury? Maybe I'm confusing this with our other bad bad bad opponent (Charleston Southern the year before) when Reilly O'Toole filled in for an injured Nate and threw five TD passes. I'm probably mixing those two games in my head. Or maybe we put in the subs because we were blowing out Miami-Ohio.
Anyway, we put up 50. After putting up 45 on Cincy and a respectable 24 on #19 Washington. As September ended, we knew that we had an offense. Scheelhaase looked like 2010 and 2011 Scheelhaase (not 2012 Scheelhaase), and his collection of senior receivers (Ryan Lankford, STEVEHULL, Miles Osei, and Spencer Harris) formed a great passing offense. Honestly, sitting at 3-1 with our only loss by 10 against a ranked opponent, we started talking bowl game. We went looking for three Big Ten wins. Purdue was abysmal, so there's one win. Could we find two more? Maybe beat Indiana and Northwestern and get to a bowl?
(We did not get to a bowl. We went 1-7 the rest of the way and only beat Purdue.)
But hey, that's October and November. My job here was to write about September, and I've done that. 3-1, lots of offense, hope in the air!
And then we woke up when September ended.