Robert
Jun 10, 2023
[]
[]
23 Comments
I still have five more of these to write. So the suggestion for this Pick My Post was perfectly timed. I left the NCAA Golf Championships a week ago yet I still have all of these Illini Golf thoughts in my head. So what better way to take advantage of this question than to write about that?
I'm turning it around and asking that you pick a post that will bring you joy.

~Anonymous
Thanks so much for your donation to the scholarship fund, person who chooses to remain anonymous. A post that will bring me joy is writing about... Illini golf.
A year ago, I wrote an article about the upcoming year for Illini Golf. I can still remember writing that. For whatever reason, it was so much fun for me. The intersection of passion and vocation.
I still have a lot of golf thoughts bouncing around in my head, but I haven't written the article because, as I listed on Tuesday, I have so many articles to write. Gotta crank on these LLUOI position articles. A 90 Illini article every day. And I still have these five PMP articles to write.
But what if I take the "pick something that will bring you joy" PMP suggestion and make that the golf article? Done and done. Here we go.
First I want to note how this is a passion thing. As I'm writing this, I have six tabs open above. Three of those six tabs are tabs I opened to research something for this article. The other three:
The BMW Charity Pro-Am leaderboard (Korn Ferry Tour). It's Adrien Dumont de Chassart's professional debut. Michael Feagles put up a 59 on Thursday. I'm absolutely going to keep a tab open and monitor that.
The Palmer Cup scoreboard (an amateur golf tournament). They take the top-12 male college golfers and the top-12 female college golfers and pair them up with teams of international players. One of the 12 pairings for Team USA when they go mixed foursomes? Illini senior Tommy Kuhl + Illini senior Crystal Wang.
The Golfstat Team Ranking. I saw something in a press release email the other day that said the Illini finished #1 in the GolfStat rankings for 2023 (kinda like Gonzaga finishing #1 in the KenPom rankings in 2022 - doesn't mean much because Kansas won the title, but it sounds nice), so one of the first things I did this morning was check to see if that was the case.
So thanks for your "pick a post that will bring you joy" suggestion, Mr. Anonymous. Let me go find just the right music for my earbuds and then I'm gonna have a lot of fun writing about all of this. The choice: the Band Of Brothers soundtrack. Perfect.
2023 Recap
Here's how I ended that "Illini Golf in 2023" article from last June (linked above):
I think we've covered everything. Bottom line, it needs to be a Virginia Basketball 2018/Virginia Basketball 2019 situation.

Heartbreak in 2022 and the first time missing NCAA's since Oceans Thirteen.

A massive bounce-back in 2023 and another run at match play.
It was... a massive bounce-back in 2023 and another run at match play. The season met all of the lofty expectations I set. Made match play as the 3-seed, match play is a crapshoot, lost in the quarterfinals. Actually, I think I need to explain how match play is a crapshoot.
Match play is a crapshoot because inconsistency isn't penalized. You know how you'd be watching the scores online during stroke play and some team would be making a move and about to overtake Illinois in the standings but then one of their guys would take an 8 on a par-4 and suddenly they'd drop back?
If you were following the scores during the NCAA Championships, you might remember that Auburn was making a push on the second day in Scottsdale. But then one guy made a double bogey at nearly the same time that another guy made a quadruple bogey and Auburn dropped six shots in the blink of an eye.
At the end of the round, Auburn's card looked like this: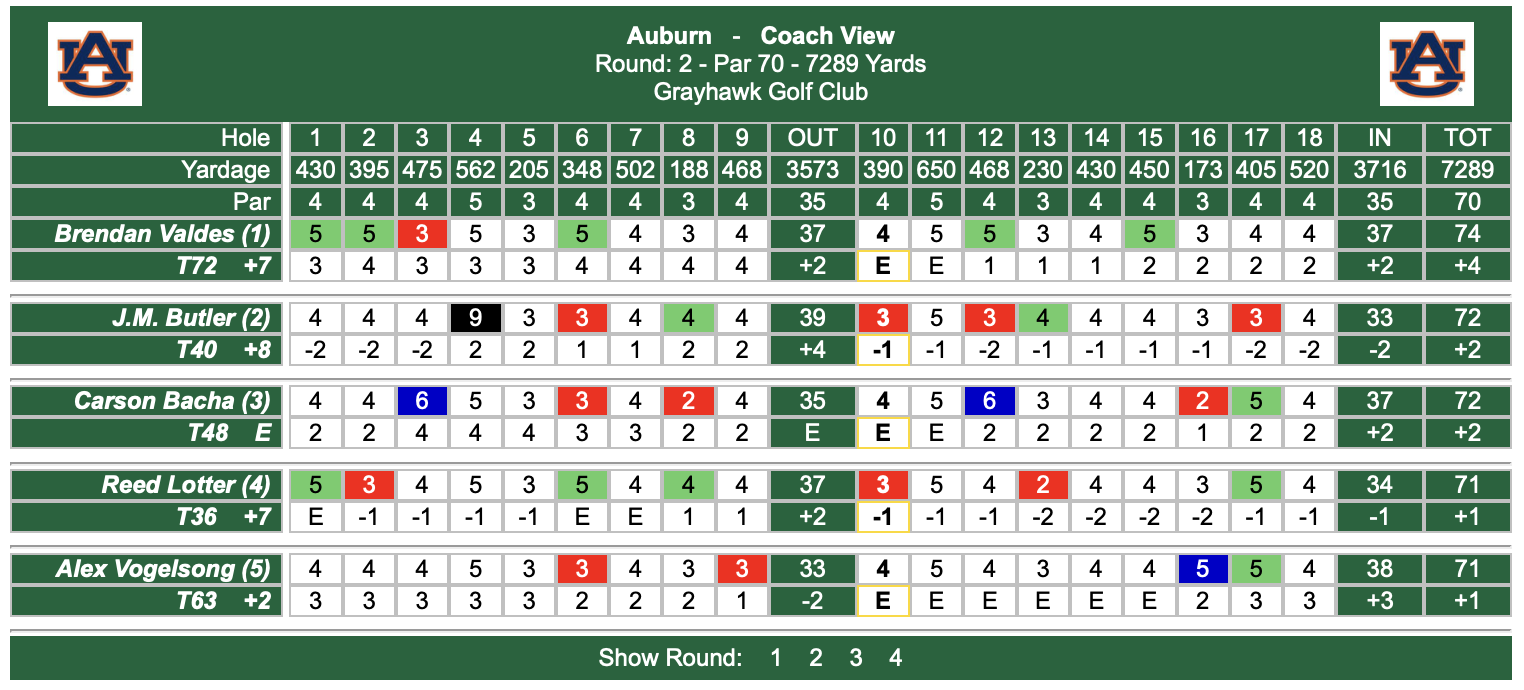 And the Illini card looked like this:
Similar cards - 13 birdies for Auburn on the day, 15 for Illinois; 13 bogeys for Auburn, 11 for Illinois - but those big numbers were the big difference. There's blue and black on the Auburn card and just one double bogey on the Illinois card (from Piercen Hunt, who was the drop score that day). When you put it all together (and drop the worst score), Illinois was 13 shots better than Auburn that Saturday.
That level of consistency pushed Illinois to seven victories this season. But in match play? A quadruple bogey is basically the same as a bogey. Doesn't matter what you shot, all you lose is one hole.
So take the Auburn number 2 guy and the Illinois number 2 there. JM Butler shot a two-over 72, Tommy Kuhl shot a one-under 69. Kuhl would have won if they were head-to-head in match play, right? Wrong. They would have been tied and would have gone to extra holes. Kuhl would have been 2-up after the front nine and even 2-up after winning the 15th hole with a birdie. But Butler would have won the 16th (Kuhl bogeyed) and 17th (Butler birdied) and after two pars on 18 they would have gone to extra holes.
That's why match play is a crapshoot. Winning a hole where you get a 4 and your opponent gets a 5 is the same as winning a hole where you get a 4 and your opponent takes a 13. No matter what happens it's just +1.
Which is why you hear Illini golf fans saying "gotta just keep getting into match play until it happens." This year, perhaps more than any other year, was "play it eight times and you might have eight different champions." Here's something I tweeted last week:
UNC-ASU: 3-1 win on 18th, final match unfinished on 18 tee.
Florida-UVA: tied 2-2, decided 2-up on 17.
FSU-Illinois: tied 2-2, decided on 18th hole.
GT-Pepperdine: tied 2-2, decided on 19th hole.
GT-UNC: tied 2-2, decided on 18th hole.
Florida-FSU: tied 2-2, decided on 21st hole.

— Robert Rosenthal (@ALionEye) May 31, 2023
And then, in the championship match:
What was that thing I was saying earlier today about the margins being razor thin? pic.twitter.com/00pFGaEhFK

— Robert Rosenthal (@ALionEye) June 1, 2023
Just keep knocking on the door. Eventually it will open.
Golf Cruitin'
The very first thought when I say "eventually it will open" is to ask "when?" And with college sports, that makes you immediately ask about recruiting. So go ahead, ask me about recruiting.
HEY ROBERT TELL ME ABOUT GOLF RECRUITING.
Not sure why you yelled but last week I was just texting a bunch with Dan from The Field Pass about golf recruiting so I have the information readily available.
First off, last year, when I wrote about golf recruiting, I put together a list of all-time AJGA top-50 players Mike Small has recruited. I'm probably missing a few (it's very hard to find those number pre-2010), but from all of my research, this is my list. You know how I maintain that "all-time RSCI top-100 players to pick Illinois" list for basketball? This is the golf version.
But before I show you the list, a disclaimer. AJGA stands for American Junior Golf Association so this list will not have international players unless they played a lot of their junior golf in the States. Mike Small has always paired great international players (Thomas Detry) with great recruits (Charlie Danielson) to build great golf teams. This list will only tell you about the American players.
The list:
Luke Guthrie - 5th in 2008
Nick Hardy - 14th in 2014
Scott Langley - 18th in 2007
Piercen Hunt - 22nd in 2020
Ryan Voois - 30th in 2022
Michael Feagles - 33rd in 2016
Dylan Meyer - 44th in 2014
Jackson Buchanan - 47th in 2021
Here's where it gets fun. You see how there's a 2020 player on that list and a 2021 player on that list and a 2022 player on that list? Can Small keep it going with a 2023 player and a 2024 player as well? Yes. They've already signed/verballed.
The 2023 player I've written about before - Max Herendeen from Washington. He won the Junior PGA last year and nearly qualified for the US Open last year and this year. This past Monday, he was in the lead at his sectional at the start of the second round but finished tied for 5th (only the top two spots got US Open bids). Herendeen is currently 18th in the class of 2023 on the AJGA rankings. So there's one for 2023.
And there's another already verballed for 2024. If you sort that AJGA list for the class of 2024, Trey Marrion is 25th. He's a high school junior in Chesapeake, Virginia who has verballed to Mike Small. So let's go update that AJGA list and highlight the 2020 through 2024 run.
Luke Guthrie - 5th in 2008
Nick Hardy - 14th in 2014
Max Herendeen - 18th in 2023
Scott Langley - 18th in 2007
Piercen Hunt - 22nd in 2020
Trey Marrion - 25th in 2024
Ryan Voois - 30th in 2022
Michael Feagles - 33rd in 2016
Dylan Meyer - 44th in 2014
Jackson Buchanan - 47th in 2021
This is not to say that one of the other 2023 or 2024 recruits doesn't crack that list. Another verbal in the 2024 class - Jake Birdwell from Minnesota, who was walking around watching some golf at Grayhawk - is currently 80th on their 2024 list. But he only has three AJGA qualifying events (I mean, he's only 16). By the time he arrives on campus next summer, with all of the junior golf he plays in the next 15 months, there's a good chance he's on my top-50 list above.
I mean, he swings a golf club like this:
Wow!

This is the tee shot of Jake Birdwell.

I feel 😣for the golf ball! pic.twitter.com/9RxNHFlvZd

— SLP PantherAthletics (@SLPPantherAth) May 23, 2023
And while we on the 2024 class, let's talk about the third guy in that class: Joseph Buttress from Australia. Here's a news story on him from a few weeks ago (shoutout JDL for finding it and retweeting it):
Rising golf star Joseph Buttress has packed up the clubs for the trip of a lifetime. The 17-year-old is the first ever West Aussie to win the Cameron Smith scholarship which will see him train with the Aussie pro | #Golf @GolfWestAust @GolfAust @WAgolfclub @ashnelson08 pic.twitter.com/tFuOifrHN5

— 10 News First Perth (@10NewsFirstPER) May 24, 2023
Lean in a second and let me whisper something. Ready?
The 2024 class is THE CLASS, man. It's 1986 basketball. It's 2008 football. I'm not sure if this word works this way, but the 2024 golf class is HIM.
I guess I need to talk about the 2023 class as well. Herendeen appears to be the star of the class. But there are two other guys in that class:
Adam Hunt from South Carolina
Ethan Wilson from Canada
I can't find much information on either. But I'll note that if you listened to one of my interviews with Mike Small at Grayhawk, you heard him talking about how he likes when a recruit's parents are athletes and that one future recruit is the son of Olympic skiers. I don't know this to be the case, but I'm going to combine "Olympic skiers" and "Canada" to say that Ethan Wilson is the son of Olympic skiers.
Oh, and there's one more recruit. A transfer from Loyola:
Huge announcement today as Timmy Crawford (SVHS '18) commits to finish his college career at the University of Illinois and legendary Coach Mike Small.

Timmy played for 4 yrs at Loyola for Coach Hoops and graduates on time.

Great young man from a wonderful family.

Go get 'em! pic.twitter.com/XZPYsKVSR1

— Coach Jack Halpin (@OleGolfCoach) March 30, 2023
I think that gives us enough information for the next section...
A Peek At Next Year
Tommy Kuhl is playing in the Arnold Palmer Cup as I type this and then he's going to turn pro. Adrien Dumont de Chassart is playing in his first professional tournament right now on the Korn Ferry Tour (and he made the cut, so he'll cash his first professional check). Matthis Besard just used his Covid year to play one more year (transferring from SIU to Illinois) and so he's out of eligibility. So next year's team will look much different. It's 100% a transition year.
So from this view, getting back to match play will be difficult. We still should be the best golf team in the Big Ten (duh), but with three seniors graduating (including two mainstays like Kuhl and ADdC), there's always a transition year. Texas won it all in 2022 and then finished 17th this year. There are sometimes just... transition years.
I do think we know four of the five in the lineup next year. They are:
Jackson Buchanan - His T2 finish at the NCAA's catapulted him to possible superstardom. I just checked his World Amateur Golf Ranking the other day and he's up to #98. I've never seen someone climb in those rankings that quickly. Last year, when I wrote this kind of preview, he was #321. And those are actual rankings where you're compared to the other amateurs you beat in certain competitions. Some college basketball star can climb from 321 to 98 just because some pundit throws a dart and says "they're the 98th-best player now." For someone to climb from 321 to 98 in those rankings, you have to basically play like a top-10 amateur in the world for a full year.
What does it mean? It means he's at this level where he could finish his career the #1 guy during Mike Small's tenure. 2nd at NCAA's as a sophomore is ridiculously good. Sky's the limit here.
Piercen Hunt - His sophomore year (especially the fall of his sophomore year) was better than his junior year. But that's just golf. Another guy on this list (immediately below) was part of our lineup during match play in 2021 and in 2023 he wasn't even the sixth man at nationals. Golf, for everyone, kind of comes and goes.
Here's hoping Hunt makes a big surge his senior season (it's happened many times before). He handled himself so well during match play last week. I'm excited to see what one more year looks like.
Jerry Ji - Remember him? When we lost to Oklahoma in the 2021 quarterfinals, Ji was part of that lineup. He then dealt with an injury for much of 2022 and in 2023... was only the 7th-best guy in the lineup. #thatsgolf
But he has one more year of eligibility. And he just played in the DP World Tour event a few weeks ago (as an amateur), missing the cut by one shot. We saw it happen with Alex Burge ten years ago - sit most of his senior year, come back for one final 5th-year, make a big difference. Ji certainly has the experience.
Ryan Voois - OK, now I can tell my Ryan Voois story from Grayhawk. Voois was the 6th man (all teams bring a 6th guy who could be inserted into the lineup whenever), so he was walking the course each day. I talked to him across a few of the holes a few of the days. And after the first day, I saw him on the putting green. As I walked past, I heard Mike Small (who was ready to head to the hotel) say "Harvey, let's go."
I realized driving to my hotel that I probably heard Small say "R.V.", not "Harvey." So I asked Voois about it the next day. Voois said that no, I heard "Harvey." The team had started calling him R.V., and Small heard it one day and asked "are they calling you Harvey?", so it stuck. Now he's Harvey. AND, he said that because he makes a lot of putts, someone on the team started calling him Harvey Buckets. So there you go. True freshman Ryan Voois? Harvey Buckets.
Voois was making a push late in the season to be the 5th man in the lineup. So I think it's natural to expect him to move into the lineup next year. For the first tournament in September, I'd expect to see Buchanan, Hunt, Ji, and Harvey Buckets in the lineup.
Who joins them? I'm not sure any of the other names on the current roster return. So it would come from the names I listed above when talking about the 2023 recruiting class. Loyola transfer Timmy Crawford or one of the freshmen: Max Herendeen, Adam Hunt, or Ethan Wilson. My guess: a battle between the freshman star (Herendeen) and the transfer (Crawford).
So yeah, I think that's a step back year. Buchanan is the clear #1, and then you hope that Hunt and Ji have resurgent seasons. Get something big from maybe Voois and Herendeen and maybe you have a much better year than you originally thought.
And then in 2025 when Buchanan is a senior..........